Tayside and Fife branch: Clepington Lego league support
BCS (British Computer Society) Tayside and Fife Branch is delighted to support the winning Lego League team from Clepington Primary School in Dundee with their expenses as they travel to UK finals in Harrogate later in April.
The winning team are here pictured with their trophy.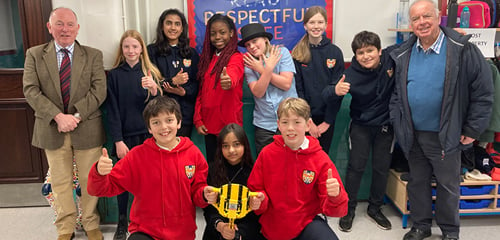 Photo: Clepington school Lego team with Euan Headridge Committee Member and Alan Philip, Chair
How Lego league benefits young people
(Based on publicly available information placed on the internet by First Lego League): FIRST® LEGO® League introduces Science, Technology, Engineering, and Math (STEM) to young people through fun, exciting hands-on learning. Participants gain real-world problem- solving experience through a guided, global robotics program, helping today's students and teachers build a better future together. The FIRST Core Values are the cornerstones of the program. By embracing the Core Values, participants learn that friendly competition and mutual gain are not separate goals, and that helping one another is the foundation of teamwork.
What is BCS?
BCS, The Chartered Institute for IT, champions the global IT profession and the interests of individuals engaged in that profession for the benefit of all. BCS has 50 or so local branches not only in the UK but in any of the 15 countries around the world where BCS is found. With over 50 Specialist Groups, the Institute provides both members and the public with an unrivalled opportunity to keep abreast of current developments in specific areas of interest, such as Software Testing, Internet, Cybercrime Forensics, plus numerous Health groups and many more in a huge variety of specialisms.
The Institute fosters links between experts from industry, academia and business to promote new thinking, education and knowledge sharing. New entrants to the IT profession come via a broad spectrum of apprenticeships, college courses, university graduates, and professional experience.
The way ahead
Meantime we congratulate both the winning team from Clepington Primary School and their supporting teachers and trust they enjoy their visit to the UK national finals.