Berkshire branch: Committee
The Berkshire branch is run by a committee elected at the branch AGM in September. Committee members with specialist skills are also co-opted from time to time.
Meetings
We meet from 7 till 9 pm on the first Tuesday of every month, usually via GoToMeeting, or in person when we can. Our meetings are open to all members. Please ask our secretary for joining instructions if you would like to attend all or part of any meeting, whether to contribute or just learn more about what we do. There would be no obligation to join the committee.
Chair
Andrew Fieldsend
I was encouraged to join the BCS by my first employer, becoming a member in 1988, a Chartered Engineer and European Engineer in 1993 and a fellow in 2008. After being an inactive member for some years due to work commitments, I joined the Berkshire committee in 2002, becoming Secretary in 2003, Chair from 2004-2010 and Secretary again from 2015 onwards. Outside the BCS, I am also a fellow of the IAP and member of the ACM and IEEE, where I am active in the Standards Association.
I originally graduated in Computational Science from the University of Leeds, and subsequently gained a postgraduate diploma in computing for commerce and industry from the Open University. I have had a variety of experience in my career to date, including software development, system operations and support, project management and a period as a self-employed consultant. I am now a Technical Consultant for DXC Technologies based in Aldershot.
Treasurer and STEM Ambassador
Chris Todd-Davies

Born a long time ago in NZ and moved to Queensland where I attended high school and University. Came to UK in the 70's and have been here ever since. I am married with 2 children and 3 step-children and have lived in Reading since 2009.
Now semi-retired, I was previously a Senior Project Manager with a German IT multinational. My projects were mainly for transition and transformation of IT infrastructure and systems following acquisitions or outsourcing. Over the last ten years I worked throughout the UK and in US and Europe on IT change projects.
My activities now focus around the BCS events such as TeenTech and getting volunteer links between local charities and colleges in and around Reading. I work with Tony Levene who focuses on the Wokingham area. Since September 2013 I have been the BCS Berkshire treasurer. I am also a regular attendee at 'SocialTech' meets and Reading Geek Night.
Secretary
Prasad Amirthasagaran
Prasad (Shanthiprasad Amirthasagaran) completed a Bachelor of Engineering degree in Computer Science & Engineering from Madras University.
His career began at the Telecoms giant (at least then) Lucent Technologies ODC as a developer on 5ESS IN switching, after which he moved to Logica in Bangalore. His job took him to the Middle East on ATM Switch Integration, APAC region on 3G Mobile Services, INDIA on Telecoms Messaging services (later called Acision) and finally to the UK in 2010 on Vodafone Live 3G Mobile Applications. Following the near collapse of the Telecoms industry, he moved to the Public sector to manage projects on Infrastructure & Application delivery services for various UK Government Agencies, Education dept, Justice dept, Emergency Services and UK Councils.
Prasad is very passionate about volunteering with various types of roles for London 2012 Olympics, Commonwealth Games, Farnborough Airshow, London Marathons, Guide Dogs, National Trust, local Charities, etc. Apart from this, he promotes Environmental initiatives through CGI's "No Plant B" campaign and a core committee member of their Diversity & Inclusion group and the BAME group.
He has been member of BCS since 2015 and joined the Berkshire branch in 2016 to be part of the IT industry community and to promote IT among students, raise its profile in the Berkshire area and contribute towards betterment of society. He currently serves as the Secretary of the Berkshire branch.
Publicity
Mike Buckland

After graduating from Cambridge University in Modern Languages, I taught German and French for 4 years before switching to the IT industry via the government's Training Opportunities course as a programmer and systems analyst. The exam gave me a Part 1 pass into the BCS membership in 1982. I qualified for CITP (Chartered) status in 1992.
Since then I have worked as a trainer, programmer, project manager and consultant, in the public and private sectors in the UK and abroad, starting with Nixdorf Computer in Germany and ending with Oracle until the company closed its UK Support Services division in 2016. I established links with the BCS at branch, corporate and individual level, and with schools and universities in the Thames Valley.
In my spare time I like spending time with my wife, 3 grown-up children and grandchildren, walking the dog, enjoying the countryside, and playing an active role in my local church and community, e.g. translation, IT help for Reading's food bank, and volunteer driving. I believe green living is important and am holding a solar keyboard in the picture.
I should like to see CITP recognised across the IT industry as strongly as CiM and CEng in the marketing and engineering professions. I believe this would strengthen open source commitment, business integrity and the professional standing of the BCS. I should also like to see stronger involvement by the BCS at schools' events and careers fairs.
Newsletter Editor
Michael Dzandu
I hold a BSc in Computer Science and Psychology; and an MPhil in Information Studies (librarianship) degrees from the University of Ghana. I am currently a Doctoral Researcher at the Informatics Research Centre / Business Informatics Systems and Accounting, Henley Business School, University of Reading, UK. My research aim is to develop a framework of human information interface for knowledge activities to support context-specific decision making on stored information in information systems.
Prior to this, I worked as an Assistant Lecturer in the University of Ghana teaching IT related courses. I founded and served as a Senior Partner of Micky Informatics Consult in Ghana, and provided IT sales and services, information consultancy, software development and research consultancy to small, medium and large-scale organisations. I also worked on several resource teams, delivering IT and records management training for employees in Ghanaian industries.
I have interest in human-technology interactions, knowledge management and analytics. In my spare time I enjoy football, and an active member of Reading Athletics Club and Parkrun.
I joined BCS in 2015, and currently volunteer as the Newsletter Editor for the BCS Berkshire branch. I like the enthusiasm and passion of the Committee members, and my role as part of the communications team helping to provide timely information to BCS Berkshire members.
Volunteers Coordinator
Lee Williams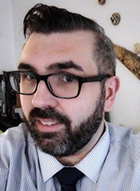 Lee holds Professional Membership of the BCS (Chartered Institute for IT) and is also RITTech registered.
He is originally from Kent, however Lee moved abroad to sunnier climes in 2009 and returned to Berkshire, UK in 2012.
Since receiving his BSc(hons) in Computer Science from the University of Greenwich he has accrued over 18 years of experience within the IT industry across various sectors including Financial, Legal & Gaming. He currently holds the position of Technology Manager for a community housing company where he provides exceptional business aligned IT Operations.
When Lee isn't glued to a computer screen or three, he enjoys listening to audio books during his daily commute, and devoting time to family activities.
Events Coordinator
David Sturt

I have a background in systems design and development that covers back office automation, call centre support and web-based servicing through the backdrop of the deregulation of financial markets, millennium, and arrival of the internet.
The new millennium marked a change in direction for me, working with dot coms and ultimately creating and managing an application development start-up that gave me exposure to a companies ranging from media to private banks, as well as experiencing the trials and tribulations of starting a business.
Most recently I've worked for United Nations Climate Change in Germany on implementation of systems to support international emissions trading and emissions reduction projects.
I've been a BCS member since the mid-80's and on my return to the UK engaged with the Berkshire branch, initially as a member and now on the committee where I liaise with ConnectTVT and the work to revitalise the tech community in the Thames Valley.
Inclusion Officer
Pete Self

I perform the Diversity and Inclusion Officer role within BCS Berkshire. I am a Solution Architect who has worked across a range of clients and programmes since graduating from the University of Plymouth.
Having worked across public and private sector for many years, I bring a diverse value to the group representing many groups of our members and their clients. This has involved everything from working with multinational telco's on application portfolio rationalisation programmes to customer experience improvements in the Brewing industry and data centre migrations in manufacturing. This has enabled me to become a high-quality agile consultant who works effectively with the client on their problem.
In my free time I maintain a keen interest in innovation and technical subjects around the home and hobbies such as, photography and the outdoors.
Pete has a hidden recognised disability like several of our members within the branch and I am keen to help us to support all our members.
Education Leads
Chris Todd Davies (STEM), Yota Dimitriadi (Reading University) and Ian Scott (UTC Reading)
General members
Dr Blessing Mbipom

Dr Blessing Mbipom is a professional member of the BCS. She has a PhD in Artificial Intelligence with a focus on e-Learning Recommendation. During her doctorate, she developed an e-Learning recommender which learns from the knowledge of teaching experts in order to focus the search for documents that are relevant to learners. Blessing is interested in developing effective online learning systems that increase the engagement of users with digital learning materials. Prior to her PhD, Blessing completed an MSc in Computing Information Engineering. Her MSc project won the Best Poster award at the 2013 BCS Women Lovelace Colloquium Competition in Nottingham.
Blessing served as a committee member for the Scottish Informatics and Computer Science Alliance (SICSA) PhD conference. In this role she worked across teams from various universities developing good networks which helped to ensure the success of the conference. Blessing organised the Interdisciplinary Collaboration Workshop for over 100 delegates and circulated information effectively to delegates across 14 universities. Blessing enjoys mentoring young people to engage with computer technologies. She gave an invited talk titled "How to Inspire the Next Generation of Women in Computing", at a Women in Computing Event in Dundee, UK. She also supported the BCS Berkshire branch at the TeenTech event in Surrey.
Blessing is also a member of the IEEE Computer Society, and the Association for the Advancement of Artificial Intelligence. She volunteers as a mentor for Technovation, a programme which invites teams of girls from all over the world to learn and apply the skills needed to solve real-world problems through technology. The team she mentored was the only team from the UK that made it to the semi-finals of the programme in 2018. Volunteering as a mentor increased her knowledge about business development. She also volunteered as a judge for the AI Family Challenge 2019 which invites families to learn about AI technology and solve problems in their communities. It was great to see families using AI to create solutions.
Anthony Parker

As a BCS Certified IT Practitioner with 15 years' experience in the IT industry, I have been a member of the BCS since 1999 whilst studying Information Systems, Law and Psychology at University. After working at companies like LogicaCMG, Analysis Mason and Dun & Bradstreet leading numerous process improvement projects for a wide variety of clients including Microsoft, Etisalat and Vodafone, I then moved on to BT in their Retail Consumer division to spearhead large-scale strategic programmes of improvement - you may have heard of BT Sport and BT Cloud.
It's been an interesting career choice, with Telecoms very much being at the forefront of technology innovation, especially with my passion of Customer Experience and Social Networks. Being a member of the BCS (The Chartered Institute for IT) has kept me grounded and in touch with new ideas whilst experiencing the highs and lows of the Dotcom bubble, Global Financial Crisis, and emerging China 2.0 markets. Serving on various branch committees for the BCS, becoming Vice Chair of the Young Professionals Group and previously Chair of the Berkshire branch, I am proud of where the IT industry is moving in the UK, especially for the next generation.
With initiatives such as The Great Debate, TeenTech and Computing At Schools (CAS), the Berkshire branch is one of the most active branches of the BCS in the UK. We are passionate about making a difference to professionals already out there and actively encourage young people to engage with IT.
In my spare time I also study an MBA at Henley Business School and enjoy spending time with my 4 handsome nephews and family.
Documents
The Committee and Council share electronic documents to help organise the branch. They also have access to a secure committee area linked from the BCS members' login.