Learning and Development specialist group: Committee
Here are the members of the Learning and Development specialist group committee.
Chairperson
Kevin Streater FLPI FBCS CITP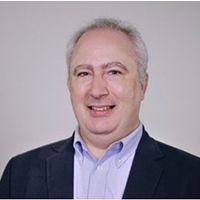 Kevin Streater joined ForgeRock in October 2012 as Director, Global Training and Academic Sales. In this role Kevin is leading the development of an innovative open source training business to provide skills in ForgeRock's Open Identity Stack.
Prior to joining ForgeRock, Kevin spent three years at The Open University as Head of IT Industry Engagement after 18 years in various service delivery, project management and training leadership roles at Sun Microsystems.
Kevin is a Chartered Fellow and vice-chair of Council of the BCS, The Chartered Institute for IT, Fellow and Member of the Advisory Board of the Learning and Performance Institute and Freeman of the Worshipful Company of Information Technologists.
Kevin holds a BSc. (Hons) in Computer Science from City University, London, and a Postgraduate Certificate in Business Administration from The Open University.
Treasurer
Mark Palmer

Mark has had a varied career working for commercial (Sun Microsystems, QA Training, Arch Apprenticeships), academic (Open University) and membership (BCS) organisations, in a variety of service orientated roles. Starting as a Hardware engineer and moving into learning and development as a consultant, business manager and account management.
More recently Mark has been involved in apprenticeships initially at the Open University and latterly as an assessor and now as a Learning & Development Coach for apprentices working on the standards. He also works as a Subject Matter Expert for both the BCS and City & Guilds on the apprenticeship standards. He has worked on skills frameworks SFIA and SFIAplus.
Secretary / Membership Secretary
Gary Thornton CEng MBCS MIET 
Gary started his career in High Power Electrical Engineering, and moved across into Telecommunications & IT 30 years ago. He has been involved in the development & support of some very large data networks and in the roll-out of European cellular networks.
Until 2013 he was a major shareholder in the leading independent global provider of data centre & telecommunications training where he played a central role in the development of internationally recognised qualifications such as Certified Data Centre Design Professional (CDCDP), Certified Data Centre Management Professional (CDCMP) and Certified Data Centre Energy Professional (CDCEP), as well as working with the European Commission and the US Department of Energy (DoE) on piloting new data centre energy efficiency initiatives.
He is currently involved in attracting young talent into the IT & communications sector and in developing learning & development programmes to meet the present & future needs of the industry.
Gary can be contacted by email gary@aet4it.com
Events Organiser
Michelle Kaye MBCS FLPI Tap.Dip

Michelle's career has spanned, officially, 20 years - working from a training company, to in-house trainer, and finds her currently working as a contract trainer with her own company.
The work covers many aspects, from the training lifecycle (talk to people, design a course, write the course, write the notes, setup the room, run the course, take down the room, talk to people again), to supporting staff (answer calls, fix problems, move kit around etc).
During her 'life' outside of work, she's an avid reader (sci-fi, fantasy, romance), sadly she's now hooked on Facebook and some other social networks. TV and Films are also a love, but Michelle doesn't have time to sit and watch too much at the moment.
Education Liaison
Ken Gaines
Bio to follow
Inclusion and Diversity Officer
Ismini Vasileiou

Ismini Vasileiou is a Lecturer in Information Systems and Programme lead of the BSc (Hons) Digital and Technology Solutions at the University of Plymouth (including a Cyber Security Analyst pathway), with research interests including security education and technology-supported learning.
She holds an EdD in Flexible Learning for Computing Degrees in Higher Education, and is a Senior Fellow of the Higher Education Academy. She is actively involved in academic delivery at both undergraduate and postgraduate levels, as well as the supervision of postgraduate research.
She has previously published on topics including flexible learning, security education and technology-supported delivery, and has delivered a variety of invited presentations and keynote talks into relation to topics such as unconscious bias and stereotypes in STEM topics.
Dr Vasileiou is currently the Chair of the STEM special interest group within the International Academic Peer Learning Leadership group, and is also actively involved in professional body activities for the computing sector, including current roles within the BCS South West branch as the Chair, BCSWomen as the EDI officer, and the BCS Learning and Development specialist group.
Committee
Committee member
Sue Martin


Sue Martin is a trusted advisor to companies and institutions across Europe in the area of workforce credentialing, learning strategies and certification. Her career prior to consulting included a role as Senior Global Certification Director for SAP and several regional and global management roles in the testing industry. She has also held several positions within industry institutions, such as the Chair of the European Association of Test Publishers, and is currently a member of the Learning & Development Committee at BCS (BCS, The Chartered Institute for IT).
Committee member
Dawn Hewitson 
Bio to follow
Committee member
Dr Adil Fathilrahman

Dr. Adil Fathelrahman has over 30 years' experience in the information systems field, in both industry and academia, enriched with other skills in leadership, program and curriculum design, research, and quality assurance. He has worked in major IT companies including IBM UK and Logica UK. His areas of interest include, but are not limited to, the fields of application and data integration, IT service management, e-business technologies, and teaching methods and strategies for information technology discipline. He has taught courses in IT service management, enterprise architecture, systems analysis and design, e-business, and decision support systems at both undergraduate and postgraduate levels. Dr. Adil Fathelrahman received both his MPhil and PhD (combined) from the University of Bolton, UK. He currently works as freelance lecturer / Instructor in the field of computing/ ICT.