Nirhoshan Sivaroopan
Student, Electronics and Telecommunication Engineering University of Moratuwa, Sri Lanka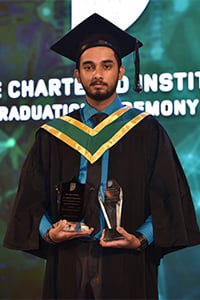 Former HEQ student and PGD level World & Sri Lankan Prize Winner 2019

Nirhoshan Sivaroopan began his BCS higher education qualifications to boost his IT knowledge while awaiting university entrance. The flexible, modular BCS programme gave him the confidence to take up the course knowing he could reduce or even delay his BCS study if it proved too much alongside his university placement.
However not only did Nirhoshan complete the full programme in just two years, he performed so well that he won the 2019 Sri Lankan & World Prize for the PGD level.
Tell us about yourself and what inspired you to study technology?
Hi, I'm Nirhoshan. I studied at S. Thomas' College, Mount Lavinia, completing my GCE A/Ls in 2017 in the maths stream, and now I'm studying Electronics and Telecommunication Engineering at University of Moratuwa.
I'm someone who loves a challenge. In the world today technology has spread to every industry and it is constantly developing. The challenges that arise from this and the need to keep ourselves continuously updated to withstand the rapid changes in technology, this is what inspired me to educate and enlighten myself about technology.
Did you have a career in mind before you embarked on your higher education?
Yes, I always wanted to work with technology and innovate or invent something in the field. I chose engineering for my career so I could pursue this desire though I hadn't decided which discipline of engineering to follow until later.
How did you discover BCS?
After completing my GCE A/Ls, I had about a year to wait till my university entrance and I wanted to use this time to learn more about IT. I then found out about BCS qualifications from my seniors - they told me that with BCS I could grow my IT knowledge and also gain a recognised qualification at the end of the course.
How old were you at the time, and were you working or studying?
I was 19 years old when I started my BCS programme. I'd just finished school and was awaiting my place at university so I wasn't yet working.
What was it about the BCS course that appealed to you?
The reason the course attracted me was because I could earn a qualification in just two years, studying part time. And if I found it hard to manage the course along with my university studies, I had the option to drop the course for a short period and continue it later, or complete it by just doing one module per session.
What did you enjoy most about the study programme?
I think the flexible nature of the course is the best part. It was reassuring to know I could finish the course by completing one module per session and I get to choose the modules I want to do. I also like the breadth and depth of IT knowledge that it's given me, in many aspects of ICT and all in a short period of time.
Did you change your mind about your chosen career path while you were studying?
I don't think that I can say that I changed my mind as I knew I wanted to do engineering, but I wasn't settled on which area of engineering to follow and the course helped me decide.
I'd narrowed it down to two areas: electronics and telecommunication or computer science. Since the basics of computer science engineering were covered in the BCS programme, I then fixed my mind on pursuing electronics and telecommunication proceeding to master this field in my further studies.
How did you feel when you completed the programme?
I'd taken up the programme simply to grow my knowledge, but as the course moved towards the end I got increasingly excited about achieving a professional qualification when my exams were done. I hadn't expected to achieve a professional qualification so early on.
To achieve the World Prize was an added pleasure and sense of pride and the perfect way to end my studies.
How relevant are your BCS qualifications to what you're doing now?
The course gives real substance to the professional qualifications section of my CV, evidence that I have gained sufficient knowledge in the IT field. For my future success in the IT sector, I'll look to take further BCS professional certification.
Are you a BCS member? If yes, how has membership helped you?
I haven't applied for Professional (MBCS) membership yet but I'm thinking of applying this year as I hear that I'll receive magazines keeping me up to date with all the latest changes in the world of IT.
What are your plans now?
I'm now studying in my second year at the Department of Electronics and Telecommunication Engineering at the University of Moratuwa in Sri Lanka.
Would you recommend BCS to someone thinking of a career in IT?
Yes because BCS provides one of the best courses I know for paving your path into the IT sector.
The flexible nature of the course is so helpful. I've seen many people in their 30s and 40s taking this course and when I've asked them why they're studying at their age, they tell me they need the BCS qualification to secure a job in the IT sector.
I have also seen 15-year-old school students sitting this course to gain knowledge about IT. If you are looking for a great career in the field of IT, then BCS is the right place to start.
If you had one piece of advice for your younger self what would it be?
Securing a job in the IT sector can be a hard task because of the high demand for jobs in this field. Anyone seeking a career in IT should be aware that they'll have to update their knowledge continuously if they are to survive in the sector.
But more importantly, they need to be thorough with the basics. If the foundation of your IT knowledge is strong, then reaching the heights will be easier. So for a successful future working in technology, my advice is to find a good course to equip yourself with a solid knowledge foundation.
"If you are looking for a great career in the field of IT, then BCS is the right place to start."