Rina Faisal MBCS
Computational chemist / Educational consultant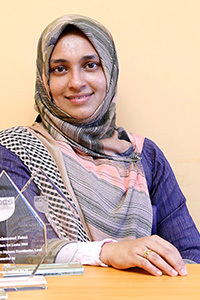 Former HEQ student and World Prize Winner at Certificate in IT and PGD level

Rina Faisal is committed to improving the world around us through her research in science and IT. It was her mother who encouraged her from a young age to study IT, impressing on her the importance of technology in any future career. So when Rina got to university, she was delighted to discover BCS HEQ and studied the IT qualifications alongside her computational chemistry degree.
Keen to return to her research field but currently working as an educational consultant while she looks after her young daughter, Rina's now busy inspiring the next generation in the world of science and IT. Read on to find out what motivates our STEM champion and what it was about the BCS higher education programme that appealed to her.
Tell us about yourself and what inspired you to study technology?
I'm Rina Faisal. I completed the full BCS HEQ programme and I also hold a BSc (Hons) in Computational Chemistry degree from the University of Colombo.
My mother played a huge role in inspiring me to study IT. I have always been interested in computer science ever since I was schooling; in particular fields like AI and robotics have always intrigued me. But once I started my Advanced Level classes, I didn't give much thought to IT since my main interest lay in the science subjects. I didn't even plan to sit for my GIT subject as it wasn't compulsory at the time.
It was my mother who encouraged me to sit the GIT exam - she advised me, time and again, of the importance of IT for the future regardless of your chosen career path. Today I am so happy that I heeded her advice! And I'm grateful to both my parents for providing me with a sound education which paved my way to who I am today. Also to my husband, who continues to support me in my higher education and career.
Did you have a career in mind before you embarked on your higher education?
Yes I did. My ambition was to conduct scientific research based on chemistry for the betterment of the world and nature.
How did you discover BCS?
I was searching for a suitable IT qualification right after I finished my Advanced Level exams. I'd tried out a few courses prior which hadn't fulfilled my requirements and finally discovered BCS during the first year of my university degree; I was excited that I'd managed to find exactly what I was looking for.
What levels of the programme did you study and what was it about the programme that appealed to you?
I have successfully completed all three BCS HEQ levels. A number of factors encouraged me to register for the course: flexibility in the choice of modules; convenient exam timings; being able to complete the course at your own pace; affordability; easy installment payment systems; accessibility; and, most importantly, its local as well as international recognition.
How old were you at the time, and were you working or studying?
I enrolled for the first level - BCS Certificate in IT - when I was 20 years old. At the time I was a first-year undergraduate at University of Colombo.
What attracted you to the course and to ICT in general as an industry?
I was very enthusiastic about multidisciplinary fields, for example computational chemistry - a field where both chemistry and computer science play an equally important role. Computational physics, bioinformatics, computational drug design and delivery are some of the many other examples.
So I always wanted to gain a recognised IT qualification or degree in addition to my pure science degree, in order to pursue multidisciplinary scientific research. BCS HEQ provided me with the perfect opportunity to fulfil this dream.
What did you enjoy most about the course?
It was challenging and interesting! Though the BCS programme has comparatively fewer modules than other courses, each one combines a set of subjects / themes enabling you to gain extensive knowledge in IT.
Also BCS requires you to go a step further and explore the IT world on your own, not just stick to the syllabus; so you get to know your subject within the current context, its pros and cons, and most importantly its practical application. This is reflected in the exam questions and is also the reason why the qualifications are so highly recognised both by academia and industry alike.
Did you change your mind on your chosen career path during your studies?
Actually no, I had my sights set on pursuing pure sciences coupled with computer science from the beginning.
How did you feel when you completed the programme?
I would say, accomplished! It was an important and exciting milestone that I'd achieved in my life.
How relevant were your BCS qualifications to progressing your career?
I'm a computational chemist and computing will always be an integral part of my career. Completing the BCS HEQ programme equipped me with internationally-recognised professional IT qualifications.
What's more, I was the HEQ World Prize Winner for both my Certificate in IT level and PGD level which definitely gave me a competitive advantage in being selected for my master's degree program in Germany.
Are you a BCS member? If yes, how has membership helped you in your career?
Yes I hold MBCS membership. This helped me in getting recognition when I was applying for jobs, both in Sri Lanka and abroad.
What are you doing now?
I am currently working as an educational consultant in a private school for science and IT subjects. It's a temporary break from the research field while I look after my young daughter and I'm hoping to return very soon to my research as a computational chemist while pursuing my higher studies.
Right now as an educational consultant I ensure that the study materials adhere to the standard curriculum and the teaching methodologies comprise an enthusiastic approach giving children a 'taste' of the modern world in science and IT. I believe it's important for young minds to realise the importance of IT in our ever-changing world.
I also offer educational consulting services privately where I advise students about educational and career opportunities and support them with their decisions when it comes to choosing a college major or career pathway.
Would you recommend BCS to someone thinking of a career in IT?
It's a definite yes! In fact, I've already recommended BCS to many family members and friends.
If you had one piece of advice for your younger self, what would it be?
Life is unpredictable; be prepared to face the unexpected whether that's in your personal or career life. And be equipped and ready to adapt to the ever-changing world of IT. It's easy to fall behind because technology advances and changes at such a rapid rate, but what's important is to get back up… and fast!
I'd also say that whether you choose IT as your career path or any other field such as medicine, engineering, pure sciences, finance and accounting, management etc., make sure that you also educate yourself in the field of IT. As I always say, prepare yourself to be an IT literate citizen of the future!
"A number of factors encouraged me to register for the course: flexibility in the choice of modules… the ability to complete the course at your own pace… and, most importantly, its local as well as international recognition."