Thivanka Vithanage MBCS
Senior Business Designer, Zone24x7 Private Limited, Sri Lanka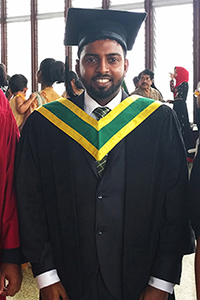 Former BCS HEQ student, Sri Lanka

A self-confessed technology enthusiast, Thivanka Vithanage was already working in the IT industry when he chose to pursue BCS higher education. His studies were timely in helping him take the next step up in his professional career and he hasn't looked back since.
Today he's busy in his role as business designer at a technology company in Sri Lanka, while creating his own start-up in a different business domain. Fortunately he still found the time to talk to us about his 'love at first sight' relationship with BCS.
Tell me about yourself, and what inspired you to study technology?
I work as a Senior Business Designer for a prominent technology solutions company in Sri Lanka. I enjoy working in the tech business and making new connections.
I had always considered myself a technology enthusiast and I still do. But I think it was Google that first inspired me to follow a career in technology - not just the founders but the brand as a whole had a real impact on my perspective around tech. The famous Apple commercial from late-90s, "Think Different" made a significant impact too.
Did you have a career in mind before you embarked on your education?
Yes I originally wanted to become an astronaut. But life doesn't always turn out the way we expect. By the time I finished secondary education I knew I'd already deviated too far from that destination, so I re-adjusted my path and adopted the most suitable alternative, technology.
How did you discover BCS and what was it about the BCS programme that appealed to you?
I was at an educational exhibition and happened to pass the booth where the BCS Sri Lanka team was promoting qualifications and membership. It was love at first sight with BCS.
BCS higher education qualifications are considered professional qualifications, and they attract international recognition. That's what really caught my interest.
How old were you at the time, and were you working or studying?
I was a late bloomer in terms of higher studies and I was working at that time, actually preparing for a significant challenge in my corporate life which BCS helped me to overcome with ease. From the interview to my performance at work, BCS helped me 'bend it like Beckham'!
What levels of the programme did you study?
I studied and qualified at all three levels: Certificate in IT, Diploma in IT, and Professional Graduate Diploma in IT respectively.
What did you enjoy most about the course?
It's very practical, certainly compared to the other study programmes that were on offer locally, and highly relevant to the current trends in the tech industry. The structure and duration of the course also suited me well and the flexibility and scope of the answers you provide when it comes to assessment.
Did you change your mind about your chosen career path while you were studying?
Yes I actually did. BCS helped me discover I had hidden talents which I uncovered as part of my studies, in particular analytical thinking and business strategy. These skills are now key strengths of mine and have led me to transition in my career from analyst to business designer.
How did you feel when you completed the programme?
I felt truly enlightened.
How relevant are your BCS qualifications to what you're doing now?
Very relevant and important. It's the perfect programme to follow if you know your subject and you have the ability to think out of the box a little. In fact it will help you develop your capability to expand your thinking and look beyond the horizon.
Are you a BCS member? If yes, how has membership helped you in your career?
Yes, I am currently a Professional member of the BCS fraternity. The best example I can provide of the help it's given me is the opportunity I recently had to lecture on behalf of BCS - it brought to life for me the BCS motto / value of "making IT good for society".
What are your plans now?
I'm working as a senior business designer and I've also started working on a small start-up business of my own. My focus is currently on balancing both these roles at the same time. So far my experiences have been amazing.
Would you recommend BCS to someone thinking of a career in IT?
Yes, yes, yes and YES!
If you had one piece of advice for your younger self entering the IT profession, what would it be?
Discover this qualification called BCS HEQ at an early age if you can, because it will give you the extra mile enabling you to jump start your career easily.
"I happened to pass the booth where the BCS Sri Lanka team was promoting qualifications and membership. It was love at first sight with BCS."