University recognition
The University of Huddersfield and BCS HEQ have partnered to provide you with an opportunity once you have completed the BCS Diploma in IT, to become eligible to apply for the Information Technology (Top-up).
Once you have obtained your BCS Level 5 Diploma in IT with project you can complete your studies to degree level (Level 6) by studying a 1-year top-up course with the University of Huddersfield.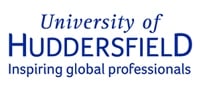 Choosing your next step is a big deal. You're probably looking at various universities, trying to weigh up what's good about this one? What's better about that one? Where's the best location? Who's got the best facilities? If you would like to find out more about what the University of Huddersfield can offer you, visit the Study at Huddersfield and Why choose Huddersfield? pages.
Applying to the University of Huddersfield is a quick and easy process. You can apply via our online application form.
Applications for September 2022/23 intake can be submitted at any point, however, please note that applications for this intake are unlikely to be processed until the January before the course starts.
NB: Students that complete the BCS Diploma in IT are eligible to apply for the Information Technology (Top-Up).  Please note this does not guarantee a place on the course.
For more information on the course visit the Information Technology (Top-Up) BSc (Hons) page.
Want to progress further?
The Information Technology (Top-Up) BSc (Hons) is a level 6 qualification which provides you with the knowledge and skills needed to progress onto one of our relevant Masters. More information on the MSc courses you could progress onto can be found via the links below:
Contact details
For further information please contact the School of Computing and Engineering via compeng@hud.ac.uk, or telephone on 01484 957507.