Uthpala Kinivita PGDE MBCS CCNA
Business Analyst, Melbourne, Australia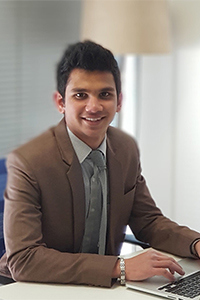 Former BCS HEQ student, Sri Lanka

Uthpala is a resilient and ambitious young man from Sri Lanka who studied BCS higher education qualifications straight from school. Now he's reaping the rewards of his professional credentials, on a career trajectory far in advance of his friends and peers.
Still just 24, Uthpala is already making great strides in the tech industry on a path that's taken him all the way to Australia where he runs his own business.
Tell us about yourself and what inspired you to study technology?
I'm Uthpala Kinivita. I am 24 years old, a hardworking, determined and a goal-driven individual currently residing in Melbourne, Australia.
I've been interested in technology since I was at school and I'm passionate about enhancing my knowledge along with my life experiences. So IT study was the natural progression for me.
Did you have a career in mind before you embarked on your BCS higher education?
Yes, I knew I wanted to become an IT professional and I've always been determined to start up my own business.
How did you discover BCS?
I learned about BCS by attending a workshop held by ESOFT Metro Campus in Kandy. One of the senior lecturers there introduced me to the BCS higher education programme.
What was it about the programme that appealed to you, and what levels did you study?
I liked the way the programme was structured and in particular the timeframe of the course really appealed to me. I went on to study the Professional Graduate Diploma in IT at level 6.
How old were you at the time, and were you working or studying?
I started studying with BCS right after I finished my O/Ls so I was 17 years old. I completed the BCS programme at the age of 19 and upon graduation joined Virtusa Corporation as a business analyst intern where I was promoted to executive business analyst within two years.
What was it that attracted you to the IT industry?
I've always been enthusiastic about advancing technology and keen to ensure I stayed up to date with the changing circumstances associated with the ICT industry. This interest motivated me to dig deeper into the field and pursue my career there.
What did you enjoy most about your BCS course?
The course content was enjoyable and I liked the two-year timeframe of the programme. I also appreciated the friendliness and the humble nature of the academic staff who were always there to support me. Their dedication helped me to overcome the obstacles I faced along the way.
How did you feel when you completed the programme?
I felt very proud of myself because I was only 19 back then and yet I already had a fleet of opportunities opening up for me. My achievement was especially overwhelming when I considered the advanced position I was now in compared with my peers who were still awaiting their university entrance.
How relevant was the course to what you're doing now?
BCS helped me secure my internship at Virtusa Corporation in Colombo from which I was promoted to the position of junior business analyst within a time span of less than six months. By the time I left Virtusa, I was an executive business analyst.
Now at the age of 24, I'm in Australia and have already graduated from Victoria University with a master's degree in business analytics. I really believe that BCS was a turning point in my life; its course and certifications helped me realise the career path I always wanted to establish.
Are you a BCS member? If yes, how has membership helped you in your career?
Yes I hold BCS membership which helps me to stay updated with what's happening in the industry and with technology in general, and it gives me other career opportunities too.
What are you doing now?
I am currently living in Melbourne running my own business and trying to develop my career in ICT business analytics.
Would you recommend BCS to someone who's thinking of a career in IT?
I would highly recommend BCS to anyone who wants to make their passion for IT come alive. BCS is a highly-acclaimed professional qualification that opens up an array of job opportunities to help you launch a successful career in the IT industry.
If you had one piece of advice for your younger self, what would it be?
I would say never give up on your dreams and always aspire to become better than you are today. You will come across hardships along the way that may bring you down but, if you keep working hard and smart, you'll be able to get back up and dust yourself off again every time!
"I really believe that BCS was a turning point in my life; its course and certifications helped me realise the career path I always wanted to establish."