Claire Wicher, BCS Scholar 2017-18
I think that some people might not consider applying for a scholarship, here I was, with zero formal computer science education or qualifications and a bucket load of enthusiasm and passion for my subject.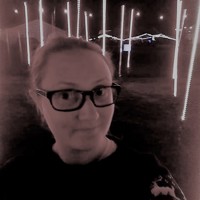 On paper, I wasn't even sure I would get accepted onto a PGCE course, but I'm never one to not try for something, and if you can get past my lack of education in the field, my resume is outstanding in other areas. My degree may be in Psychology and Criminology, and I may have spent 9 years working in debt collection, but I also taught myself to code, in my own time, and have a list of computer science related volunteering experience longer than some people's work experience. Don't be afraid to consider yourself as outstanding just because you're a bit different!
When people say teaching is hard work, don't dismiss them. Working in education is totally different to any other career I have seen. It's super hard, it's frustrating, and in just four weeks I have been completely overwhelmed and I'm only teaching a 50% timetable! It's difficult to explain, but I still love it. It's the most rewarding thing I've ever done in my life. Teaching might not be for everyone though, be sure to get those observation days in before applying so you get a feel for how everything works, and try to plan a lesson or two. Remember, you'll be doing 20+ lessons a week as a qualified teacher, so you need to find a way to work smart, and make the workload sustainable, quick!
Aside from the 9 years in debt collection (yes I knocked on people's doors) I have always been a geek at heart. I taught myself to code, and dabbled in hardware and web design. While not being formally qualified in any of these areas, I have always been an advocate for passing on your knowledge to help others. In 2015 I was asked to deliver some workshops on web development and social media to unemployed women in Greater Manchester who wanted to upskill to gain employment. These sessions were part of the Digital Skills for Women programme run by MadLab, the UK's most active makerspace, who then asked me to come and join the team.
For two years I worked at MadLab, firstly managing the operations side of the business, but also working to provide community workshops and training in digital skills. By the end of my time at MadLab, the training was so popular I had moved into developing and delivering this full-time, running programmes such as Digital Skills for Women and Digital Skills for Salford, National Coding Week workshops, Django Girls and Rails Girls workshops, WordPress for businesses and lots more! It was during this time that I discovered a passion for teaching, and I decided to make the move to working in formal education so I could help mould the next generation of digital technologists.
Computing is a very new part of the curriculum, and I have seen first-hand the difficulties previous ICT teachers have faced moving to the new specifications. As part of my role in MadLab, I also delivered CPD training to teachers who were struggling to deliver aspects such as coding to young people. While I completely agree that computing needed to be included in the curriculum, a lot of people don't understand how difficult these changes have been. Taking ICT teachers and telling them to now teach Computer Science is no different to taking a Drama teacher and asking them to now teach Biology. These are two completely different subjects, and these teachers need help and support to deliver the content effectively. I don't necessarily consider myself a computing specialist, but I have been fortunate enough to be involved in many educational programmes relating to computing, and I felt that my knowledge would complement and enhance existing non-specialist teams in a way that would help them develop and grow students to their full potential.
Despite being confident with coding (at least to the level I need to teach Secondary) I have always been worried that my lack of formal education meant that I wouldn't be up to standards with the theory side of computer science. I have very limited knowledge of networking, and only a basic understanding of some other areas. When you apply to teach, no one is expecting you to be an expert in all areas right away. Subject Knowledge Enhancement courses are available to help you refresh knowledge, and I'm also having to put some work in to upskill alongside my PGCE course. I am thankful though that there are many CPD opportunities in computing. I have taken full advantage of my local CAS Hub and their events, and other events such as Exabytes and Cyber First Defenders (for teachers) are fantastic not only for upskilling, bit also for meeting other teachers and building up your own support network.
For me I wouldn't have been able to make the change in career had it not been for the bursary/scholarship available. I'm a little older than some student teachers, I have a mortgage and other commitments, and financial security is important to me. It allowed me to have the confidence to leave my job and become a student again for a year, without having to worry about being able to meet financial obligations.
I've been in my first placement for just four weeks and I'm already loving it. Finding ways to engage students and get them excited about the subject is truly amazing. I have a year 9 class who I still can't convince that the code they wrote last week will actually be run on the International Space Station, and I have started an after-school club where we have three teams entering the Raspberry Pi Pioneers competition!
I find that a lot of focus is placed on learning how to code. While it is important that we help develop these skills, as the UK is facing a huge digital skills gap, I think it is also important to remember that not every student will move into a career in tech. Despite this, there are many other important skills in computing which apply to every student, regardless of future career path, and it is in these skills which we should be placing more emphasis. Computational thinking, problem solving, communication, resilience, and creativity are just some of the skills involved when delivering the curriculum correctly, and this is one hell of a skill set to equip any student with!
The lack of women studying computer related subjects and moving into digital careers is to be quite frank - rubbish. The issues stem from many areas, all of which are making positive moves towards combatting this inequality, and relating to other inequalities. The gender gap in this area is obvious, but we need to be working towards diversity on the whole. Middle-class white men (who make up approximately 16% of the UK's population) can't create digital solutions for the whole of society. If you're not representing different types of people in your school, team, business etc, then you can't understand what that person want, what they need, the challenges they face or the issues that are important to them. This goes for representation of gender, race, disability, sexuality, religion, age, social class, language...
Every facet of society is diverse, and that representation needs to be seen across the board. People who are under-represented in digital fields need to understand that they are not wanted to fill a token minority checkbox, but that they are wanted because they can add important value and unique experiences to a complex industry. Minorities can make a very real and very big difference to the digital sector, and this change could have amazing implications on future technology. With such an elaborate issue at hand, we need to do our part in the education sector to help students realise how valued their contributions are. For every digital job in the world, there will be hundreds of computer science students with the technical skill required to grow into the role, but only one has the individual experience of being you, and you, are the most undervalued skill you have.
I was super excited to start my scholarship with the BCS. Having additional support, access to resources and a network of professionals available to help support me during my studies is incredibly comforting. My mum was a primary school teacher, so she's very proud I'm following in her footsteps and teaching, and I think my friends all saw that it was a great fit for my skills. I spent many years working in a job that I was good at, but had little interest in. With education I have found something that I'm truly passionate about, and have finally been able to say that I love my job!