Profile: Kylie Fowler
Kylie Fowler is a volunteer with a passion for events and community. She works as an independent consultant and event organiser for the Service Management & IT Asset Management Group.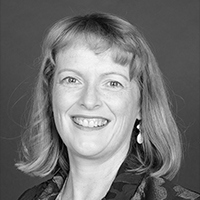 BCS provides Kylie with many opportunities such as networking and professional development. She's keen to seize these benefits, to talk about them and encourage other people to advance their careers and develop as professionals through membership and volunteering. Indeed, she sees the most benefit in and takes most joy from, organising and attend BCS events.
Her career began on an IT help desk; through promotion and advancement, she now works as an independent consultant. Summing up her advice to other members, she says: 'Think of BCS as a platform: come here with ideas of your own and ask BCS to support you with them.'
What does BCS mean to you?
'BCS' passions align closely with mine and a lot of strands of what they do are very important, like health technology and considerations of AI. These aren't my specialist areas, so I'm pleased BCS is tackling them.
'The main thing I value BCS for is professional development: BCS fills in the gaps which employers often leave in this area. It helps members develop their own understanding of technology and equips them with the skills to progress professionally.'
Why are you an active member of BCS?
'Volunteering is an important element of achieving my professional goals: networking and staying up to date with the industry. BCS events allow me to engage with people in the profession as well as my service users.
'Organising events means I'm always on the lookout for the latest development in IT and which services I can provide. Through BCS, I am enhancing my own professional development as well as helping the people who attend the events with theirs.'
What do you do as a volunteer?
'I organise events for the Service Management & IT Asset Management Group, which focuses on supporting the career development of IT service management professionals, within which IT asset management sits.
'Organising these events is a process: starting with me learning something new in the industry, then networking to find a speaker and making the logistical arrangements for them to attend; followed by the promotion of the event and finally running it on the night. BCS does help with some of the admin, but myself and other volunteer committee members are the main driver of the events.'
How does your role help BCS to succeed?
'It's a niche group, which means it is very active because IT asset managers are often quite isolated within their companies as there's not many of us, so having a sense of community outside that is very important.
'The group is driven by its members and volunteers, so it ensures BCS is giving them what they need and want. If BCS organised events from the top down, it might get it wrong - the events may not be relevant and people may not attend. Me organising the events as an IT asset manager makes the events relevant and successful.'
What is the most interesting part of your role for BCS?
'Identifying potential topics for upcoming events. This involves me researching and learning new things, which is always interesting. I also find the networking interesting and enjoyable. I constantly reach out and liaise with new professionals, so I get to work with a range of very influential and knowledgeable people.'
Are there any memorable / striking moments you've had with BCS?
'ITIL (Information Technology Infrastructure Library) published a new service management framework in 2019 - The ITIL 4 Foundation book. One of the practices covered in the book is IT asset management, so I contacted the man writing it, having met him at a conference, to invite him to one of our group events at BCS.
'He came to the group to validate the material in the book with experienced practitioners. So, we split into groups and brainstormed what we thought he should include. This was an incredible event which allowed our group to actively contribute to ITIL 4's official IT asset management practice guide. It was great to participate in something bigger and drive thought leadership in the IT industry.'
What are you most proud of with BCS?
'I'm proud that I was the one to drive the engagement with ITIL 4, as well as other published frameworks. Through me organising events with the authors of these handbooks, the rest of the Service Management and IT Asset Managers Group get the privilege of contributing.
'I'm proud of the opportunities I am able to provide for the group. BCS allows me to broaden the engagement opportunities I have to other people in my industry.'
What makes your role enjoyable?
'The most enjoyable part is the events themselves. The discussions are stimulating and learning new things is enjoyable. But I also get to see people I know in similar jobs and socialise with them. We always factor in plenty of time to talk over a glass of wine!'
How do you balance work / personal life / volunteering?
'There's a big overlap between my work and volunteering, which helps to cut the timing down. For example, I don't need to factor in time within my working day for networking if I'm doing that with BCS in the evening.
'The flexibility of being an independent consultant really helps as I am able to orchestrate my time to fit my needs. I've formed a triangle between my work, volunteering and personal life, in that my volunteering gives me the visible profile I need for my work, which allows me more flexibility to run my personal life how I want to.'
What matters most in your professional life?
'I work as an independent consultant, so finding clients is really important – if I don't have work, I don't get paid, so I need to maintain a high profile. When people have a problem and need a service, I need it to be me they think about, which requires recognition within the industry.
'Another important aspect is keeping on top of the latest developments in the industry because it is constantly changing. How organisations use software, how software vendors license software and how new technologies use that software are all constantly evolving and I need to understand it. This is why I'm so passionate about professional development.'
How did you get to where you are now?
'I studied IT because I like the steep learning curve and then went on to work on an IT helpdesk. From there, I moved into IT asset management in a combination of contracting and permanent roles. Each time I've shifted roles, I've climbed up the career ladder. Now, I'm an independent consultant. I spend a few months helping an organisation with their asset management, then I move on to another.'
What's important to you outside of work?
'I'm Australian and my family is scattered all over the world, so it's important for me to have the flexibility to visit them whenever I want to. Working shorter engagements rather than permanent roles allows me to plan my time around travelling.
'Climate change and the environment are also very important to me. It sometimes frustrates me that my career is so far removed from this passion, but I donate excess money I have to environmental causes.'
What would you say to a new volunteer who asks you how to be successful?
'Make sure you have a clear sense of what you want to do and what you want to get out of BCS. Don't wait for other people to tell you what to do. Think of BCS as a platform and come here with ideas of your own and ask BCS to support you with them.
'We will then do what we can to facilitate those ideas, but you have to be the driving force behind them. In time, you'll need less and less help from BCS and be able to run things on your own and help others.'
What do you want to do next in your BCS journey?
'I'm really happy organising events for the IT Asset Managers Group and I don't have any plans to move on because it works so well with my career. If I had more time to give, I would consider helping to improve the administrative side of BCS. However, I would also like to get involved in charitable work related to the environment, so for now, I'm happy with my role within BCS.'
With the turn of the decade, where do you think BCS should be heading?
'BCS needs to stay up to date with new frameworks as they come out so that we can understand how to get value out of all the exciting technical stuff and communicate that. We need to work hard to maintain our income because we are a UK-based charity and so much of the IT industry is going global now.
'We also need to make the most of the amazing pool of talented volunteers we have here. 'To do all of this, we must tighten up the learning and development side of BCS - particularly its administrative efficiency - so that we can work with commercial partners professionally.'
If you had children, would you recommend they follow in your footsteps?
'Most people would prefer a comfortable job, so what I do is definitely not for everyone. I would recommend following me in my opportunism: I've seen opportunities and niches and taken advantage of them despite the precarious position it has sometimes left me in.
'I've gained so much experience in different areas, so I now understand a range of practices and how they relate to IT asset management. My advice is to gain varied qualifications and experiences so that you can speak the language of other areas within both IT and other industries and communicate with them effectively.'