Profile: Rachel Steenson
Rachel Steenson is a Past Chair of BCS Northern Ireland Branch. She is a firm believer in diversity and is keen to encourage young people to consider our industry when considering their career choices.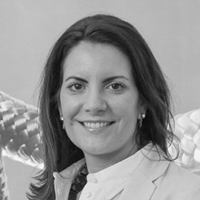 Rachel's career started in the hospitality industry and, with a few steps sideways and more upward, she now holds a prominent role in a high-profile tech firm from Northern Ireland.
She's an active BCS member and, through energetic volunteering, is focused on inspiring young people - particularly women - into taking up a career in technology.
She says that our industry has provided her with some amazing opportunities and experiences. She is also a keen proponent of diversity. As for advice to other members, Steenson says: 'Don't be shy about getting your ideas out there - be interested and ask questions.'
What matters most in your professional life?
'The fact that I work for a global organisation which provides cutting edge technologies that help to make a real difference to the global environment, communities and individuals. The ethos of our organisation means that engagement with our customers and partners is win-win and because of this, I am seeing real transformation in those organisations we do business with.
'Our solutions are being used to not only reduce costs and improve customer satisfaction but also to improve lives and to report, investigate and solve some of the world's biggest problems. Right now, governments and charities across the world are using our technology to tackle climate change and natural disasters - most recently aiding the recovery efforts following the Australian and Californian wildfires. It's this global impact that really resonates with me.'
How did you get to where you are now?
'Initially, I did a degree in hospitality management, during which I worked in restaurants and hotels in Boston. Next, I studied for a masters in computer science and worked for the Equality Commission in Northern Ireland as an administrative temp.
'This let to a stint as an Oracle Financial Developer at UCL. Moving on, I did Oracle Database Administration for Ordnance Survey of Northern Ireland. 'I am now working for ESRI Ireland, which involves business development and key account management.'
What's important to you outside of work?
'My family and friends. I have a strong group of friends who I've had for most of my life and we've stuck by each other. It's important to me to keep up that support network by catching up with them, making sure they're okay and going on holidays together.
'For me it's crucial to see them face to face. Today it's so easy to limit your social life to your phone, so I make a big effort to see my friends and family in person.'
What does BCS mean to you?
'I initially joined BCS because of the networking and learning opportunities. BCS has given me the opportunity to engage with people from many different sectors, both in Northern Ireland and across the wider UK. However, I quickly realised it's so much more than that.
'The BCS vision of making IT good for society is a voice for all of us within the IT industry. Technology can be fantastic and it can solve lots of problems, but it can also make them worse. BCS cares about that at an industry level and works to ensure that current and future IT policies and strategies add value rather than harming. Its wide-reaching societal impact is what BCS means to me.'
Why are you an active member of BCS?
'I wanted to offer something back to an organisation that has given me so much. I have had some amazing experiences since I started on my IT career. However, IT is still a very male-dominated sector and I want to do what I can to ensure young girls and women know that is a brilliant sector to work in with so many varied opportunities.
'In my career in the public sector, I interviewed hundreds of people for new jobs or promotions and I saw first-hand how few women put themselves forward and when they did, they didn't always have the confidence that their male counterparts did. I have tried throughout my career to advocate for women and to sponsor or mentor them when appropriate.
I feel that I was lucky to get the career and the promotions I have had, despite being a woman. Often the companies I worked for needed a woman to participate on their interview panels and, because there were so few women in the industry, I have had opportunities that I maybe wouldn't have had otherwise.
'Because of this, I wanted to offer something back to individuals by helping them prepare for interviews and giving them the confidence to go for that next step in their careers. Volunteering for BCS enables me to give back to the industry that has looked after me so well.'
What do you do as a volunteer?
'I was the Chair of the Northern Ireland branch for three years and I still serve on the branch committee. I'm also on the national BCS council and this means I go to London four times a year; although I'm trying to encourage the council to come to Belfast at least once, so I can make the most of my early hospitality background!
'On the council, one of my aims is to raise the profile of Northern Ireland so that it's not forgotten about when developing policies and initiatives. BCS is conscious that it is too London-centric and is looking to involve other parts of the UK.
'I also represent my demographic - a woman from Northern Ireland - on the council, attending local events to get our message out there and to bring opportunities such as improved STEM education in Northern Ireland.'
How does your role help BCS to succeed?
'Diversity brings better results, so hopefully being a visible representation of my demographic is an inspiration to other women. Seeing me on the council means they are more likely to think BCS is inclusive and in keeping with their own personal goals.
'I hope this will, in turn, bring more inspiring women into BCS and industry as a whole. Greater diversity of people yields a greater diversity of ideas and more creative and inclusive outcomes.'
What is the most interesting part of your role for BCS?
'Getting to understand the intricacies of the organisation. We break down the BCS mission statement - making IT good for society – and reach a consensus on what our priorities are: be that the ethics of AI, education or diversity, for example.
'BCS has finite resources, so we have to split these between the things we really need to focus on. I find it so interesting being part of those conversations which steer the organisation.'
What are you most proud of with BCS?
'Getting voted onto the council. I didn't believe for a minute I would get the role but was encouraged to apply anyway. Understanding that others do want to hear my voice and the ideas coming out of Northern Ireland means a lot to me. Feeling part of the BCS team and having the support around me is incredible.'
Are there any memorable / striking moments you've had with BCS?
'At the strategy away day in mid-January, the topic of discussion turned to what BCS should be doing to improve in Northern Ireland, Scotland and Wales. It was as if someone had set it up for me!
'I had already been thinking about this for some time, so I was given the floor. I shared my top ten actionable things we could be doing to make a difference; everyone was interested and in agreement, which was great.'
How do you balance work / personal life / volunteering?
'I don't always succeed, but I just try my best. I use tools such as the calendar on my phone to make sure I know what's happening.
'If I know there's a lot coming up for BCS, then I make sure I book in time to see my friends before the rush so that it doesn't end up being months before I get to see them.
'When I go to London for business, I try to arrange to see friends while I'm over there, so it's not all work and no play! It's all about planning and being strategic.'
What would you say to a new volunteer who asks you how to be successful?
'My advice would be to not be shy about getting your ideas out there - be interested and ask questions. If you're interested in something or have relevant skills such as social media or marketing, then bring those skills into BCS.
'The door is always open for opportunities to participate in an event or to organise one yourself. There's so much support within BCS, so if you want to do something, go for it! I would also recommend contributing to the BCS website / content hub and using it to network and help you in your career.'
What makes your role enjoyable?
'It all stems from my early hospitality background. I love meeting new people and I'm fascinated by their stories. BCS gives me the opportunity to speak to people like CEOs and CTOs in IT that I would never have met in my day to day life.
'I'm often blown away by the technology they are developing and inspired by it and the people behind it. I love hearing how people got to where they are and listen to any advice they have.'
What do you want to do next in your BCS journey?
'I was conscious of this recently, because my Chairmanship of the Northern Ireland committee was coming to an end. I knew I still wanted to be involved and the council offered lots of opportunities.
'I'm thinking of going for other council positions like vice chair or chairing other committees within BCS. It probably won't be this year, as I need to make sure I have the time to balance the role with everything else in my life before I commit.'
With the turn of the decade, where do you think BCS should be heading?
'So many things... We still have a long way to go towards equality for women in IT. I feel passionately about the IT industry - it's amazing, but why aren't more girls getting the IT qualifications to join it? How do we encourage girls to get into the industry? I think part of that is showing them that, like me, you don't have to take the traditional route.
'I also want BCS to have a stronger presence and voice to bring people together to work on huge problems like climate change. Technology can help with that by crunching numbers to predict changes and prove to people who still have doubts that climate change is a real thing. BCS has the right type of people with the right passions to achieve this, but it's about focusing on issues and making the right decisions.
'Having said that, it's impossible to focus on one thing because, as an industry, we don't have the time and we can't neglect other important things. We need to take an all-encompassing approach, starting with education and diversity.'
If you had children, would you recommend they follow in your footsteps?
'Absolutely! I always volunteered growing up; I did the Duke of Edinburgh and Girl Guides - I was even lucky enough to go to Kenya for six weeks with Scouts and UNICEF! People in the UK can be so one-track and don't get to see or understand the richness of the planet we live in. You need to get out and see the world and you can do that with volunteering.
'It gives another outlook on life and shows the difference you, as an individual, can make - however small that is. If everyone made their own little positive contribution, the world would be an amazing place and perhaps we wouldn't be facing some of the global issues now confronting us.'