Profile: Rebecca George
Rebecca George OBE FBCS enjoys a successful and influential position with Deloitte. She is committed to helping BCS achieve its mission of making IT good for society.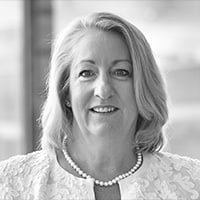 Rebecca has enjoyed a long and influential professional career and plays a prominent role within BCS, as a senior volunteer. In her working life at Deloitte, she supports governments to face and solve big societal challenges.
As a Past President of BCS, Rebecca has much to say about its role and place within the global IT arena. She is a firm and passionate believer in the BCS mission of making IT good for society. In practical terms, she believes this means using IT to achieve equality and address societal disadvantages. Her presidential year (2020-2021) focused on IT professionalism, BCS membership, women in IT and the need for people to be appropriately qualified to build critical digital systems.
Across her career - and indeed her family members' careers - volunteering is a frequent and visible activity. She offers this advice to other would-be volunteers: 'Firstly, roll your sleeves up and get stuck in. You don't get successful by sitting on the sidelines and watching other people.'
What matters most in your professional life outside BCS?
'I am the Managing Partner of Government and Public Services for Deloitte across 13 European countries, which involves providing supporting services for their governments. What's important to me is that this work makes a positive impact for citizens in those countries.
'They are mainly facing similar challenges including ageing populations, environmental concerns, diminishing budgets and rising demand. The work we do is paid for with public money, so it's very important to me that we can say we helped our public clients in those countries to deliver better services to their citizens.'
What was your career path to get to where you are now?
'Initially, I worked in the cable television satellite industry, but it didn't take off the way it did in the USA, so I left. 'Next, I joined IBM as a sales representative. I did a variety of jobs there in financial systems and banking, then public sector, internal roles in operations, and HR.
'Following IBM, I moved to Deloitte as part of the central government team. I began by managing Deloitte's relationship with central government departments, then their healthcare business and public business schemes across Europe.'
What's important to you outside of work?
'My other voluntary ventures are important to me: I'm on the board of the City Mental Health Alliance and am the Non-Executive Chair of the T-Level Reform Programme board for the Department of Education.
'My family is obviously also very important to me. Spending quality time with my husband matters to me, especially as I work away during the week. I also support my mum (who's 86) as much as I can. '
I have two dogs and I like to walk them, even when it's raining. I sing in two choirs, run a folk band, do some amateur gardening, bee-keeping, jam making and like to cycle in the summer - I like to keep myself busy!'
What does BCS mean to you?
'One of the important things BCS does is to provide a range of industry role models. I used to give talks in schools for students and their parents. I would ask the parents to put their hands up if they had a nurse, a doctor, or a teacher in their family and many hands would go up. Then, I would ask them to raise their hands if any of their family was in a senior IT job and the hands stayed down.
'If they don't know anyone senior in IT, it's hard for parents to tell their children about it, so children are less likely to end up in the IT industry. That's where BCS can provide visible role models for children to see what the IT industry looks like - not all IT jobs are technical and there's such a range of people who work here.'
Why are you an active member of BCS?
'I started off as I am really interested in diversity and the issue of the lack of women in IT. Over the years with BCS, I have worked on initiatives looking at the whole spectrum of how to attract women into IT: from graduate recruitment and early careers development, to supporting maternity returners and people at senior levels.
'I see women in IT as a microcosm of women in business and STEM and I still think it's really important. Sadly, the UK IT industry is not much further forward than when I started and there's still a lot of work to do.'
What do you do as a volunteer?
'Over the years I have branched out and, whilst I'm still very interested and active in women in IT, I'm also busy supporting the overall strategy of BCS - to make IT good for society - and expanding professionalism and membership.
'I joined the Policy and Public affairs Board almost ten years ago and chaired that until we closed it down in order better to support the change in the overall strategy.
'I then started a new board called the Organisation and Employers Board which focuses on the relationship between BCS and private, public and third sector organisations. I've been running that for three years along with sitting on the trustee board as Vice President.'
How will your presidency help BCS to succeed?
'I will focus on IT professionalism, BCS membership, women in IT and the need for people be appropriately qualified to build critical digital systems. When people commission IT systems, I believe that proposing organisations should state in their proposals how they are qualified to build them and provide supporting evidence.
'Everyone should appreciate how important it is to be properly qualified and be proud of it. BCS is a big part of that story and I will make sure it is a priority. On top of this, I'd like to increase the number of members we have. BCS doesn't have as many professional members as I think we should have to represent the whole industry. Part of that is getting more women, more minorities and more young people into the IT profession and BCS.'
What is the most interesting part of your role for BCS?
'It's all interesting! One of the great advantages of being a volunteer is you learn things you might not otherwise know. Sitting on a trustee board is a really good experience of what it's like being on the board for an organisation the size of the BCS. It's interesting because I have also been on the board for Deloitte, so I can compare.
'It's really fascinating to see everything that's happening operationally and review all of the different parts of the business. I've been involved in strategy, policy and issue resolution, as well as talent management and succession. It's endlessly fascinating and gives you a degree of experience you wouldn't necessarily get otherwise.'
What are you most proud of with BCS?
'I am really proud that I'm going to be President. Other people had suggested I go for it years ago and I thought I'd never be able to do it. But here I am - I'm actually going to do it and I'm hugely proud of that. I'm also only the sixth female president and the third businesswoman, so I'm proud to represent and hopefully inspire other women in the industry. I'm excited!'
Are there any memorable / striking moments you've had with BCS?
'I've had so many great moments with BCS but the one that stands out the most was an event a couple of years ago. The President at the time organised a workshop in Belfast for people from health organisations in Northern Ireland and the Republic of Ireland to come together for a day to talk about how the two health systems might work together in the future. It was awesome!
'The problem isn't solved, but we identified the barriers and devised ways we might collectively help them to work more closely in the future. There was a huge feeling in the room that everyone wanted to work together to make it happen. There were people from vastly different backgrounds together in the same room, on the same page, forming personal relationships, and that's the secret to solving these massive issues.'
How do you balance work / personal life / volunteering?
'I've been married for 28 years and we have two sons. When the boys were aged one and three, we moved to the USA and my husband gave up his work as an academic to become a house husband. This meant I was able to focus on my career and have the privileged situation a lot of men have.
'There are families where both parents work and it works well, but there are different models for different people and ours works really well for us. We need lots of role models in this world so people can see the model which works best for them. There's the saying "behind every successful man is a successful woman", well behind me is an incredibly supportive husband.'
What would you say to a new volunteer who asks you how to be successful?
'There are two main things I would say. Firstly, roll your sleeves up and get stuck in. You don't get successful by sitting on the sidelines and watching other people. Don't worry about whether you're doing the right thing because there are always people on hand to help you. If someone needs minutes taking, organising meetings, helping to write documents, create websites or write up success - just offer to do it.
'Secondly, any volunteering activity must be win-win-win. That's good for you, good for BCS and good for your employer. Your employer will often be allowing you a bit of flexibility with your time so that you can do your volunteering, so it's important they get something out of it too. That means making sure your employer's point of view is well understood by BCS and you speak on their behalf. If you do this, you'll be well supported to be a successful volunteer.'
What makes your role enjoyable?
'I think it comes down to doing what you love. You spend so much of your life working, so it's important to like what you do, otherwise you end up wishing your life away. I love working with BCS because I really care about the work I do there and enjoy what I do. I especially like the link between individuals, professionalism, ever changing technology and the context of broader societal impact.'
What do you want to do next in your BCS journey?
'After my year as President, I'll have a year as Past President and beyond that I expect to continue to be involved. In the future, I'd like to work on how to change and improve the way the frail and elderly live their lives, including how they use and are supported by IT.
'It's a cross-sectorial issue involving housing, health and social care, community and family, as well as technology. I like being surprised and amazed by what life brings me, so I'm not being too prescriptive about the future.'
With the turn of the decade, where do you think BCS should be heading?
'As an institution, we need to all be behind the message of making IT good for society so BCS can speak well on big societal issues. These include professionalism and recognising the importance of people being qualified and accredited; IT in higher education and apprenticeships and making sure young people are safe online. We should also focus on having appropriate measures against online fraud and protecting the frail and elderly.
'BCS should also play a part in addressing the digitally left behind - people who find it baffling and incomprehensible, or who used to be able to use IT but can't anymore. There's also a part for us to play in improving job opportunities and social mobility for people from communities across the country where opportunities are not plentiful. These are all massive societal issues where BCS can play a big role, with the support of everyone involved.'
If you had children, would you recommend they follow in your footsteps?
'Absolutely with regards to volunteering! Neither of my sons are in IT, but they are both big volunteers and I am very proud of them. My husband also does a lot of volunteering. Our sons have grown up with volunteering and they recognise how important it is. There are many ways to volunteer and so much to get out of it - being a volunteer is a life-enriching experience.'