Unlike a lot of ITIL® prescribed roles, the role of the continual service improvement manager does not really have a 'routine' job with 'routine' tasks carried out on a daily basis.
The kind of variety in the role is very much linked to the maturity of the organisation it sits within. What is described in chapter six of BCS' Continual Service Improvement Manager role book are examples of activities and tasks a continual service improvement manager will get involved in within a typical organisation.
For the purposes of this post we will focus on the service improvement forum.
One of the main roles of the continual service improvement manager is to coordinate change across the organisation. In order to do this they need to set up a framework to manage service improvements within the organisation.
In an organisation where improvements are not coordinated and are instigated and implemented locally without any reference to other functions and departments, any change will have a knock-on and often undesired effect elsewhere in the organisation - resulting in a vicious cycle of knock-on issues needing action and swallowing up unnecessary resource in the process.
This is primarily because there are boundaries between functions, and the individuals within them do not have the authority to make changes outside these boundaries. Therefore a unilateral change is made to fix their issue, which causes issues elsewhere within the organisation (see Figure 6.3). One of the worst case scenarios is that two areas try and resolve the same issue without any communication.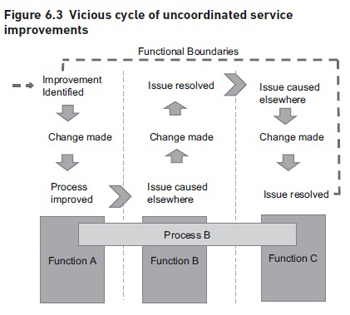 In order to resolve these issues the continual service improvement manager must set up a framework in which change can be facilitated and coordinated across boundaries. A service improvement forum is the vehicle to achieve this (see Figure 6.4). In addition, it is a vehicle to promote the culture of continual improvement within an organisation, bringing openness and the ability to share ideas.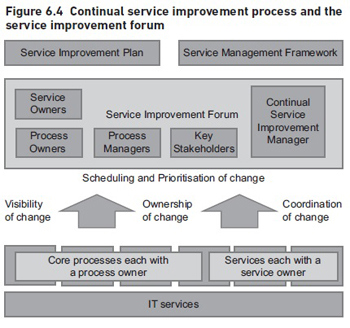 The purpose of a service improvement forum is therefore to:
bring visibility to service improvement within an organisation;
identify owners for improvements;
educate and communicate forthcoming improvements;
act as a CAB for service improvements;
facilitate a culture of service improvement.
Ideally, the forum will meet on a monthly basis and will be chaired by the continual improvement manager. Typical agenda items will be:
matters arising from the last meeting;
upcoming improvement changes;
review of implemented improvements;
focus on one key improvement area;
any other business.
Source: Continual Service Improvement Manager: Careers in IT service management by David Whapples. www.bcs.org/ITroles