I had the great pleasure recently to spend the afternoon with this month's artist Barbara Nessim, a pioneer in digital art and illustration; it was fascinating to hear first-hand about her career spanning six decades.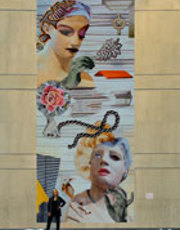 Click the image to enlarge
Credit: Barbara Nessim, 'A Current Past', from the 'Chronicles of Beauty' series, digital painting on brushed aluminium, installed EVENTI hotel NYC, 28 x 12 ft, 2010.
Copyright the artist, reproduced with permission.
She was one of the first prominent (non-fashion) female illustrators working in the industry and has also seen major changes in computer graphics. Now a significant body of her work has been donated to the Victoria & Albert Museum, where it was exhibited in 2013 accompanied by the (highly recommended) monograph Barbara Nessim: An Artful Life.
In the 1950s it was rare for women (especially single women) to have a career in the arts, outside perhaps of teaching, the norm being to marry. However for Barbara work and the ability to support herself financially was important, believing that she wouldn't be able to find her true self if she married.
Commercial illustration allowed her to continue her painting and fine art. She tells me, 'I don't understand the snobbishness associated with illustration.' In fact she only knows of one other woman, a Lorraine Fox, in the 1950s, but by the 1960s the field had opened up to women somewhat more.
A life-long New Yorker, Barbara's work often reflects the energy of that city and the goings-on of its hip inhabitants including her fellow artists, among them Zandra Rhodes and Richard Avedon, who she has collaborated with.
Her work has a focus on women and gender roles; she's interested in exploring the relationships between women, men and women and women and the world including social norms and 'rules' for women - how you are supposed to act, to look, and so on.
From the 1970s she was producing strong graphics and illustration for famous magazines such as Time, Vogue, Rolling Stone (including a famous John Lennon remembered cover in 1988), Harpers, New York Times and many others.
From the first, sketchbooks became an essential part of her practice. These she carries wherever she goes and are the well-spring of her creative energy - she tells me, 'it all starts here.' As she explained these are unlike commercial jobs which come with specific constraints - the brief, the art director, his boss, the story, ultimately the public, all of these have to work together and as Barbara points out, 'you do have to please yourself within that framework too.'
The production of sketchbooks allowed her to 'still keep my own self and produce work for other people.' The drawings, paintings and collages within these sketchbooks are diverse in style and subject matter but are characterised by a graceful, flowing line. Looking through these beautiful books it is clear what an inspiration they must be, reflecting aspects of daily life in NYC or concerns at a particular time or an image that catches her eye. (A selection is reproduced in An Artful Life and they are also available to print on demand.)
Of her unique style she says, 'I didn't look for a style, it just found me.' She is keen to point out however that her vibrant, colourful and life-affirming women are not psychedelic, as is sometimes described in the press.
Her reputation as an artist was such that in 1980 MIT called with an offer to come and work on their computers. Although at that time she was unable to take the necessary time off teaching and other commitments, the possibility of making art on the computer intrigued her and she set out to find a computer at home in NYC.
Barbara recalls, 'At that moment, I knew that computers were a radically important shift from the norm, which would be life-altering and completely change the way we were all working and doing things. Instinctively people don't like change. It took more than 20 long years for it to mature and for people not to consider it a fad.'
Eventually she was able to access systems at Time Life, becoming artist in residence at the newly formed Time Video Information Services in 1982. Here she used a Norpak IPS-2 (a Canadian invention) used by Time for games and television graphics. Barbara recalled that the console looked like a big desk and describes working on it as 'a challenge'; she had only six primitive shapes: an arc, circle, dot, rectangle, polygon and a line that could be defined and used to draw.
Further, the system did not allow mistakes to be erased, you had to start all over again. Output consisted of a Polaroid or a 35mm slide. As is typical of many pioneering artists using state of the art computing at this time, Barbara was allowed access to the machines after hours so she worked from 5pm to 9pm.
In fact her love of the arc command earned her the nickname 'arc-angel' in the office. She worked at Time for about a year or so before the office was shut-down and was the only artist to use this system there to create a body of work. (See a 1984 video made the last night of her residency documenting her work)
Her very first computer works appeared in a four-page spread in the German publication Frankfurter Allgemeine Magazin (1984). Another early work, a portrait of the head of the statue of liberty - Ode to the Statue of Liberty, (1986) is now in the collection of the V&A.
In 1991 she was hired as the Chair in the Illustration Department at Parsons the New School for Design and during her 12 years there was responsible for bringing computers into the studios and overhauling her curriculum, with the result that her popular course became the genesis of the Digital Design Department. As Barbara says 'the digital shift had happened.' By the mid-1990s, 'If you didn't know how to use a computer, or didn't want to accept them, you were out of a job.'
Throughout this early period she had to invent ways of exhibiting and displaying this new type of art, as there wasn't a norm already in place to follow. The longevity of the work and its durability and permanence for the future has always been an important concern.
To this end the artist developed her own methods to ensure the archival qualities of her work. This involved the use of gatorfoam board (for its strength) and then wrapping the board in rice paper before hanging with attached magnetic strips. She would also Xerox images before hand-colouring them with pastel, as, again, she knew this method would last.
Our image this month shows the artist in front of her work 'A Current Past' at the Conde Nast building in NYC, 2010 where she held a three month show. This very large work - 28x12 feet - occupies the 3rd and 4th floors on the Eventi Hotel in NYC (30th St and 6th Ave.). It is the centrepiece of the complete thirteen artwork commission called 'Chronicles of Beauty', all of which are digitally printed on brushed aluminium and demonstrate Barbara's digital collage technique of using found images with hand drawn elements to explore historic and contemporary notions of femininity.
Catherine Mason is the author of A Computer in the Art Room: the origins of British computer arts 1950-80, published in 2008.
More information on the Computer Arts Society, including our events programme
Visit the Computer Arts Society on Facebook