The ethos behind the development of the IT Infrastructure Library (ITIL®) is the recognition that organisations are becoming increasingly dependent on IT in order to satisfy their corporate aims and meet their business needs. This leads to an increased requirement for high-quality IT services. ITIL® V3 introduces new challenges in such areas as transition planning and designing for service. Peter Wheatcroft discusses one aspect that exists in both V2 and V3 - application lifecycle management.
Much of the thrust of service improvements in recent years has centred on ITIL® and the role of process effectiveness. This had led to a much-needed focus on core disciplines, such as change and incident management, with a commensurate improvement in the standards of delivery. As in any discipline, however, there comes a point when continuing to focus on the same thing will yield diminishing returns and the core ITIL® disciplines are now mature enough to allow the focus to be moved elsewhere.
ITIL® is the most widely accepted approach to IT service management in the world. It provides a cohesive set of best practice, drawn from the public and private sectors internationally. It is supported by a comprehensive qualifications scheme, accredited training organisations, and implementation and assessment tools. The best practice processes promoted in ITIL® support, and are supported by, the British Standards Institution's standard for IT service management (BS15000).
Scope
The scope of application lifecycle management (ALM) is an evaluation of the applications development, delivery and maintenance processes used in an organisation from a service delivery perspective. This is done to ensure that the way such applications are delivered meets the needs of the customer as defined in any service level agreements (SLAs) and which will be backed up by the service teams inheriting them.
However, few companies allow their service teams effective access to the development lifecycle, and yet addressing a service root cause at the business analysis stage will yield significant problem, usability and incident management benefits when the system eventually transitions to live. A process that uses the application management specification of the OGC ITIL® library as its base methodology and that can act as the review framework (Figure 1) is also covered by the international security management standard ISO 17799 as well as CobiT 4.1 and so is not a geeky thing.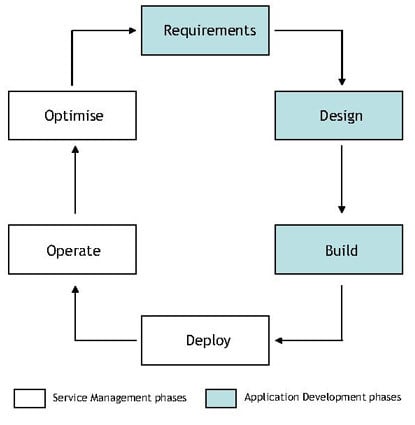 An illustration of ALM based on the ITIL®, ISO and CobiT specifications
Best practice doesn't just happen
Best practice in application delivery means having clearly understood processes that ensure that:
Applications are developed against business and user needs.
Mature test, user acceptance and release processes are in place.
Appropriate emphasis is given to governance and security considerations.
The organisation is not financially or legally exposed by an application release.
Released applications are efficiently managed by ITIL®-based service management methods.
End-user experience is constantly managed from ongoing real-time performance monitoring.
A rapid return on investment (ROI) and market share is gained by efficient ALM within the organisation.
The alignment of processes between 'silos' in a successful organisation must allow for the rapid development, release and management of applications in order to meet organisational requirements and to provide a timely RIO.
According to a recent survey, which looked at 200 top European online organisations, poor application response can cost in excess of £500,000pa. Poor response will ensure you lose customers, users and market share to your competitors, because applications that do not fulfil user requirements, especially non-functional needs that are often not well specified anyway and take too long to deploy from initial concept to release, means competitors quickly erode your market share and business.
Proposed deliverables
A review of the application lifecycle through the stages of development, test, release and end-service management will allow monitoring of real external customer experience monitoring of applications. This will support the delivery of:
a benchmark of the application lifecycle against industry best practice - measuring current success in delivery against external references;
a detailed analysis of the application lifecycle, identifying 'bottlenecks' and inhibitors to success within your organisation;
an analysis of governance or financial risks associated with the application lifecycle;
an analysis of service management processes associated with the development, test and deployment of applications;
an assessment on how to drive improvement in the lifecycle processes and to deliver a rapid ROI for critical applications;
an assessment of fitness for purpose of current development and management tools;
a specification of what the underpinning operational level agreements (OLAs) need to be to support the customer SLAs that are either in operation or being planned;
a skills audit and training needs for key staff;
a clear understanding of the end customers' 'user' experience;
a report on real 'user experience' of web services compared to your competitors.
Call to action
Addressing ALM is a way of ensuring service management success by reducing the number of security, operability and usability issues passing through the development lifecycle unchecked. It requires a very different approach to the normal service improvement programme since the agenda crosses departmental boundaries, although the benefits are organisation-wide. It is thought that with the emphasis given in ITIL® V3 to service transition, ALM is one of the key mechanisms available to deliver the next stage of quantifiable service improvements.
Case study
A major financial institution had initiated a service improvement programme that tasked its service management teams with improving delivery to 'best practice'.
However, as well as targeting specific changes in the normal operations cycle, it also looked at ALM and found that it was only 72 per cent compliant with ITIL® standards and also returned 60 per cent of level 4, rather than the desired 100 per cent, against the CobiT maturity framework.
This meant that further improvements in delivery standards were unlikely to be realised until the systems lifecycle was overhauled. The company brought in a new AM partner certified to CMMI level 5 (equivalent to CobiT level 5) in order to ensure alignment of development activity with service objectives.
About the author
Peter Wheatcroft, principal consultant at Partners in IT, is a specialist in service transformation and achieved world class service delivery at Alliance and Leicester plc where he was director of Commercial and Information Management until 2002. Since joining Partners in IT he has worked with some of the most famous brand names in the UK to reposition their IT Service capabilities. As well as having the usual IT background, Peter has also studied and qualified in psychology. He has also published a book, 'World Class IT Service Delivery'.