Fujitsu, in partnership with Heathrow Airport, is incredibly proud to have been awarded 'Network / Infrastructure Project of the Year' at the 2015 UKIT Awards for our collaborative work on Heathrow's new Terminal 2.
The awards evening on 18 November began with the Chief Executive of BCS, Paul Fletcher, stating that IT should be 'good for society' - and we couldn't agree more. Fujitsu's approach to innovation is human-centric; centred on people, and this was certainly the case throughout our work with Heathrow. We are thrilled that this has now been recognised with such an accolade.
The project
The network infrastructure project during the reconstruction of Heathrow's Terminal 2 saw Fujitsu implement the terminal's seamless integrated network system. This network underpins the entire passenger journey through the airport, supporting critical operations throughout the airport. Employees are now able to access improved Wi-Fi which means they can receive real-time information and communications, as well as being able to optimise travel services.
Most importantly, passengers are also benefiting from the network. The enhanced Wi-Fi and other technologies installed at Heathrow mean the amount of time passengers spend waiting around has been significantly reduced; this includes queuing for check-in, baggage and security checks. Passengers can even check-in at any desk they choose which speeds things up dramatically.
Winning the award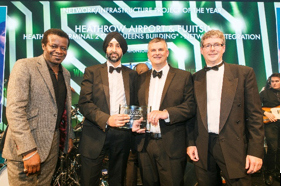 It's fantastic to win a UK IT Award - but this wouldn't have been possible without the work of our outstanding delivery team, who planned our part of the project alongside Heathrow and made it happen as the terminal was being built.
The written award submission earlier this year really told the detail of how we did this and secured a place in the semi-finals. A team of Fujitsu and Heathrow representatives then travelled to Reading's Madejski Stadium to bring the project to life by presenting to a panel of judges.
They were impressed with what they saw, so it was on to the finals; a black-tie awards evening at Battersea Park Arena - a tremendous occasion made even better by being announced as award winners!
A great collaborative achievement and just one example of how IT can be 'good for society' - in Heathrow's case, to make every journey better for their passengers.
Russell Goodenough - Client Managing Director, Transport Sector, Fujitsu