BCS is partnering with Content With Purpose (CWP) to produce a wide-ranging digital series exploring IT's contribution to society; solving global challenges, driving innovation, transforming lives, and creating a future of possibilities.
Through a blend of future-focused content, including short films, interviews and a documentary, 'Digital Pioneers: Recoding our Future' will meet the thought leaders, the changemakers, the innovators and the collaborators who are developing cutting-edge solutions to key societal challenges facing our world.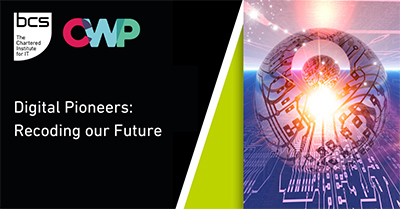 It will uncover the essential role of digital technology in unlocking answers to the UN's Sustainable Development Goals, pioneering progress across areas including health, food security & agriculture, climate action, biodiversity, poverty, quality education, economic growth and sustainable infrastructure.
With the unprecedented surge of technology including AI, quantum computing and blockchain, the series will explore adjacent progress in developing skills and regulation to keep up with the pace of change, the imperative need to build public trust in tech, and nurture an ethical and responsible computing profession.
'Digital Pioneers: Recoding our Future' will showcase excellence in research, innovation, collaboration and skills development. It will capture the minds and curiosity of the next generation, revealing that by working in tech, your impact will be far greater than you could ever realise.
Following its launch in April 2024, the series will be promoted through an extensive digital marketing and communications campaign, with tailored content for bespoke audiences including BCS's network and the digital technology sector, as well as policymakers, young people and the general public.
This is the next chapter of BCS's partnership with CWP, following the launch of 'Net Zero: A Digital Journey' in November 2022.
For you

Be part of something bigger, join BCS, The Chartered Institute for IT.
BCS Director of Brand, Carl Harris said: "Digital technology is advancing rapidly, and this brings with it enormous opportunity to transform our world. At the same time, we must bolster skills, standards, and professionalism, and carefully navigate ethical challenges to ensure the digital journey is safe and positive for everyone. We are delighted to be partnering with CWP once again to celebrate and inspire IT as a force for good."
Max Smith, Founder & Managing Director, CWP, said: "This is an industry that is evolving daily, making the impossible possible, and driving innovation to propel every area of sustainable development. We are excited to uncover the stories of those leading the way to a brighter future and tackling the challenges faced on this journey."
CWP is a strategic content creator that works in partnership with leading member bodies and associations; engaging professionals on their industries' contribution to sustainable development.
Organisations interested in contributing to the series should contact Millie Gallagher, Series Development Lead at CWP to learn more: millie@contentwithpurpose.co.uk