Dr Kitty Hung CITP FBCS, Principal Consultant with Atkins, explores what metaverse projects mean for both businesses and also the BAs who will need to embrace the new technology.
What is the metaverse? Like the technology itself, the word's meaning is evolving. Currently, the word describes a highly immersive virtual world where users can play, socialise and work. In many ways it's an extension of today's flat, text and picture-led internet.
The metaverse's key enabling technologies are virtual reality, augmented reality and Web 3.0. It also relies on fast CPUs and powerful GPUs to provide all the necessary management and graphical rendering. Elsewhere the metaverse is encouraging development of VR goggles and sensory gloves, all with the aim of increasing the sense of immersion.
Far from being just a fad, the metaverse is a serious business. Facebook changed its name to Meta in late 2021. This reflects its strategic road map and its planned pathway towards leveraging the metaverse. As a business, Facebook sees the technology's potential to enhance users' experience across gaming, shopping, sports, work and even public services.
Microsoft recently acquired Activision Blizzard (the creator of famous games, Call of Duty and Candy Crush) for nearly US$7 billion. Google has also invested nearly US$40 million in private equity funds in metaverse projects.
How do business analysts support metaverse projects?
Given the metaverse's potential for disruption and innovation, it's a technology which business analysts should take seriously. There will be many opportunities for BAs to contribute to metaverse-based projects. As such, as BAs, we need to start honing and developing our skills now.
Business analysts use SWOT (strengths, weaknesses, opportunities and threats) analysis to understand forces which are acting internally and externally on organisations. A SWOT analysis is a good place to start making an informed decision on whether we should embark on a metaverse-based project.
Strengths: The metaverse's strength is the extension of 3D environments, moving these from gaming applications to applications touching our day-to-day lives. These might be: shopping, working, socialising, business operations, sports, exercise and entertainments. Metaverse is the turning point which will enable us to move from 2D visualisation to 3D immersion.
Weaknesses: Like other emerging technologies, metaverse is still in its greenfield state. Although it has inherited characteristics from VR and AR, its application and data aspects are still immature, not well defined and not well tested.
Opportunities: Metaverse gives opportunities to the online business operators to expand their digital footprint by providing an additional platform to market and sell their products and services. Users can see, touch, hear and even try-on the products or services virtually before making their purchase.
Threats: Again, like many other new and emerging technologies, metaverse could be subjected to cyberattacks due to its immaturity. As metaverse applications can be decentralised (have no central authorities to monitor the publicly accessible digital domain) cyber criminals might find new opportunities for attack.
User-centric requirements engineering
Metaverse provides a great chance to focus directly on the user experience. As engineers, designers and business analysts, we need to switch to a virtual mindset to imagine ourselves in the metaverse world. With that, we would be able to ask more appropriate questions when capturing requirements.
For you

Be part of something bigger, join BCS, The Chartered Institute for IT.
Bear in mind that the metaverse is new to most users. They have never experienced the metaverse themselves so they'll likely have no preconceptions or reference points. Moreover, they wouldn't know what the metaverse can offer. Therefore, user research is extremely important.
Here are some example techniques which could help BAs conduct user research:
User personas: Particularly useful to understand different user's roles, perspectives and sentiments.
The user empathy map: Helps us, as BAs, empathise and synthesise our observations and draw out insights about the user's needs.
User survey: Can help draw out quantitative and qualitative data that we can leverage to get a holistic view of user expectation and experience.
User journey map: Provides a graphical representation of user's interactions with the metaverse. This helps the BAs step into the users' shoes and see view points from the user's perspective.
Discoverability: Business analysts need to 'connect the dots' and move their mindset away from the traditional IT projects. Ordinarily, they only need to care about a static 2D applications. In the metaverse, users immerse themselves in a 3D, 360 degree, animated and surround-sound environment. Not only can they see, they can also touch, sense and potentially hear everything around them. When BAs engage in centric requirements engineering, they need to connect all of these dots.
User story: An agile user story technique can be a more effective way to capture user requirements during both agile and waterfall projects. The user story provides the story owner (who), the requirement (what) and the justification (why).
Requirements traceability: The behaviour driven development (BDD) technique for producing the acceptance criteria is also a very effective method to help BAs to produce a requirement traceability matrix (RTM). The RTM is a document that links user requirement with test cases.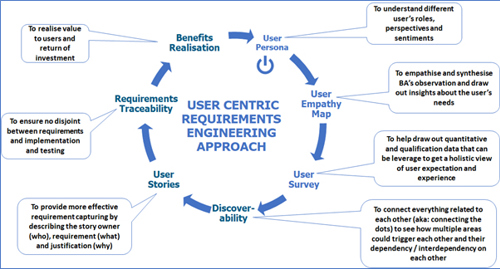 As shown in the above diagram, BAs play an integral part in the user research, conceptualisation and testing in the end-to-end development lifecycle for metaverse projects. Like other emerging technologies, metaverse is still in its greenfield phase.
It's also worth remembering that BAs play an integral part in the user research, conceptualisation and testing in the end-to-end development lifecycle for metaverse projects. The pass rate in testing can be lower than other well established, well defined and mature technologies. Indeed, it is not uncommon for BAs to go back as far as user research to rework the analysis.
As such, keep in mind that prototyping is a de-risk strategy which minimises financial loss. Done right, it means the system should not need to be rebuilt.
Data modelling
Due to the complexity of the metaverse, it involves both structured and unstructured data. Not only that, but the graphical animations in metaverse worlds need zettabytes of data. These data structures are substantially more complicated than the traditional 2D static applications.
BAs should focus more on how to develop a conceptual model to define how we could connect different sources and types (structured / unstructured) of data together logically first before implementing the data solution for a metaverse application.
Metaverse applications also require a lot of data integration and data interfaces from different databases. The incompatibility of different databases and systems poses a big challenge for the metaverse development community.
UAT – What you see is not just what you get
Metaverse worlds contain sight, sound and sensory experiences. Testing is more than the look-and-feel of the system. When BAs conduct the user acceptance testing (UAT) with the users, we need to test the visual effect and quality, sound volume and quality and the sensitivity level of the motion tracking gloves or handheld devices.
Requirements-based testing can take place with a test case approach in which each test case will reference the requirements that it verifies and by checking that each requirement has one or more test cases associated with it. This approach is to ensure that all requirements have been tested by linking the requirements in the requirements catalogue document to tests.
The requirements catalogue document should be built to be used as a requirements traceability matrix from source to justifications, including user stories, acceptance criteria, resolutions and test cases.
Conclusions and recommendations
The metaverse is coming – whether you like it or not. Business analysts need to have the acumen to support these emerging technologies. We must equip ourselves with the knowledge to deal with the increasing complexity and the higher frequency of changing requirements in metaverse applications.