Various models and methods are receiving increasing attention as the means for achieving lasting performance improvements. Klaus Hoermann of KUGLER MAAG CIE GmbH and Hans-Juergen Kugler of Lero - The Irish Software Engineering Research Centre and KUGLER MAAG CIE GmbH explain the most important models and review their potential benefits versus typical risks.
Improving an organisation means changing it. Change can be implemented by a series of small steps geared to reach an improved state incrementally, or it can be applied as a 'big bang' implementation of a grand master plan, often involving radical changes.
Business process re-engineering (BPR) in its original guise is an example of the latter approach, generally adopted when a business is in serious trouble or facing new challenges. As many variants of this method exist as there are consulting companies, but the basic procedure is the same: state the problem, define the desired state and derive a master plan for re-engineered processes, which in turn drive the organisational fabric.
BPR is often the last resort in difficult situations and involves considerable effort and cost - and high risk of failure, but also the possibility of decisive rejuvenation for future success.
Incremental improvement approaches are less spectacular, but no less effective. The risk here is the establishment of a culture of continuous improvement that perseveres.
Continuous process improvement (CPI), often equated with the Japanese Kaizen, uses a continuous series of small improvements to eliminate waste (muda), e.g. rework caused by development errors, unnecessarily high stocks of materials, superfluous delays in workflows etc. Kaizen can be used to improve something continuously, and therefore is a way of doing business.
Kaizen and other supporting methods helped Toyota, for instance, to become the number one car-maker worldwide in terms of profit, and number two in terms of turnover. Implementing Kaizen properly however requires a strong commitment from management and staff throughout the company, and in many cases it clashes with the prevalent organizational culture.
Focusing on reducing cycle time leads from the generic to more specialized approaches, such as Total Cycle Time (TCT) and Fast Cycle Time (FCT). TCT, for example, aims to detect and remove barriers in processes to reduce cycle time.
Different metrics are used to measure time consumption and quality (yield) of process steps to determine which improvements will provide the most significant return. Extra care must be taken where cycle times are mainly dependent on staff performance (e.g. in development processes).
The wrong measurements or a cavalier attitude to implementation can lead to serious dysfunctional behaviour.
Even more guidance is given by the CMMI®1, the most successful maturity model that replaced its predecessor CMM®. It comes in a product suite consisting of models, evaluation methods (appraisals) and training products. Models contain 'good practices', which have proven to be successful over many years.
These practices are structured as steps (the levels), which indicate the degree to which the model has been implemented in an organisation and its change of behaviour. Moving up the levels by implementing practices means to improve the processes addressed step by step.
Appraisals are used to evaluate what level an organisation has reached and to provide improvement guidance. Appraisals are also often used to evaluate suppliers. While the current application domain of CMMI® is software, hardware and systems development, there is also a draft version of CMMI® for acquisition organisations and a CMMI® for services
is announced for 2007.
SPICE (ISO 15504) is also a maturity model providing 'level based guidance' and is similar in structure to CMMI, although at a more detailed level the two models are not fully compatible (see figure 1 below).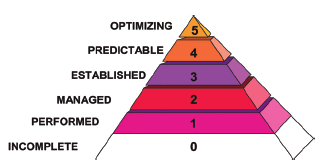 The main differences are:
CMMI® has a far better support organisation provided by the Software Engineering Institute (SEI).
SPICE currently has a narrower focus on development (especially software).
SPICE is more flexible in allowing different application domains to build their own maturity and improvement models (such as automotive, space, and medical industry).
Figure 2 shows the processes covered by SPICE. SPICE has received increasing attention in the last few years because European car-makers have been choosing SPICE for supplier evaluations. This induced a large wave of process improvement activities in the automotive supplier industry worldwide.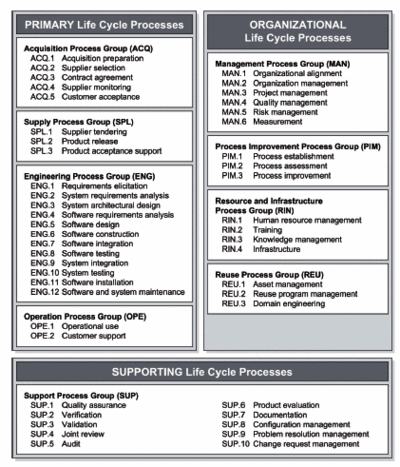 Six Sigma was initially developed at Motorola in the 1980s and became popular in the 1990s as a major tool helping General Electric to tremendous business success. Since then many companies have applied Six Sigma successfully.
Implementing Six Sigma as a holistic program means to align the entire enterprise with customer needs. The basic idea is to identify problems such as customer dissatisfaction, quality problems or avoidable delays, to find the causes for these problems and to eliminate these causes.
This procedure makes heavy use of process and product measurements, which are analysed using statistical methods. Six Sigma requires much commitment and effort from all levels in the organisation, but can improve key performance indicators by 50 per cent and more.
An important prerequisite of this method is that the processes being measured and improved must be stable in a statistical sense.This works fine in well-structured domains such as manufacturing or computerised service chains, but not in 'soft-structured' domains such as product development. Service offers such as Six Sigma for Software or Design for Six Sigma (DFFS) have little in common with the original Six Sigma paradigm. Six Sigma can be applied in product development by:
concentrating on short process chains that are relatively easy to stabilise (such as software testing, for instance);
embedding Six Sigma into a larger process improvement program based on CMMI® or SPICE aiming at Level 4 (which comprises process stabilisation and use of statistical methods in a broad sense).
Does it make sense to combine different improvement models?
Yes, it does. All incremental methods mentioned above fit together very well. A sound base is provided by maturity models that offer a holistic and systematic improvement paradigm and infrastructure by defining operational requirements on project management, quality assurance etc., as well as addressing process management, process standardisation and organisational structures. Continuous improvements are covered by many model elements, especially on higher levels. Level 4, as mentioned above, encompasses statistical control, which can benefit a lot from Six Sigma.
Are there proven business benefits?
Six Sigma, as outlined in various publications, has the potential to improve key performance indicators by 50-70 per cent. The results of implementing CMMI® based programmes effectively are shown in Table 1.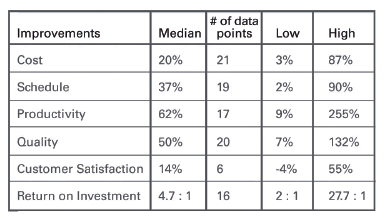 Improvement approaches based on maturity models also facilitate dealing with:
Pressure from the customer: the market may require a particular minimum competence level.
Mastering complexity: large enterprises and large projects often have very complex workflows that simply require standardised and well-structured processes.  The same is true for projects in an international context with several partners.
Legal requirements: safety critical systems, for example, require a particular maturity level according to EN 61508:2002.
Conclusion, or what really matters
In an early phase of an improvement project, the question of which model to use is often very dominant. This question all too often obscures some of the more important factors to consider: improvement projects do require significant time, resources and true management attention and commitment. Here are some important success factors to pay attention to:
clear improvement objectives and motivation;
strong management commitment;
good consultants with relevant experience in similar settings;
enough staff capacity to drive and support the project;
good management of the improvement project;
incentives for people to change;
enough attention on internal marketing, communication and change management.
A final recommendation: Invest wisely. If you want to improve, set attractive objectives and pursue them with all your energy. If you can't guarantee the success factors above, don't embark on it and save your money until you can. There have been too many expensive improvement projects that did not deliver what they promised or that were stopped with no results at all.
Dr Klaus Hoermann is a principal and partner at KUGLER MAAG CIE GmbH, a German consulting firm operating worldwide and specialising in helping customers achieve better business performance through improved processes. Hans-Juergen Kugler is Adjunct Professor at the University of Limerick, where he is Industrial Director of Lero, the Irish Software Engineering Research Centre. He is also principal and chief scientist at KUGLER MAAG CIE GmbH.
References
CMMI is registered in the US Patent and Trademark Office.
Hoermann et al (2006) SPICE in der Praxis, dpunkt-Verlag.
Performance Results of CMMI-Based Process Improvement,Technical Report, CMU/SEI-2006-TR004, May 2006.