'Art takes place outside of the machine' - Charles Csuri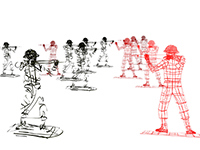 Click the image to enlarge
This month we are thrilled to bring you a striking new work by one of the great pioneers of computer art Charles A. Csuri, which references and expands one of his original ideas from the 1960s.
During the 1960s the pioneers of computer graphics worked hard to gain access to rare mainframes and had to learn programming from the ground up.
At this time the complexity and rarity of computers meant that any art form based around them was bound to be a specialised branch of art, highly dependent upon support and funding to exist, not least because of the expensive, large-scale nature of much early equipment and the resulting technical expertise required to operate it.
The infrastructure of systems, software and output came together at the Ohio State University from the middle 1960s when Csuri began to create computer generated animations and drawings.
He was instrumental in the establishment of the Advanced Computing Centre for the Arts and Design (ACCAD) to this day a leader in the use and integration of emerging arts technologies with graduates at work for Pixar, Disney and Dreamworks among other illustrious names.
Curator Lanfranco Aceti says of him, 'It is my academic evaluation that perhaps the best description for the man is that of visionary. Basic instincts characterise his artistic process: innovation, experimentation, harmony and aesthetic.'
Originally trained as a painter, Csuri produced one of the most remarkable works of art from this period (not only of computer art but in art generally) - Random War a plotter drawing created in 1966. At this time many artists were re-examining and critically commenting on contemporary life.
In Random War 1966 scattered randomly across the picture plane are red and black figures. On closer examination we see they have guns - they are soldiers, look more closely still and they seem familiar to us, they are in fact toy soldiers. (These 2-inch tall, green, hard plastic soldiers were known as Army Men to kids like me who grew up in 1970s America; they were inexpensive and came packaged by the bag full.)
Csuri created it during a time when the Vietnam War raged and divided America. There is an interesting parallel with digital and communications technology which was beginning to impact everyday life and the advent of computer art.
The use of such technology had associations with warfare and for some, this notion became entangled in the use of computers and art: '[for] many in the art community, creating art with a computer was an act of evil in itself.' (quoted in Beyond Boundaries, p.76.) Within art history, this association is something that at times digital art still struggles to separate itself from.
Csuri, a soldier and decorated veteran of WWII, saw the horrors of war at first hand and used these little toys as a model and a metaphor. The title also refers to the artist's use of a random number generator to determine the placement of the figures.
The original work had names, ostensibly of soldiers, listed at the top indicating who died, was wounded, missing and who survives. These were also selected by random number generator from names of co-workers input by the artist; he even included some famous names, such as Gerald Ford. Of this course this work ultimately refers to the indiscriminate nature of war and its consequences.
The original art work of 1966 is sadly lost, but a version of the print (minus the list of names) made for the Cybernetic Serendipity exhibition portfolio survives in the computer art collection of the Victoria & Albert Museum, London (viewable by appointment in the prints & drawings dept.)
Random War (2012), from which our image this month is taken, is a new online version which uses gaming logics and the Internet to reach a global audience. It is a piece of real-time interactive art that recreates a hypothetical war with people wounded, dead, awarded medals or missing in action.
It takes the idea of the original list of printed names further and gives it a frighteningly personal immediacy by tapping into our own friends, gleaned from our Facebook account. To participate in Random War, allow your Facebook database of Friends to be uploaded using the custom-designed software and press 'play'.
The results of Random War will unfold in front of you in a dizzying array of imagery and text. When it finishes, your Facebook Friends' names will be part of the art object, having been assigned to one of five categories: 'Dead', 'Wounded', 'Missing', 'Survived' or 'Medals Awarded'. One hero for each side will be named.
There is a delicious irony in using technology originally designed for defense purposes to create art that speaks to the consequences of such use. This art work may not be a loud polemic, but its message is no less fervent; it remains a powerful comment on the human cost of war and a stark reminder that every conflict has an after effect.
A version is currently being converted to an Android, iPhone, and iPad ready device.
Last year, Csuri, now Emeritus Professor at Ohio State, was presented with the prestigious Award for Lifetime Achievement in Digital Art by the Association for Computing Machinery's Special Interest Group on Computer Graphics and Interactive Techniques.
Maria Palazzi, director of ACCAD comments, 'Chuck Csuri was aware of parallel discourses among scientists who debated the role of computers in society. His profound understanding of these two cultures put him in a unique position to merge aesthetics and computing, long before either group recognised the potential synergies.'
Random War has previously been exhibited in Zagreb. If you can get to Istanbul, it will be on show as part of a survey of the artist's career: Charles Csuri: Sketchbooks of Time until 10 May 2012.
Catherine Mason is the author of A Computer in the Art Room: the origins of British computer arts 1950-80, published in 2008.
More information on the Computer Arts Society, including our events programme
Visit the Computer Arts Society on Facebook
Charles Csuri
Different from Us, frame 001, war16 series, 2012, Linus environment and AL.
Copyright the artist; reproduced with permission