David Hockney, perhaps Britain's most famous living artist, has never been one to shy away from the use of new technology.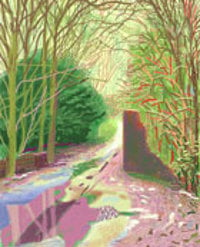 Click for larger image
David Hockney, The Arrival of Spring in Woldgate, East Yorkshire in 2011 (twenty eleven) - 2 January 2011, No. 2 (one of a 52 part work), 2011

iPad drawing printed on paper, 144.4 x 108.3 cm

Courtesy of the artist © David Hockney
Whilst a student at the Royal College of Art he embraced acrylic paints when they were still quite new in the 1960s and has used the photocopying machine and a Polaroid camera to create collages, exploiting the unique characteristics of each of these mediums.
Recently Hockney has turned to the iPad and this month's image, from a group called The Arrival of Spring in East Yorkshire, was made on the iPad, printed out on a large scale and is currently on show at the Royal Academy (RA).
It was the qualities of the backlit LED screen of the iPhone that first captured his attention in 2008. Originally he used his finger to draw with the Brushes app (a virtual paint box) to create colourful digital drawings that he emailed to his friends on a daily basis. He found this to be a 'luminous medium and very good for luminous subjects. I began to draw the sunrise seen from my bed on the east coast of England...'.
Pictures of candles, lamps and flowers followed. This immediacy proved an inspiration: '[it is an] incredible little thing, really, because it was like a sketchbook with a paint box all in one, and no cleaning up. No mess.' 
Hockney found the iPad to be even more of an electronic equivalent to a sketchbook and now uses a stylus, instead of his fingers, for accuracy. For an artist who has held a long interest in drawing, the use of a drawing program is a natural extension. Of his practice he says, 'Drawing makes you see things clearer, and clearer, and clearer still. The image is passing through you in a physiological way, into your brain, into your memory - where it stays - it's transmitted by your hands.' (A Bigger Message: Conversations with David Hockney by Martin Gayford, 2011).
The first drawings using these devices were exhibited in Paris (2009) where they were all shown 'virtually', that is, on the screens - the walls hung with 40 iPhones and iPads. This type of installation exploited the luminous qualities and many of the reviews spoke of vibrant colours on glowing screens. It also explored curatorial issues of immediacy and evolution (not traits traditionally associated with museums) as apparently Hockney emailed the whole show to the gallery and periodically sent new pictures.
Although the work only lived on these gadgets - 'It's just light on a screen' he commented - at the RA the work has been printed on paper as limited editions. In an interview given at the time of the Paris show, Hockney said, 'We haven't figured out how to get paid. At the moment, it doesn't matter, but I will have to figure it out, like everybody else.' (http://www.npr.org/2010/12/07/131854461/in-paris-a-display-from-hockney-s-pixelated-period)
This is Hockney's answer to one of the major conundrums for digital artists – how to sell a piece that may exist only virtually. I would suggest however that some of the original qualities of the work are lost by printing, in particular the brilliant back-lighting. Perhaps this daring installation was more acceptable in Paris?
At the RA the show is a mixture of traditional paint on canvas and iPad prints. As for the artist himself, Hockney has said 'you need the high-tech with the low-tech.'  Notwithstanding, the exhibition promises to make an impressive impact, not least due to the large scale of the works, making it possible to lose yourself in the landscape as the space spreads out before you.
With this latest series Hockney is interested in capturing the fleeting effects of weather and light of the landscape around his Yorkshire home in Bridlington. (In the late 1950s, he escaped provincial Bradford for the Royal College of Art, now he's back so has come full circle in his maturity.)
The area he frequents is a thirty mile radius of his house / studio which he tends to think of as his garden. 'Our job is just looking at this, and what a fantastic job it is! ... We're in what we think of as beautiful nature.' (David Hockney: A Bigger Picture, DVD, 2009 directed by Bruno Wollheim)
Working en plein air in all weathers is something he has not done before. Again, the speed of the technology impressed him, as there is no need to wait for previous paint layers to dry. 'The more I got into the iPad, the more I realised what a fantastic medium it is for landscape. There are certain things that you can do very, very quickly using it.' (RA Magazine Winter 2011, p.54).  For example, he can rapidly fix the essential elements including basic colour and tone of a sky.
This work demonstrates what has become his trademark bright, cheerful, clean colour, infused with a clear light. The series of landscape paintings have been the most productive and sustained of his entire career.
The works themselves are as much about the act of painting as what he is actually picturing. As viewers we witness the culmination of a life-long process of seeing and learning to look. The final result is a record of the fact that somebody looked at it, and now we're looking at it.
As the app records all of the brushstroke actions, it is possible to play it back, like a video and watch the work unfold. This proves a fascination for the viewer similar to that experienced when viewing Hans Namuth's film of Jackson Pollock painting in his drip technique or Picasso filmed painting through glass.
If one of the marks of a great artist is the capacity to constantly and consistently renew one's art, then Hockney's place in history is undoubtedly assured.
David Hockney: A Bigger Picture continues at the Royal Academy of Arts until 9 April 2012.
Catherine Mason is the author of A Computer in the Art Room: the origins of British computer arts 1950-80, published in 2008.
More information on the Computer Arts Society, including our events programme
Visit the Computer Arts Society on Facebook