Plotted Stitching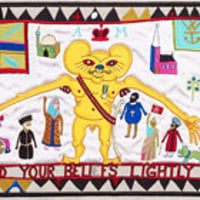 Click image to enlarge
Grayson Perry, Hold Your Beliefs Lightly, 2011
Computerised embroidery on cotton and silk
Programming by Tony Taylor. 32.5 x 45cm, Edition of 250 plus 10 Artist's Proofs, copyright the artist, reproduced with permission, courtesy of
Victoria Miro
This month's image by Turner Prize-winning Grayson Perry shows that he has more strings to his bow than pot-making. Hold Your Beliefs Lightly is a computerised textile work (really a small flag) inspired by African Asafo flags in the British Museum's collection and features in Perry's current exhibition The Tomb of the Unknown Craftsman.
In this exhibition (until 19 February 2012 at the BM) Perry juxtaposes an installation of his own art works alongside objects made by unknown men and women throughout history chosen from the BM's vast and intriguing collections.
Perry conjures up an imaginary world, exploring a range of themes connected with notions of craftsmanship and sacred journeys - from shamanism, magic and holy relics to motorbikes, identity and contemporary culture.
He calls it a 'memorial to all the anonymous craftsmen that over the centuries have fashioned the man-made wonders of the world... The craftsman's anonymity I find especially resonant in an age of the celebrity artist.'
The title of the show seems deliberate given the timing - opening during the same week was Frieze, the contemporary art fair in Regent's Park which, as Perry points out, 'is a tent filled with stuff whose significance and value is often only down to the identity of the "maker".' And of course he enjoys playing with the irony that he himself is not an unknown craftsman, far from it.
It is interesting that many artists I know from the digital and computer art world tend to give greater significance to the process of creation, experimentation and cross-discipline collaboration than to the notion of 'authorship'. On my visit to Frieze, I didn't see any artworks that directly addressed the most powerful aspect of life in our contemporary world - the impact of information and communications technology.
Grayson Perry's work generally makes comments about societal injustices and hypocrisies and he uses a surprising diversity of materials to explore a variety of historical and contemporary themes.
Although the exact origins of Asafo flags are unclear, they appear to date back at least to the 18th Century. The Fante (or Fanti) people live along the coast of Ghana to the west of Accra in fishing villages and in the town of Cape Coast. The region was a centre for slave trading and the Fante became key intermediaries between the slavers and the peoples of the interior.
Asafo 'companies' developed as military organisations of young men in the Fante villages, adopting flags and other European-inspired regalia which they gradually modified for local use. Each man wishing to join the society commissions a new flag from the local flag maker, usually giving him instructions as to the design.
The imagery on the flags asserts the wealth and prowess of the company and explicitly challenges rival groups. Flags made before Ghanaian independence in 1957 have a version the Union Jack in the corner, after that date some incorporate the Ghana flag instead. Flags are still being made and used as an important part of communal life in Fante villages today and have become highly collectable outside Ghana.
The flags are characterised by colourful imagery that has a special meaning for the people who made them and the design often alludes to proverbs. Perry says, 'The freshness of these flags compared to the pageantry of Britain makes me think that ritual can become stultified if not kept relevant to its time and context.'
In keeping with the tradition of Asafo flags, Perry's brightly-coloured, computerised embroidery piece spells out a mantra - Hold Your Beliefs Lightly. This motto for living is itself a hypocritical assertion, leading to a circular argument. It implies humility, whilst exhorting a strong opinion that others' beliefs don't matter. If I suggest that you should hold your beliefs lightly, I betray the very thing I am trying to say. Perry enjoys playing with truths, beliefs and what people think, as he says, '[these] things are quite fluid.'
On Perry's flag we can see a synagogue, mosque and Christian church depicted, as well as representative figures from various religions, all protected by a huge yellow teddy bear, his arms benevolently outstretched - this is Alan Measles.
Alan Measles is the name of Perry's childhood toy and has become a source of inspiration (and 'silent mentor') in his art (he even has his own blog: http://alanmeasles.posterous.com/). Alan M's pilgrimage and journeys with Perry features in the British Museum exhibition, not least in a fantastic, Pope-mobile style customised motorcycle displayed at the entrance to the show (it's worth going to the BM just to see this).
Programming was done by the embroidery digitiser Tony Taylor at Nottingham Trent University. Tony has collaborated with Grayson Perry for 14 years, translating Perry's work into digitally-embroidered pieces. These include items of costume for Perry's alter ego, Claire, who wears beautifully-crafted, outlandish clothes when Perry appears in public, like a performance artist, in her persona. In fact, in this flag piece, Claire appears lower left sitting in a wheelchair, wearing a big bow on her head.
Tony tells me that that digital embroidery and the associated digitising process, is essentially the same as traditional hand embroidery, made stitch by stitch. Only the tools are different. He explains, 'traditional hand-stitched Petit Point designs for example necessitated a schematic, literally a plot, and digital digitising requires a plot of a similar nature, whether it's a working drawing or a map of the design on screen.' Stitch patterns can be indicated as coordinates and functions such as thread colour changes inserted into designs.
Tony has been using computers in this field since the late 1970s and the digitising software he still favours is DOS based and operates on 486 hardware (EDS11, made in the USA by Melco Industries). Tony says, 'It's almost vintage now and, mindful of its age, I do have a back-up system from Wilcom which uses on-screen digitising and scanning technology, but I prefer making the working drawings and plotting with a cursor on a large Numonics digitising tablet.'
Tony explains that with this work, the artist wanted a 'precise' finish rather than a rough and ready texture as the African flags often have, 'so the imprecision lies in the imagery rather than the translation - imprecise by design rather than in execution.'
I hope you have a chance this winter to see Grayson Perry's highly imaginative and impressive exhibition and keep an eye out too for the Computer Arts Society's New Year programme, when Tony Taylor will talk about his work (date TBC).
Catherine Mason is the author of A Computer in the Art Room: the origins of British computer arts 1950-80, published in 2008.
More information on the Computer Arts Society, including our events programme