Digital Post-Pop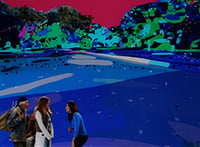 Click image to enlarge
It Could Be You
by Marina de Stacpoole, 2011
Lambda C-type print, 36 x 49cms
Copyright the artist, reproduced with permission.
This month's artist turns pop art on its head and gives us a digital take on painting that forces us to confront an uncomfortable truth about modern life.
The British artist Marina de Stacpoole enjoys playing with puns on popular culture. The title of this work, 'It Could Be You' is both a reference to the National Lottery strap-line and a comment about homelessness.
The scene being played out in the lower left is taken from the popular American television series Desperate Housewives.
In this particular episode Gabrielle, one of the lead characters of the show, comes face to face with the issue of homelessness when she enquires about volunteer work for her daughter at a local shelter and finds a former rich friend fallen on hard times.
Shockingly, it has happened to someone she knows from her affluent suburban world, an almost incomprehensible occurrence that pulls her up short.
The use of the digital medium allows the artist to manipulate material from different sources using collage to create a slick, highly-finished look. The three figures are set against a stage she has created, a surreal, other-worldly landscape.
This is a rich, highly-coloured environment more typically found in computer games animation. Marina's use of landscape is secondary however as she is more interested in setting up a juxtaposition between photographic realism and abstraction - in this case a rather startlingly acidic backdrop that throws the concerns of the foreground into high relief.
The underlying message of the work, a comment on homelessness, is in stark contrast to her glossy, polished surface, which is reminiscent of advertising. Surface is clearly an important element in her work and in this piece she further plays with the flatness inherent in both the art object and the computer medium, by adding a three-dimensional aspect to the picture.
She starts with the landscape which she says acts as a device to draw the viewer in. 'Visually, the images I digitally create are based on photographs I have taken on trips of Asian landscapes. This practice has now extended to local scenes of London, especially parks. South America is now in my sights to explore in this way for future work.'
This is combined with 'scenarios from the contrasting world of film and television, particular those with strong narratives, as well as objects in our everyday surroundings'. Using paintbrush tools in Photoshop she digitally paints over the images.
A laser print is produced onto the surface of which she glues jigsaw puzzle pieces to match the image underneath. These are then painted by hand on top using enamel paints (this is just visible here in the top left). This gluing is a new technique for her and is an attempt to achieve a painterly look.
As a graduate of the Multimedia Arts course at Liverpool John Moores University, Marina went on to explore the challenge of incorporating digital techniques into traditional painting gaining a Masters in Fine Art from Leeds Metropolitan.
Coming from a mixed background, she feels she never belonged solely in either category (painting or multimedia) and so looks for ways to combine both. She does admit however that this approach was an unusual one among the students when she was at university.
This work is mounted on DiBond, a tough aluminium sheeting with a plastic core typically used for signage, that gives a smooth surface and adds to the advertising feel. Perspex is placed over this to give protection. These new works are unique, one-off originals. It is a painstaking and laborious process with each digital painting taking up to eight weeks to make.
Marina has found that it can be more acceptable to use imagery filtered through popular culture to get across her critical views and passivism. An earlier work - Child's Play (2008), used an image of a mass-produced green plastic toy soldier to address the relationship between children's toys and war (such as the violence inherent in many computer games).
Child's Play can be seen as a descendent of Random War (1967) a plotter print by one of the great American computer art pioneers Charles Csuri. Random War was a comment on the Vietnam War and featured graphics (drawn by Csuri's own coding) depicting toy soldiers, now in the collection of the Victoria & Albert Museum.
Marina explains, 'Socio-political themes are intrinsic to all the projects I pursue. I am currently exploring globalisation and disconnectedness in a hyper-real world. This point of enquiry, emerging through collage, asks the viewer if entertainment as art can be radical. These raise questions of what constitutes the 'natural' in a postmodern world and how much does cultural conditioning answer for.'
Marina's art works are parodies of the times we live in, the current political landscape of credit crunch, public sector cuts, phone hacking, rogue-trading, tax-dodging and the ultimate effect such shady goings-on have on our society.
Catherine Mason is the author of A Computer in the Art Room: the origins of British computer arts 1950-80, published in 2008.
More information on the Computer Arts Society, including our events programme
Visit the Computer Arts Society on Facebook