Disrupt. Drive. Deliver. This was the motto of the European Women in Technology event, which encouraged delegates to be 'inspired by the ecosystem's most influential women in technology and enhance their skills in a passion-charged atmosphere'. Jenna Griffin AMBCS, Policy Programmes Manager at BCS, was there to contribute.
European Women in Tech was my first public speaking event. I was the chair for the diversity and inclusion track, involving a short speech, hosting a fireside chat (informal conversation with two wonderful ladies) and then the acting 'hostess with the mostess' for the rest of the day. All things considered, I was slightly petrified but excited.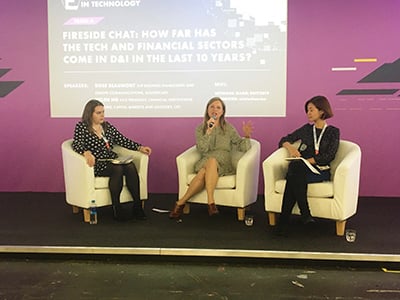 Breaking the glass ceiling for women in tech is a priority for me and my employer BCS, The Chartered Institute for IT; likewise for most organisations in the tech industry across Europe. Encouraging a diverse workforce in tech is vital to the success of the industry and was a key message throughout the event. The conference provided a platform to listen and interact with women from all over the world, to better understand how we can encourage the upcoming generation, whilst boosting the confidence of women with transferable skills to take the plunge and enter the world of tech.
The opening remarks at the conference were so relatable and thought-provoking regarding future careers. Shaloo Garg promoted that we, as women, must 'always push to achieve our goals and not let anyone or anything in the organisation prevent you from doing so'.   
The availability of role models
Information concerning gender and BAME diversity in the UK tech sector is readily available and the statistics are undeniably alarming, but the bigger picture is interesting. Eastern Europe leads the way, with women making up 30% of the IT workforce; in Latvia, it's 25% and Romania it's 26%. Arguably a legacy of communism, where women worked full-time jobs and also looked after their children, their daughters are now following in their footsteps and pursuing careers in tech, demonstrating the significant impact having a positive role model can make.
The idea of a role model has changed for me since listening to speaker Karen Penney. She suggested that we need more role models who are like us in terms of job levels, to help make our goals seem more reachable and boost progression. I tend to agree and think a common obstacle young woman in tech face is getting that first managerial promotion. 
Perceived barriers
The conference heard that recruiting female tech employees is proving challenging in Japan, as traditional culture discourages women from pursuing tech careers, believing it will 'hinder' their love life1. Japan requires more women to break the IT 'bamboo ceiling' and become ambassadors for tech to demonstrate potential career possibilities. I guess the question we must ask here is - is it a case of attracting more women into tech, or changing the culture to allow them the opportunity to understand how a career in tech can reward them?
Research published by Microsoft in 2017 suggests girls across 12 European countries lose interest in STEM subjects around the age of 152. Therefore countries, governments, schools, and parents must ensure the availability of programs, initiatives, and support for young girls. The decade before 2017 saw IT employment grow three times faster than overall employment. Consequently, Europe will be facing a shortage of up to 900,000 IT workers across Europe by 20203. We require a 'Here come the girls' advert for girls to fill these IT vacancies!   
A call to action
So, what do we need to do? We need a well-represented range of women filling the IT gaps, to ensure no bias is inflicted on technology during innovation and maintenance. This leads us to ethics, where we must understand more widely that how technology is designed and programmed (and by whom) affects the outcome of the finished product. Therefore, a diverse workforce is needed to ensure ethical, unbiased technology. 
For government, schools, organisations and parents to inspire the next female generation - role models are a necessity! BCS wants young women to be inspired and say - 'I want to be like her'. Young women should be aware of opportunities in tech, beginning with technical education. A diverse range of female role models in terms of age is critical to ensure tech is relatable for every young woman when creating their aspirations, expectations, and admiration.
By the end of the European women in Tech conference, I was so energised and enthused by all the women I saw and spoke to. Consequently, I will keep striving for success whilst helping other women along the way.
Image credit: This is Engineering