Paul Fletcher, BCS Group CEO, discusses a recent reception with the Prime Minister at 10 Downing Street as part of London Tech Week.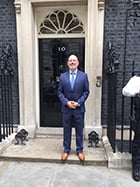 It doesn't matter how many times you have met with business leaders, or indeed even Government ministers, you are never 100% prepared to meet with the Prime Minister at 10 Downing Street. The history and responsibility that's signified by both that job title and that building are enough to make any person at least a little in awe. The last time I felt the same was roughly 45 years ago, when standing outside my first Primary school on an RAF base in Lincolnshire. Like then, I felt the same cocktail of nervous anticipation and real excitement; though this time around, I also felt pride in being able to represent over 70,000 BCS members.
If you have picked up a paper or gone online recently, you'll probably have seen something about London Tech Week. It's a testament to our industry that there is the need for a full seven days of discussion, debate and more just to scratch at the surface of the UK's vibrant tech scene. The reception at Downing Street took place as part of this and was attended by other leaders from industry, charity and the public sector. It was a chance to take stock of the amazing developments in tech we've seen over the past year and commit ourselves to make the next 12 months and beyond even better still.
This event occurred in the midst of a series of major announcements that will have ramifications across the tech industry. Sajid Javid, the Home Secretary, announced a loosening of the visa process for tech graduates and entrepreneurs, the sort of move that BCS called for, including in our Brexit Report, to ensure the best digital talent are able to thrive in the UK. There has also been £2.5bn of extra funding provided for start-ups, recognising the phenomenal growing power of tech that has seen it expand faster than any other major UK industry over recent years.
This is before even getting to arguably the biggest announcement of the week, which had BCS at its centre. Greg Clark, the Business Secretary, put forward a range of new policies centred around AI. This included the new AI Masters programme, a key part of the Government's Industrial Strategy, which will see BCS working with universities and organisations like the Turing Institute and Amazon to create a new qualification commensurate with something set to fundamentally change how we live our lives. This also seems a good time to suggest that you take a look at the latest editions of ITNow (available to BCS members only), which appropriately cover both AI and ethics.
With these announcements fresh in both the mind and the news cycle, we were taken to the beautiful rose garden behind No. 10, where the reception took place. Seeing such a diverse group of attendees from start-ups, scale-ups, all the way to multinationals; in addition to charities, financiers, lobbyist, politicians and, of course, myself from the professional body for IT, put into plain view just how influential our industry has become. It's incredible to think that there is still so much in store in the future and that we are still only really at the start of the digital revolution.
After chatting with contacts new and old, including the aforementioned Greg Clark, Howard Watson, Global Chief Technology Officer at BT and Sherry Coutu, who set up Founders4Schools, the Prime Minister arrived. In a short but uplifting speech, she talked about her hopes for the announcements made during the week and about the centrality of tech to the UK's continued growth and prosperity.
It was around this point that, despite enjoying the experience immensely, a slight twinge of nervousness did return when trying to work out what I was meant to do with the remains of a prawn tail canapé in a garden with no bins! I would image littering in the PM's garden is frowned upon even more than in everyday life and I wasn't intending to find out if that was the case. Quick thinking led to me draining my wine glass and placing it in there, which had the twin benefits of removing any lingering nerves and disposing of any incriminating evidence.
As the evening drew to its close and we all started to make our exits back onto Whitehall, I had a minute to reflect upon some of the amazing people I spoke to across the tech spectrum. What's remarkable is that BCS has the opportunity to, or already do, play a part in so many of these areas. It's worth reiterating the unique position we hold and the strength we have through our members. As London Tech Week and the reception showed, this industry has never been more important, and its effects more widely felt; it also means that our values of making IT good for society have never been more necessary either.
So, like being stood at my first Primary school 45 years ago, or waiting outside of Number 10, I feel that same sense of nervous anticipation and real excitement over what BCS can do going forward.
About the author
Paul Fletcher is the Group Chief Executive Officer of BCS, The Chartered Institute for IT. Paul joined BCS in 2014 after ten years at RM Education where he was Group Managing Director of the Education Technology Division. Prior to RM, Paul held senior management consultancy roles with A.T. Kearney and KPMG. He started his career in the Aerospace Industry. Paul is passionate about the role of IT in education and society as a whole.