Being great in your chosen IT speciality isn't enough to be an IT consultant - it takes a lot more. Simon Wallace explores the range of skills you'll need to develop if you plan on becoming an IT consultant.
There is no single definition or test for being an IT consultant, although various professional bodies and client organisations have set their own definitions, qualifications and competency criteria. The key characteristic is that you have specialised knowledge and skills that organisations may wish to benefit from, to assist with a specific need for a limited time. You might be doing so as an employee or associate of a consulting firm, or as a sole practitioner contracted directly to the client.
Compare that to being an IT contractor. It's a distinction that can be fuzzy and hard to make. The role of an IT contractor is more like being a member of the client's IT workforce, but employed on a non-permanent basis. You likely take your orders from the client's line management and expect them to be responsible for specifying your work tasks.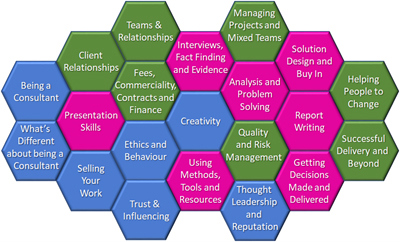 As well as being a specialist in your own field, as a consultant, you probably need a range of other skills to be successful. You need to be able to sell yourself and the services of your colleagues, because your success depends on finding future clients and assignments. You need to engage with the client's management and workforce, so your relationship and communication skills should be good. As an expert in your field, you need to create high-quality, reliable outputs, so your writing and presentation skills should also be good.
A key question on each assignment is whether your role is to be accountable for the delivery of an outcome, or whether you are just an advisor or helper. This is something to take into account when you agree the fees for the work. You will need to ensure your contractual relationship, fees and liabilities are clear and binding - and check your insurance cover.
You will also have much to do when you are not engaged with your clients. You may need to capture knowledge from your past work, maintain and build your skills, go on training courses, develop new services, train your colleagues, promote your capabilities, keep in touch with clients, find that next assignment, supervise junior colleagues, manage assignments - and don't forget to take some holiday.
Remember to factor that value and non-client-chargeable time into your fee setting. Your client is paying for the overall consultancy service - not just hiring you for a certain number of hours of labour.
What's different about being an IT consultant?
Every IT worker needs to be good in their specialist field. So, what are the other skills or characteristics that a typical consultant needs to have?
You will need to be able to apply many methods, tools and techniques. Your client will often have their own ways of working and preferred methodology, so you need to be adaptable. They might, alternatively, look to you to bring your own choice of best practice approach. Consultancies often have a wide-ranging library of bespoke methodologies that they can propose.
You may be dealing with client personnel at all levels and in multiple business units - from board level to end user. Your communication and interpersonal skills need to be good. You may need to establish your presence as a welcome expert, convince the stakeholders of the merit of the initiative; fact-find through interviews, workshops and desk research; work alongside client staff to analyse, design, build, test, deploy new systems, promote successful change - and possibly provide continuing support.
Dealing with people is a challenge that not all IT workers will be familiar with. It is so different to the logical certainty of systems and processes. You are likely to contend with lack of understanding, doubt, resistance, resentment, occasional hostility and illogical behaviours. Managing organisational change is a speciality in its own right - but the average consultant needs to be fairly good at it to succeed. It is essential to gain the support of key sponsors in the client organisation.
There is also the skillset you need to be successful at finding and winning work. As a consultant, you are the product on sale. You need the ability to impress the client with your understanding of their needs and your capability to deliver the desired outcome - and be better than your competitors. You also need to continue impressing the client during the work. As a consultant, it is much easier to get yourself dropped from the assignment than it was to win it.
Adaptations and considerations
There are some significant differences in lifestyle. In your career as a consultant, you are likely to work for many clients, based in different locations, addressing different processes in different industries, using a variety of software tools. It means you are constantly learning and growing your experience. For many people, that makes for an interesting life. If, however, you want a steady, reliable job where you can enjoy home life, then it might not sound so good. It is quite common for consultants to move into permanent roles at a later stage in their career.
There is a trend towards more remote working, so you might not need to travel or work at the client's premises so much. That said, there will be new challenges. How do you rapidly develop a good working relationship with a wide range of contacts in the client organisation, and how do you bond with client personnel to form a good working team?
The variety of experiences might turn out to be good or bad for your future marketability. You will have an impressive CV that demonstrates how knowledgeable, versatile and experienced you are. Conversely, you are less likely to become a deep expert in a single specialist area. It can be harder to sell yourself as a highly experienced generalist in IT. Clients are often looking for the most knowledgeable specialists. Try to steer your work assignments to develop your potential.
There are also considerations to do with the way you are employed rather than the type of work you do. In addition to the permanent employees, a client organisation may call upon IT resources on a non-permanent contract, freelance IT contractors, staff contracted through an agency, resources from its software and services providers, external freelance consultants, and staff or associates from a consultancy firm. Associates are often freelancers who bolster the consultancy's workforce, often without the client knowing the difference.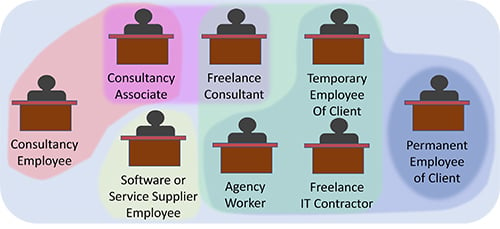 Contracts
With the extension of IR35 tax rules, it is becoming increasingly common for clients to hire freelance resources through temporary employment contracts or via an 'umbrella' agency. The IR35 rules apply when the assignment is considered to be an alternative form of employment. In some cases, this can be construed to include work done by a freelance consultant.
Personnel with employment contracts should have many fewer burdens and risks. Those who are contracted as individuals will hopefully profit directly from their personal success at finding lucrative work, but may need to spend time hunting for work and handling all their own business admin.
If you work as a sole practitioner, you also need to think about how to fund holiday leave, sick leave, pensions, insurance, accountancy, etc. - you cannot bill things like that to your client. Your potential for career progression will also be different if you are not a permanent employee. There is a good career path within consultancy organisations. You could move on to managing assignments, selling work, developing services, running parts of the business, and, ultimately, leading the consultancy firm itself.
Many of these facets of consultancy work will be explored in greater detail during the 'How To Be A Consultant' programme, which is free and open to everyone.
The How To Be A Consultant programme
The BCS Consultancy Specialist Group has launched a programme to support new and aspiring entrants to the IT Consulting Profession. A new entrant might be someone starting out in their career or it could be a highly-experienced IT professional who is contemplating a move into consultancy. Simon Wallace is leading the programme.
In the programme, experienced consultants are sharing their knowledge in a series of 21 short, interactive, TED-style talks, which will be followed by interactive discussions with the panel and audience. The sessions will also become available on video to provide a permanent resource for people entering the profession.
To find out more about the programme and to book on to the next session on 29 September 2021, visit the BCS events page.
BCS Consultancy programme resources
To complement the BCS Consultancy programme, BCS Consultancy Specialist Group has produced a growing set of videos which you can watch via YouTube.