A sole supplier now has more than a 12 per cent share of the UK training market, according to estimates by IT Skills Research. Helen Boddy examines the new look top 50 line-up and the impact of the latest round of consolidation.
All good things come in small packages, according to one saying, while another claims that big is beautiful. Popular sayings often seem to contradict each other - perhaps because not everything is always clear cut.
As the UK training industry has its first giant player, QA-IQ, the question is whether big will prove bountiful for companies and their customers and lead to further consolidation of the market.
One thing is for sure: consolidation has stamped its mark on the leading positions in the table of the UK's 50 largest training companies in revenue terms, compiled by IT Skills Research.
The number one spot is now taken by QA-IQ, a combination of QA and Interquad, number one and two respectively in the 2006 table. Interquad's purchase of QA has put QA-IQ miles ahead of the field in revenue terms. Its estimated revenue in 2006 was £60 million while closest placed rival, Learning Tree International, made an estimated £22.5 million in the UK.
QA-IQ's 12 per cent market share is in stark contrast to 2005 results when the top five companies only brought in revenues of between £19 million and £27 million apiece.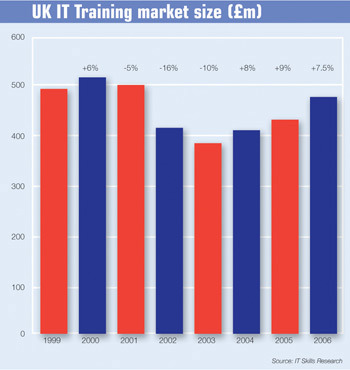 The other acquisition that has shaken up the upper echelons of the top table is Global Knowledge's purchase of Azlan Training. Although it was March last year when the transaction was completed, this is the first time that the two companies appear as one entity in the top 50 line-up.
Global Knowledge has now risen to 5th position from 19th the year before. Its estimated revenue in 2006 was £18.5 million, an increase of 2 per cent over the combined revenue of the separate companies in the previous year.
Another company, SkillSoft, is poised to break the mould of the top five suppliers in the next line-up through its purchase of NETg from Thomson Corporation. The acquisition was finally completed on 14 May. If SkillSoft achieves in 2007 the combined revenues of the two companies or more in 2006, it could move up to second place, assuming no other large mergers take place.
Other smaller mergers this year included Afiniti buying part of Learn IT and DNS Arrow acquiring InTechnology's training business.
Mergers are in many ways good news for customers, IT training buyers. Large companies are likely to have a wide portfolio available at multiple locations.
'We now offer more products, have greater variety of vendor lines, and more locations,' said Frank Hojgaard, UK managing director of Global Knowledge. 'It's also about scalability - we can invest more in services which benefits customers.'
The result is the opportunity to buy training as a one-stop-shop. For instance, the combination of Interquad with its roots in public delivery, and QA, which specialised more in service delivery and customisation, means QA-IQ has many bases covered.
'Bringing QA and Interquad together means we can meet the curriculum needs of most organisations,' claims John Kauffmann, managing director, QA-IQ.
Larger training companies can also meet buyers' large procurement needs, from the perspective of both curriculum and resilience. According to Kaufmann most training companies will only currently buy around a maximum of £1 million business from any one supplier.
'A company wishing to procure £5 million of training would be concerned about spending it with a £20 million training supplier, in case it doesn't have the resilience,' he says. 'The risk is too great. Now we're a £60 million plus business, we're talking to organisations about spending £5-10 million with us.'
Mergers, of course, can go badly wrong in performance terms, as has been well documented and studied by academia. 'Quality can be compromised, cultures can clash, and then customers suffer,' points out Robert Chapman, co-founder of The Training Camp, a training company that has relied only on organic growth to become a £5.7 million business in the UK in the space of six years.
Kauffmann and Hojgaard are of course at pains to point out that no such woes are inflicting their businesses.
Kauffmann says of QA-IQ: 'It's nearly a year since the acquisition – over that time we have retained customers and business has grown.' QA-IQ's estimated revenue for 2006 is indeed £8 million higher than the addition of the figures for the two businesses in 2005.
'Culturally, we are one big happy family today,' continues Kauffman. 'We used Deloitte's integration consultants to plan the integration and its project management office at the point of integration.'
Hojgaard echoes him. 'The proof of the pudding is in the eating,' he says. 'I think success is about communication with your customers. It's also important to get the sales teams re-aligned immediately and not to underestimate possible cultural clashes.'
Of course, it is still early days to see the real fall-out of these mergers. Nevertheless, it looks as if mergers are now set in motion with several factors likely to motivate further consolidation.
For training providers, consolidation can help overcome tight margins through higher classroom occupancy, and some savings on centralised cost - accounting, marketing and so on.
And many companies' margins in the industry are still not healthy, despite overall revenues of the training market growing for the third time running this year - 7.5 per cent on average with the overall market size now estimated at £480 million by IT Skills Research.
'From our quarterly surveys, we know that suppliers are facing pricing pressures and suffering from the competitiveness of the market, which is leading to pressure on profitability,' says David Pardo of IT Skills Research. 'There is an increasing imbalance in supply and demand with the number of suppliers rising but demand fairly static.'
Hojgaard agrees: 'We are continuing to see a competitive market with price pressure and demand. Suppliers and customers are the losers. We think that the market needs more consolidation.'
With one big fish at the top, others may well consider following suit to survive. After all, QA-IQ's increase in business has had to have been at the expense of it competitors, as well as possibly also taking part of the growth in demand.
'In the last six months we have had more approaches made to us about acquisitions than we have made - perhaps that is a sign that others are struggling against us,' said Kaufmann.
Chapman agrees: 'Others in the same market, especially others in the top 10, may consider mergers to be able to compete with QA-IQ. However, I can't see how acquisitions would make sense for The Training Camp. I can't see how we could say we were passionate about accelerated learning if we then bought, for example, an e-learning business.'
QA-IQ may well grow bigger still, if it has its own way. 'It's no secret that we are acquisitive,' says Kauffmann. 'Consolidation gives us advantages of scale and a common infrastructure, leading to efficiencies, which we can put back into the service offering.'
The company is also aiming for at least 10 per cent organic growth per year.
Global Knowledge is aiming for a double digit increase in business this year, according to Hojgaard. 'We will pursue consolidation rather than organic growth. Consolidation can be very effective if properly done as demonstrated with the Alzan acquisition. We'd like to lead future consolidation, but it's not just about size, it's also about raising the bar in terms of quality.'
SillSoft believes that by becoming larger it can improves its services. 'By significantly expanding our customer base and the products we offer, we will be able to devote more funding and resources to the research an development of new products areas,' said Chuck Moran, Skill Soft's chairman. The other advantage of growth, that Skillsoft highlighted in a press release, is creating shareholder advantage.
Mergers can also help reduce suppliers' risk by diversifying their portfolio. 'It's no use a company just concentrating on one technical skill that may go out of favour,' says Chapman.
The Training Camp plans to get its breadth and resilience another way: by spreading its risk abroad, according to Chapman. It already has a thriving business in Germany, and is looking to expand elsewhere in Europe.
'France, Scandinavia and Holland are markets that all look interesting to us,' says Chapman.
'Other companies don't go international because it's a big gamble. Often they go for franchises, so that they don't take the risk. There is a demand from multiple geography companies. We're finding that as we go along.'
The latest round of mergers also took globalisation of the market one step further. Global Knowledge and Azlan Training had a European and US presence respectively, while SkillSoft is a US-owned company.
Hojgaard said that the Azlan Training acquisition had most impact in the UK in increasing Global Services' geographical spread and coverage, but the company is looking at further consolidation in the UK and abroad.
'We are seeing more interest in managed services, some of it international,' says Hojgaard. 'A single point of contact for international businesses is a powerful selling point. For instance, the big financial institutions may be based in the UK but they do business everywhere. We are looking at further consolidation both in the UK and other markets.'
QA-IQ is also not ruling out looking abroad, although at the same time focusing on developing its UK business.
'A lot of the opportunity is in the UK. All our plans for organic growth, particularly, are in the UK,' says Kauffmann.
So there's little question that, training companies are motivated to merge, and plan to do so. Does that mean the demise of the small player?
'There will always be new small players as the barriers to entry to this market are low,' says Chapman. 'It will always have a long tail.'
Also, in the way that larger buyers often prefer larger suppliers, smaller companies often prefer to buy from companies of their own size and league.
So, this time next year, the head of the market may have had another facelift, but the tail should still be wagging - just probably to a different beat.