Since its origins in the late 1980s, ITIL® has become the world's most widely applied best practice framework for IT service management (ITSM) and the foundation for the international ITSM standard ISO/IEC 20000. The evolution of ITIL® has continued and in May 2007 a new version, ITIL® V3, was unveiled to much fanfare. Tasos Symeonides asks what V3 is all about.
While previous versions of ITIL® address core processes of ITSM within practices such as service delivery and service support, V3 takes these processes and illustrates how IT services can be managed throughout their life cycle, from inception to retirement. This provides an intuitive and logical approach to ITSM, leveraging the value of IT as a service.
After over two years of development, V3 re-emerges reborn, consisting of five core elements each designed to address key challenges of ITSM. It provides guidelines on how organisations can adopt a life cycle approach and help align themselves with the industry standard ISO/IEC 20000. Service strategy is at the core of this life cycle and is surrounded by the service design, service transition and service operation stages. All of these elements are supported by continual service improvement.
Importantly, V3 does not mean the death of the traditional 10 processes and 1 function of V2. Indeed, for many, the V2 approach is still best, as I will discuss later. What is fundamental to V3 is the need for many organisations to make their approach more mature by adopting a strategic view of what they do, why they do it and what impact it has on the success of the business. The following table details the book in which the processes are fully documented.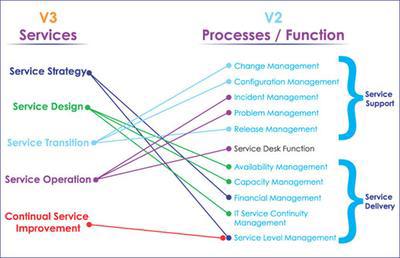 Figure 1. ITIL® services and processes
Service strategy outlines how to analyse, plan, position and implement service models and strategic objectives strategically to ensure alignment and integration with the business strategy, in particular looking at the financial and service level agreement (SLA) aspects of the IT operation. It provides guidance on how to optimise service management capabilities to deliver more value to IT customers. Moreover, it provides valuable decision-making techniques and ways to exploit existing knowledge assets.
Service design helps translate strategic plans into actual service designs and specifications that will be delivered by the IT department. It focuses on building best-in-class support uniting infrastructure, applications, systems process and models. This phase produces a blueprint detailing what is necessary to support, measure, manage and maintain the service.
V3 recognises the need to manage the process of transition of what is done now to what needs to be done and what has been defined in service design. Service transition ensures that service design and specifications meet the intended and desired strategy by managing the implementation and change requirements to ensure the successful transition of services into the business environment.
Service operation addresses the day-to-day management of IT services. This stage encompasses best practices for the identification, action, resolution, route cause analysis and reporting of interruptions in the delivery of the day-to-day service. Getting this stage right offers most organisations the greatest wins from ITIL®. It is at this stage where most cost improvements can be realised.
The final stage, arguably the cornerstone of ITSM itself, is continual service improvement. It is concerned with constantly improving the health of all ITSM aspects, with both business and IT drivers. Service performance is measured and analysed before recommendations for improvement are justified and implemented, leading directly to an increase in service quality and cost efficiencies.
The five stages complement each other and together form a set of ITSM best practices. Although there is value in looking at each element individually, the full benefit comes when you look at it in its entirety and automate through a tool built around the ITIL® framework. The tool enables the efficient development and implementation of standardisation around best practices across the organisation and can deliver percentage point improvements in IT budgets.
Benefits of V3
The first point to reiterate is that existing processes developed by organisations don't become obsolete because of V3. Because ITIL® is a set of best practices, the V3 life cycle approach can be used as a catalyst to improve already well-established service delivery and service support processes. They can be easily integrated into a good tool built around ITIL® principles. So for many this is an evolution and not a revolution.
Historically, the biggest challenge for IT operations has been proving its value at board level. A common thread throughout V3 is the importance of focus on increased alignment of IT with business goals, the integration of IT services into the organisation and, ultimately, to run IT as a business.
It includes guidelines on developing value propositions, demonstrating how IT can have a positive impact on the bottom line, calculating business service return on investment (ROI) and service improvement benchmarking. As CEOs demand IT be more business-aligned, V3 enables IT directors to apply a business management approach to their organisation's technology environment. Putting IT in business language is essential in helping the business understand the role of IT and its true contribution to the success of the organisation as a whole.
Where next?
Another interesting area of V3 is its evolution, from a generic process-orientated guideline to a service-orientated approach, is that it now complements and supports industry frameworks and standards, such as ISO/IEC 20000. This means that the value in adopting ITIL® is now even more compelling for the increasing number of organisations around the world now pursuing international accreditation.
A recent survey, carried out by Axios Systems, showed a significant increase in the percentage of companies considering ITIL® adoption. In just one year (2006 to 2007) adoption of the framework grew significantly and the results show an even more dramatic swing in the pursuit of ISO/IEC 20000 certification.
Just 3 per cent of companies had initiatives in place to achieve accreditation in 2006. In 2007, this had risen to 18 per cent. We believe that V3 offers significant opportunities for organisations who have already established and relatively mature processes around service delivery and service support elements of V2 and where their strategy leads them to adopting a more service-orientated life cycle approach.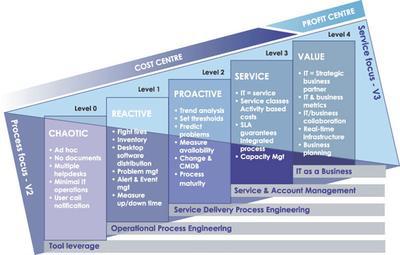 Figure 2. Cost vs profit outlines
For some organisations, level 2, or possibly level 3, maturity is more than adequate. For others, particularly those whose strategy is to become recognised as a profit centre, level 4 is the goal and V3 an important enabler.
Conclusions
So V3 isn't for everyone right now. Like with most things, you have to know where you are going, what your strategy is and how this is aligned to the overall business goals. That said, as CEOs demand more value from IT, adopting V3 as a mindset will for some be a major step forward in enabling IT directors to serve their users in a more efficient and transparent manner. The approach can not only reduce IT cost but mean IT is more accountable, improving performance and the quality of the service it ultimately delivers.
About the author
Tasos Symeonides is founder and CEO of Axios Systems, an ITIL®-based ITSM supplier. Axios offers pre-integrated, out-of-the-box ITIL®-based enterprise class solutions for ITSM.