Road traffic management is getting smarter, and adapting to the arrival of the connected vehicle, writes Ian Cornwell of Mott MacDonald.
When traffic lights change to green and you drive through, do you wonder what is controlling the timing of changes?
In the UK, trunk roads are the responsibility of national governments or their appointed representatives, while other roads are the responsibility of local authorities. As well as maintaining the safety of roads, these organisations all help keep traffic moving efficiently.
They procure and deploy various sensors that help determine the state of traffic, and provide services to inform and to manage traffic, for safety and efficiency. The marketplace for equipment and services is heterogeneous, but coordination is achieved through systems integration and standards.
A set of UK standards called UTMC (urban traffic management and control) has been enabling these systems integrations. Traffic light cycle timing can be altered according to knowledge of the traffic state. Traffic light systems often have dedicated induction loop sensors, which may be very localised, but the standards allow integration with a wider set of information from different sensors and systems.
Traffic light optimisation algorithms have been used for decades, yet traffic lights on some major strategic corridors still operate independently of each other by default, and a lack of coordinated progression through the lights can cause excessive delays. Some local authority systems can detect this and take action to improve traffic flow.
Automated number plate recognition camera systems derive anonymised journey times by recognising the same vehicles passing two locations; such data feeds rule-based systems and can trigger actions including a change of traffic light timing to give more green time to a strategic traffic corridor, with overall reduction in journey times.
Traffic light timing can also be helpfully influenced through knowledge of planned events. Local authorities can enter a calendar of major events and schedule automated traffic management strategies which will suit the anticipated traffic patterns.
Ray King of Newcastle City Council told us of the automated strategies used when Newcastle United FC plays at home: "With average attendance of over 50,000, home games can put severe pressure on the transport network." An automated strategy detects certain speeds, traffic volumes, and gaps between vehicles, and shifts the traffic light timing regime to help traffic leave the congested area.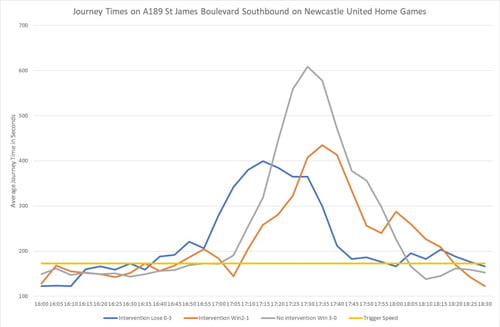 Chart showing average journey times on A189 St James Boulevard Southbound on Newcastle United Home Games (Click for larger image)
Ray has even noted the impact of the football score on the journey times: "In the event Newcastle are losing, fans will start to leave the stadium earlier; if Newcastle are winning then fans will leave the stadium later. The traffic managers can adjust the activation of the strategy depending on the score line. A 3-0 home win [removing the need to intervene] is a rare event; however, our traffic managers are eternally optimistic!"
Car park systems are also integrated – occupancy sensors are common, and traffic light timing changes can be triggered based on detecting higher levels of exits from the car park, also useful after a major event. Weather and air quality (measured or even predicted) can also be triggers.
European cooperation helping standards and open data
European countries have been collaborating on road traffic data exchange standards for decades, with considerable deployment, not least due to requirements in European legal regulations for the last 10 years.
In the early years of the current century, a methodology was adopted which has stood the test of time – to separate information models from implementation technology specifications, the former made using a well-defined metamodel and the latter generated automatically through formal mappings.
This has allowed the investment in common information models to be fully reused without rework as preferences for encoding and exchange have widened or changed, starting with SOAP and XML to now also support REST, JSON and ASN.1 for example.
The UK continues to actively participate in this European standardisation which has produced data exchange specifications for traffic situations and states, electronic signs and signals, parking, road traffic management plans, re-routing, traffic light timing, electric vehicle charging, and traffic regulations.
For you

Be part of something bigger, join the Chartered Institute for IT.
The progress of standards has not been perfect – there are separate families of standards for different aspects such as public transport and spatial data, with less than perfect alignment.
When system integrators join bus tracking systems with traffic management systems for example, they find differences in the expression of common concepts that makes the integration a little less smooth and efficient than it might have been.
A current European Union initiative aims to improve this by providing the funding for each of these different standards ecosystems under one project, and requiring progress on alignment. The same project is also establishing a common approach to national open data portals so that service providers and innovators can create pan-European services using open road traffic data from each participating country.
The impact of the connected vehicle
Although autonomous vehicles are not yet having a large impact on current traffic systems' integrations, the impact of the connected vehicle is significant.
The most obvious sign of connection is in navigation support devices that offer current traffic information and update their route guidance dynamically. These may come integrated with the vehicle or bought and fitted independently. They typically use cellular communications with services of either the car maker or a specialist mobility services company. Meanwhile the vehicle may be sending information back to central services that aggregate millions of data points to derive useful traffic information.
Where the information indicates a safety hazard, it must be freely shared according to European regulations. Even vehicles with no dedicated equipment form an extended part of the connected population through capabilities of phones brought into the vehicle. All newer vehicles also carry an integrated emergency call ('eCall') facility where incidents can be reported manually or automatically to emergency services.
Cellular communications are not the only option for connecting vehicles – a large set of international standards cover dedicated short-range communications between vehicles and infrastructure, and between vehicles themselves. Deployment of infrastructure for standards-based short-ranged communications has been limited so far – there have been many pilot projects but few operational services, and only one major car maker has included the technology in its main production models.
Road authorities are starting to shift their attention from their traditional ways of guiding road users towards addressing the connected vehicle fleet. They are planning the publication of their traffic regulations electronically in formats that could be understood by automated vehicle systems.
Road users now have several potential sources of information and guidance – from both public road authorities and private vehicle service providers. Discussions, agreements and even protocols for collaboration between these stakeholders are being formed to help avoid conflicting advice. The optimum advice for one road user in isolation is often different from optimum for the whole road network, so the collaborations currently focus on the "win-win-win" cases where private guidance supports public policy and helps the road user.