Most organisations today are working with specialist providers in one form or another and research suggests the trend is on the increase. In order to make the most of outsourced contracts it's important to consider both their efficiency and effectiveness. Richard Hordern and Kate Greaves of QA InterQuad look at the lessons learned from L&D outsourcing.
Managing outsourcing is becoming an increasing part of the role of an IT manager in today's global business environment. Whether as part of a large-scale global outsourcing arrangement or a more local agreement, most organisations are working with specialist providers in one form or another, often for the supply of learning and development (L&D) services.
Indeed, research suggests this is a growing trend, with the global market for L&D outsourcing alone growing from an estimated $0.8 billion in 2002 to $5.3 billion today, and predicted to rise to $14.4 billion by 2010 (source: IDC, 2005).
The main driver behind this trend has been cost reduction. Increasingly though service levels are being measured on a broad range of business outcomes and there is a growing acceptance that the strength of relationships between the parties is essential.
Outsourcers themselves are investing time in improving the relationship and really understanding their customer's business. Similarly organisations are looking for a combination of cost containment, information, value-add and access to bespoke services from their providers.
How companies combine these elements varies considerably from organisation to organisation, based upon factors such as current position, priorities within their business, sector competitive pressures and, of course, logistical and geographical constraints.
With this in mind it is essential, whichever side of the outsourcing fence you sit, to consider both the 'efficiency' and 'effectiveness' of outsourced contracts.
Efficiency
Significant cost savings can be achieved through outsourcing elements of projects and this has been, and continues to be, the primary focus of outsourcing arrangements. Predominantly, savings are achieved through:
Administrative efficiencies - economies of scale allow the best use of technology to automate and streamline administrative processes, providing an efficient 'push' (e.g. automated workflow or new course marketing) and 'pull' (e.g. responding to training requests) service.
Leveraged procurement and purchasing power - enabling proactive supplier management, leveraged discounting and, potentially, global procurement with local pricing and delivery.
Effectiveness
Even greater savings and business value can be realised with a focus on achieving greater 'effectiveness'. In the area of L&D, the focus should be on providing tools to understand the skills and capabilities currently within the organisation - the provision of expertise, advice and tools to enable dynamic skill and competency profiling and management, at both an organisational and individual level:
(i). enabling organisations to explicitly link future development to organisational needs - support in developing a business-led strategy and development of a management process;
(ii). more effective development of interventions - best use of programme design and development methodologies to deliver a 'fit for purpose' service, addressing the organisation's prioritised needs;
(iii). cost-effective deployment - the provision of learning that can be formal and informal, trainer-led and self-directed, reflective and experiential;
(iv). mechanisms to evaluate and review investment to improve targeting and impact – provision of an evaluation approach that talks the language of the organisation, not just the L&D department, and genuinely identifies the value being delivered by any learning. Such an approach would also enable the steering and challenging of learning interventions during deployment to ensure they are delivering value.
The lessons of early L&D outsourcing, and the understanding gained from the outsourcing trends in other functions such as IT, finance or HR, suggest we ignore the effectiveness benefits at our peril. In other functional areas this means the outsourcing language has now become focused on 'partnership'.
In the L&D world this means more than building and maintaining personal or organisational relationships within a service contract that solely focuses on efficiency. It means working with your outsourcing partner to improve the overall effectiveness of the service and, in so doing, increasing the value delivered to the organisation as a whole.
This thinking has recently been applied to a managed training service customer - a major financial services organisation - to help them review their learning and development provision. Key stakeholders were identified in both the training service and the customer organisation and were engaged in a series of focused workshops.
In these workshops they were able to explore each of the areas above, which they have worked into a maturity model highlighting the different levels of L&D professionalism within each area.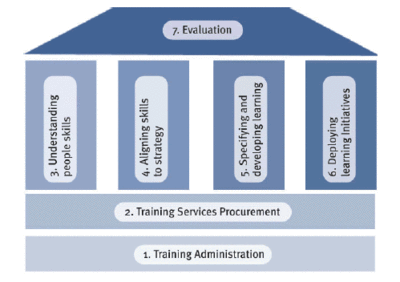 Within each of these areas the current maturity level was assessed before building an ideal vision of where the customer wanted to be in the future. Interestingly this was not at the highest level of maturity in each of the areas, but instead more closely reflected the varying needs of their business.
A two-year plan was developed to provide a focus for the medium-term. Senior business management, the customers of the L&D service, were engaged in the project and ultimately signed off the plan, which is currently being implemented.
Early benefits already observed include:
significant manpower savings on key activities;
increased engagement from the business community on L&D matters;
a more business-focused approach to learning programme design, putting business evaluation at the forefront;
cross-organisation matrix management - working together in a genuine partnership to really make things happen, leading to...;
thinking as one organisation - a focus on the service from both sides, helping to break down organisational barriers whether political, personal or systems-related.
Our experience tells us that the practice has actually delivered more than the theory suggests. In exploring areas of effectiveness as well as efficiency in an outsourcing arrangement, greater benefits have been realised in both areas than anticipated.The talk of partnership in the L&D outsourcing world can be converted into practice but only through a wide-reaching and open approach from both parties.
As a part of this approach it is important to have tactics in place that will allow strong relationships to be built between the outsourcer and the business.
Tactics for strong relationships with outsourcing partners
New partnerships are created with the aim of delivering significant business benefits, but can often cause angst and sometimes may have the potential for generating considerable conflict. Not only is this uncomfortable for those involved, and a drain on time and resources, but it is inevitable that there will be a profound effect on benefits delivery.
We have identified a number of behaviours and tactics that can help to build strong relationships and help create significant benefits.
Understand the commercial implications of project change
To ensure that outsourcing doesn't lead to project slippage and cost increases, project managers need to understand the commercial implications of project change. They now have to implement a new, more assertive relationship with the business so that the work request is not changed once communicated to the outsourcer. In addition they should interpret the business requirements to ensure fit with the outsourcing contract, to remove any possibility of extra charges being made for work outside the scope of the contract.
Consult all parties at the early stages of the agreement process
If a company head office makes outsourcing decisions without involving the local senior IT teams but then passes on the responsibility for implementation, local IT directors and managers can be left to build a partnership with outsourcing companies with which they have had no previous contact, based on agreements that they have not taken part in arranging.
All parties who will be working with an agreement should be consulted at early stages of the process. Where this isn't possible, ensuring that regional teams understand how to raise the concerns to get support can enable conversations and the communication that allows strong internal and external partnerships to develop.
Maintain regular communication
When programmers work in an offshore location and potentially belong to the outsourcer, project managers will require the ability to motivate at a distance. This is where SLAs come into their own and ensure that everyone has a standard level of service to which they can work.
Make sure that communications are regular, frequent and focused on the recipient. If the methods of communications need to be upgraded for this to happen, then make sure that is implemented. Strong project planning and regular reporting support success.
Understand what you expect processes to deliver
Before outsourcing, understand what you expect the processes to deliver. This will relate to the outcomes of that process and the process objectives that need to reflect time, cost and quality (SLAs). Be rigorous in assessing adherence to these standards.
Conclusion
The over-riding theme in creating a strong business relationship with an outsourcer is having confidence in the strength of the relationship and successfully managing expectations.
This is true whether this is the senior IT team managing the expectations of the head office, the project manager or senior business analyst interacting with the business to ensure appropriate and agreed functionality, or business analysts working alongside outsourcer team members.
Senior teams are responsible for being proactive in developing an environment that will enable people to be successful in their new roles. Those in the new roles need to make sure they understand how the partnership works, and any changes or limitations of which they need to be aware. In both cases any concerns need to be clearly communicated at an early stage.
At the heart of the success of outsourcing services, including L&D, should be an understanding of your expectations and your behaviour, both when things are going well and when facing the challenges of the process. Through managing these relationships and developing strong outsourcing agreements, services can deliver significant benefits for business in terms of both efficiency and effectiveness.