The Computer Arts Society (CAS) mourns the loss of one of its founders and first Chairman - a great pioneer and supporter of computer arts, Alan Sutcliffe. A mathematician and computer programmer by training, in 1968 Alan had the (at the time novel) idea to gather together like-minded individuals who were interested in the creative use of computing, for exchange of information, discussion and exhibition opportunities.
Together with George Mallen and R John Lansdown he founded the Computer Arts Society in 1969, as a special interest group of BCS.
From the outset Alan was concerned that the focus not be on any one particular art, rather that the use of computers might include dance, performance, visual arts, film and his own particular interest - music, hence his insistence on arts plural in the title. Such a cross-disciplinary remit was a radical concept in the British art world at this time and proved to be far-sighted as can be seen in the nature of much contemporary media art today.
Alan's paper 'Composing and Computing' of 1968 presented at the IFIP concert in Edinburgh in August that year described his composing program used for ZASP, an entry in IFIP's Computer Music Contest, which gained second prize. This was a collaboration between Alan and composer Peter Zinovieff, an acknowledged revolutionary of electronic and avant-garde music.
Alan's experience at IFIP led to the formation of the Computer Arts Society, as described by George Mallen. In 2009 Alan wrote of his experience at IFIP: 'There was enough response to arrange a first meeting a few weeks later at The London School of Hygiene & Tropical Medicine. There were six or eight of us, I'd say. None of us known to any of the others, but some lifelong associations developed from that seed.'
Soon after this the first issue of PAGE, the Society's bulletin, was launched in April 1969 with review of Event One, their first major public activity. Held at the Royal College of Art, Event One (the name chosen by Alan) featured among other exhibits, Alan's performative, computer-generated poem SPASMO.
Originally written for a concert of electronic music at the Queen Elizabeth Hall, using the ICL 1904 computer and a line-printer, SPASMO was translated into Serbo-Croate and sent to the New Tendencies 4 symposium at Zagreb (May-August 1969). This is just one, early, example of the international reach of CAS.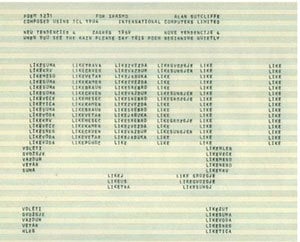 Alan Sutcliffe, an example poem for SPASMO, the original English version, 1969
CAS then as now took a broad view of its areas of interest, and those working in the wider realms of technology and the arts were always welcome.
Due to its inclusive and open nature, CAS quickly formed links with other groups both artistic and academic, public and private - from The Artists Placement Group to the Atlas Lab (now renamed the Rutherford Appleton Lab), to art schools, to Brunel University to computer trade fairs to the Science Museum - this is just a sample.
Alan once told me that CAS worked so well due to its distinctive ethos because of the personalities of the three founders, they all got on so well and had a similar, generally libertarian, mind-set.
CAS heralded the collaborative, cross-disciplinary nature of working which came to signify the early period of media arts. CAS was the first practitioner-led organisation of its kind in Britain.
Alan became increasingly involved in BCS activities. In 1978 he was elected Vice President for the Specialist Groups (which comprised representatives of about 40 groups, of which CAS was one) and I am informed that he chaired this Board very successfully. As VP he also contributed to the Executive Committee running the BCS (at this point leaving CAS in an official capacity).
Here his work on the BCS Privacy and Public Welfare Committee led him to join the All-party Parliamentary Committees on IT and on Freedom of Information. Although his official service had ended by 1981 he maintained contact with several BCS colleagues for many years.
Alan was immersed in the world of computer programming, working at ICT / ICL in Bracknell, as manager of New Series Branch and then of Systems Evaluation and Development Department (1966 to 1973).
His remit was research and development of software and Alan was keen to tell me how supportive ICL was of CAS and his art practise. Later Alan was to work with SSL, George Mallen's company, as he describes below. It was here that Alan produced, among things, animation for Twentieth Century Fox's Alien, written in FORTRAN.  (The animation in question is visible on Chapter 3 of the DVD for the first four minutes.)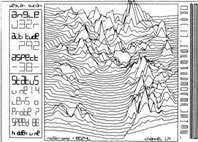 Alan Sutcliffe, Frame 292 of animation for Alien, 1979
Alongside this Alan continued to develop his music interests. In 1962 he joined a composition course at Dartington Summer School of Music which had influential input from the BBC Radiophonic Workshop and piqued his interest in alternatives to the norm in music.
In 1969, taking three months leave from ICL, he visited the United States on an extensive trip including stops at the Computer Music Studio University of Illinois, Ken Knowlton and others at Bell Labs in New Jersey, Charles Mattox at the University of New Mexico, and colleagues at the Universities of Minnesota, Indianapolis and Southern Illinois. He was also a part-time director of Zinovieff's Electronic Music Studios (EMS) which was used by Birtwistle, Stockhausen, Pink Floyd and others.
Alan and Zinovieff's activities included attending an electronic music conference in Berlin where Alan performed Slide Show, involving computer-generated sounds on tape played to slides. The first performance of SPASMO took place at an EMS concert at the Queen Elizabeth Hall in 1969. This involved participation of the QEH audience reciting poems derived from text from a passage in Waiting for Godot.
Alan recalled, 'On the stage was the PDP-8 (there for the whole concert), an 8mm film projector showing war scenes in black and white, the main screen showing my haphazardly updated collection of slides, a tape recorder playing more electronic sounds from the EMS studio' and Alan himself improvised at an upright piano in the wings. Later he developed more interactive computer-generated text-based works including BEHAVE, a Piece for Audience.
He also played in the Scratch Orchestra in the 1970s, made electronic music for drama and dance, founded the Bracknell Play Group, which had an emphasis on improvising for amateurs, chaired what he called 'a chaotic' meeting of improvising musicians wanting to start a National Musicians Collective, and wrote articles for Personal Computer World, the Computer Bulletin and Video International.
Alan's activities were inspired by a British post-war spirit of optimism in the positive power of new technologies. This early computer art was avant-garde in both its subject matter and manner of delivery, presenting a topic and style of artwork that was outside the mainstream of British art in the 1960s-70s. Alan Sutcliffe and his fellow pioneers represent a rare example of interdisciplinary collaboration within the history of modernism in Britain.
Here is a self-portrait Alan sent me in 2011. It shows not only his love of the 'accident' (a feature of the creative process in a surprising amount of 20th-Century modernist art), but also his sense of humour. I feel fortunate to have known and worked with him, writing history.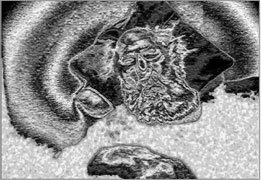 'It was in December that I realised I was getting poor quality from the webcam because there was still a bit of plastic protecting the lens, so now I can use it: no need to laugh Catherine, I've only had this laptop since June. This one is a self-portrait of this laptop got by holding up a small mirror angled to reflect the keyboard (come to think of it, I could have held up the keyboard) then somewhat modified - that's the art bit.' Alan Sutcliffe.
Related links