At the end of 2018 I interviewed Chen Mao Davies about her breastfeeding app start-up. As is the way with entrepreneurial schemes, it has moved on quickly. I caught up with her for an update on how things are going and drew out six lessons she has learned from her start-up experience so far. Brian Runciman MBCS reports.
After over a year of work (described in the article Chinese bamboo: social start-ups), LatchAid's minimum marketable product is on the track for a v1.0 launch by October 2019.
Chen has been using a 3D production crew of six world-class 3D artists, working alongside some International Board Certified Lactation Consultants to produce a set of high quality 3D breastfeeding animations and the breastfeeding FAQ knowledgebase for the app.
At the same time, contractors including UX / UI designers and app developers have been hired to accelerate the design and development work of the LatchAid app towards its first release. The plan is to pilot the app among breastfeeding mothers in August and September and launch LatchAid v1.0 on Apple's app store in October this year.
As the resource pool grows, two additional members have joined the LatchAid team: Dr. Ana Burman (co-founder since Jan 2019) and Sharon Banham (marketing lead since Nov 2018).
Funding has also moved forward. LatchAid won a EU Regional Development Fund through Swindon & Wiltshire Health & Life Science Innovation Hub and won the associated support / mentoring package. It also won a UnLtd Do It Award & won the associated support / mentoring package.
Six lessons
Chen told me the key lessons she has learned so far in running a multi-strand project:
1. Get the basics right
You need to get buy-in from your family to be a female entrepreneur. The social expectation is to look after children and many mums want to work too, so you need to make sure you don't burn yourself out. If you die the company dies!
Try to build a team before you set out. When you are solo, investors don't take you seriously. If you get a good team in place, it can be those who inspire you.
Part of getting the basis right is to remember to always talk to customers. Test the idea. The most challenging bit of my app was the 3D scanning, but when we did research later (through a recent online user study involving 100+ mums, mums-to-be and breastfeeding professionals from six different countries) I found that the demand for this feature was lower than expected. I should have spoken to mums earlier in the process.
2. Partner up! 
Using an incubator gives you a network. For example, I was able to get in contact with Dr Natalie Shenker, the co-founder of Hearts Milk Bank and Human Milk Foundation through my business advisor Mark Goodson, at Cambridge Social Ventures, where LatchAid is incubated. And through her, I got to know some influential people including the chair of the Association of Breastfeeding Mothers.
Getting involved with the West of England Academic Health Science Network (that connects the NHS, academic organisations, local authorities, the third sector and industry) through their Health Innovation Programme and business support - was also very helpful.
On my journey, I have learnt that I need to launch in the App Store first, because the NHS is evidence-based and launching to the consumer market first gives us opportunities to collect data and evidence to demonstrate the effectiveness of the app before we could collaborate with the NHS in the future.
Joining support networks of other entrepreneurs, such as start-up accelerator programmes, meetup events, and so on, is excellent. The advice and support I received from the business advisors and fellow entrepreneurs at the Cambridge Social Ventures incubator programme was, and continues to be, immense.
You need other advisers to use as a sounding board. Don't just develop behind closed doors - connect with clever people!
3. Think about assistance and funding
Until the Swindon & Wiltshire Health & Life Science Innovation Hub and UnLtd Do It Award I had been running web hosting myself, with an intern, and 3D animation assistance from friends at work. I have been doing the app development myself.
Now I have money for final animations and refining the app. The experience of applying to join Bethnal Green Ventures' accelerator programme and attending the Health Innovation Programme, helped me to learn pitching in front of a panel of investors and experts.
4. Go agile
I learnt about project methodology in practice and I would say it has to be agile. I have been a software developer for over 10 years, and I know that if it's not agile you will develop things your customers don't want. Even brilliant products or features can be unwanted. Combine agile with the learn-develop-data collection cycle.
New ideas go into each iteration. It can be hard to do scrum religiously but do your best to follow the principles and don't do waterfall. Make and test assumptions as early and frequently as possible.
5. Choose a passion project
With a passion project you are the user and developer - you know the pain. For my app I knew the pain points emotionally and physically and wanting to help other mums made me even more motivated. Doing something that has social impact is important - after all, 800,000 children die a year through lack of breastfeeding.
My feelings were reinforced again during our research phases. It turns out that mums were very happy to be advocates and easily share stories. They have a willingness to help other mums. Our research has told us they will buy the product and advocate it too.
6. Maintain perspective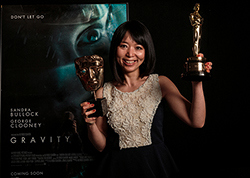 Be adaptable and versatile. I have two young children with one still being breastfed, so I plan what time I can likely do chunky work, and when smaller things may be done. I always try my best to prioritise the children and family - work can always fill your time. And, if you look after yourself, then you can work better.
If things take a bit longer it doesn't matter - a lot of work goes on before useful things come. I use the illustration of Chinese bamboo - it can be underground for four years, then it grows hugely in year five. Everything doesn't have to be done now. But, if you don't believe in it, no one else will - so pace yourself to get it done.