The 'war for talent' has intensified during the global pandemic, increasing the demand for relevant skills in a talent marketplace that was already red hot before COVID-19, writes Paul D Jagger CITP FBCS, Senior Director for Solution Consulting at EdCast Inc.
What are the skills needed for success?
Nowhere is the demand for skills more acute than in those industries most closely touched by the accelerated digital transformation we have all experienced as education, commerce, entertainment, government and healthcare have shifted their services online.
Technical knowledge and skill domains such as agile, AI, blockchain, cloud, data science, data privacy, devOps, information security, machine learning and mobile are in demand in just about every industry and sector of the global economy that has been touched by digital transformation. Acquisition of verified skills in these domains is vital for a career in the digital era.
In this article, I explore why skills should be at the heart of workplace learning and how a learner experience platform (LXP) enables employees to be masters of self-directed, consumer-centric up-skilling and reskilling, thereby helping shift organisational learning culture from top-down push, to bottom-up pull, and from there to further democratisation of the learning experience by enabling learners to become contributors.
What exactly are skills?
Before we delve into the why and how of linking skills to learning, we first need to define exactly what is meant by 'skills'.
Businesses have access to a bewildering array of skill models, some integrated into HR management systems (e.g. Workday Skills Cloud), some licensed from skills taxonomy providers (e.g. EMSI/Burning Glass), some inherited with third-party learning content sources (e.g. Coursera, SkillSoft, etc), some crowd-sourced from collaborative platforms (e.g. LinkedIn), some ingested with digital credentials (e.g. Credly, Badgr). Consequently, there are many competing potential single sources of truth for skills that are available to support workplace learning programmes, however none adopt a consistent definition of what a skill is.
The litmus test of whether something is a skill, either cognitive or psychomotor is simple: Can it be expressed as a verb?
Let's illustrate what skills are with a few examples:
Programming is a skill, whereas Python is a programming language
Presenting is a skill, whereas Microsoft PowerPoint is a presentation tool
Managing projects is a skill, whereas agile is a methodology
Analysing data is a skill, data science is an interdisciplinary field
Penetration testing is a skill, information security is a subject domain
Many skills taxonomies confuse knowledge domains, behavioural traits or even product and technology titles with skills. The learning industry is not consistent in its use of the word 'skill' to mean something a person can do; remember, unless you can express it as a verb, it is not a skill.
Crowd-sourced skills taxonomies are often the worst offenders in this regard, and even when they get the definition of skills right, the quality of the data is variable - for example, my LinkedIn profile shows that I have verified skills for lawn mowing and time travelling, I leave you to judge the relevance and accuracy of those crowd-sourced skills!
The combination of verified underpinning knowledge, acquired skills and desirable behaviours is sometimes referred to as competence - in other words a proven ability to perform a role to a required level of proficiency. Competence grows with experience as a person gains more knowledge and skills, adopts desirable behaviours, and becomes more proficient in performing their role.
That said, it need not be the case that knowledge, skills, and behaviours all increase uniformly with the level of job role. A competence model can be used to map the level of proficiency and the specific knowledge, skills, and behaviours to job roles. Tables 1 and 2 illustrate the point with a notional series of incremental job roles in a job family.
Job family
Job role
Knowledge
Skills
Behaviours
Data and analytics
Chief data scientist
Advanced
Advanced
Advanced
Lead data scientist
Advanced
Intermediate
Advanced
Senior data scientist
Intermediate
Intermediate
Intermediate
Data scientist
Intermediate
Basic
Basic
Data technician
Basic
Basic
Basic

Table 1 - Mapping of proficiency levels to job roles in a job family
Proficiency
level
Knowledge
Skills
Behaviours
Advanced
Mastery of business information tools
Synthesis, analysis and presentation of strategic insights
Strategic perspective
customer centricity
collaborative influence
Intermediate
Data visualisation, report creation
Developing visualisations and reports
Proactivity
articulate communicator
Basic
Data structures, data definitions
Loading; transforming and exporting data
Attention to detail
curiosity

Table 2 - Mapping of knowledge, skills and behaviours to proficiency levels.
Why are skills so important in the digital era?
Many employers have recognised that skills are vital to workforce strategy, particularly the development of organisational capability but also to talent acquisition, talent development and to internal mobility.
This is particularly true for knowledge workers, but it applies to any highly skilled profession where the availability of the right number of people with the right skills, in the right place at the right time is vital to achieving organisational goals. Workforce strategy is an exercise in skills logistics; the impact of a disruption to the skills supply chain can be just as tangible as an impact to the supply of any other resource.
Some organisations have already embraced skills as a means to assess candidates and employees for fit to role, and merit for reward and advancement. Skills acquisition is, by its nature a decentralised process, unlike the award of a degree or a professional / vocational qualification. As such, employers will need to define their skills model and a strategy to assess and verify skills across the workforce.
Because skills are central to workforce strategy, several HR management system SaaS vendors such as Workday and Oracle have developed their own enterprise skills models that provide a taxonomy of skills which can be mapped to job roles.
For you

Be part of something bigger, join BCS, The Chartered Institute for IT.
These off-the-shelf skills models always need to be customised to specific client needs, e.g. the specific set of skills required of an engineering product manager working in the oil and gas industry are unlikely to be a perfect union with the same job title in the software industry.
An industry-specific context is needed, moreover the skills models provided by HR management systems are only one possible source of skills data - they are not and never will be the only source of 'truth' for all skills data in an enterprise.
Other sources of skills data available to employers include, but are not limited to: social profiles (e.g. LinkedIn, AboutMe), digital credential providers (e.g. Credly or Badgr), learning platforms (e.g. Cornerstone or SuccessFactors), learning content catalogues (e.g. Coursera, Pluralsight, Udemy), talent mobility platforms (e.g. Hitch, Fuel 50, Gloat or Phenompeople), licensed skills taxonomies (e.g. EMSI, SFIA or IISP), collaborative platforms (e.g. Slack, SharePoint) and so on.
The potential for confusion among all these competing sources of truth for skills is clear - how can an organisation or an individual navigate this complexity to identify the skills that are in demand, the skills they have, the skills they need, and the learning activities that will help them close skills gaps?
What's needed is a way to unify skills definitions and align them with learning opportunities that are specifically targeted to the skills learners need - enter the learner experience platform (LXP).
Putting skills at the heart of the learners' experience
LXPs first appeared around 2013 and have gained a reputation for unifying disparate trusted sources of learning, into a consumer-grade digital experience. LXPs provide a single doorway into all learning, personalising the learner's experience and using artificial intelligence and machine learning to provide recommendations that are tailored to the learner's needs. Whereas, learning management systems (LMS) are focused on administration, catalogue management, budget management and reporting - an LXP is all about the learner.
Recently, LXP have extended their capability to unify multiple sources of content to the domain of skills. The industry's leading LXPs can integrate with any number and variety of internal and external sources of learning content into a single catalogue; they can also unify multiple skills models by using the power of AI to create a single taxonomy, in-turn mapping the skills to learning content in the unified content catalogue.
Figure 1 illustrates the LXP's role in unifying skills and learning content into a single, consistent, and coherent experience for the user.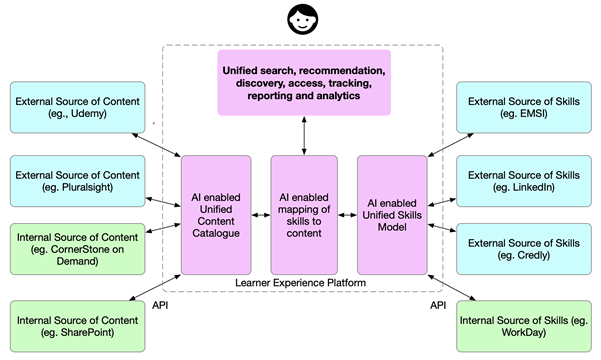 Figure 1. The functional role of an LXP in unifying content catalogue and skills models to present a single doorway to skills and learning for the user.
The unification of content sources and skills models into a single experience, that is centred on the learner, is an immensely powerful capability that brings benefits to the user and to the business, including:
A unified skills model for all employees that underpins workforce strategy
The ability to signpost strategic skills the business needs to develop
Identification of which employees have skills that are in demand
Identification of where skills exist in the business (which employees, teams, business functions)
Identification of skills gaps at business, team, and individual level
The ability to target specific users or populations with recommended learning to upskill and reskill
The ability to assess learners for acquisition of verified skills
A record of all skills-based credentials (e.g. digital badges, certification, professional qualifications)
A single source of record for all skills and learning reporting.
Some LXPs can also integrate with a talent management system (TMS) thereby providing access to mentoring and coaching opportunities, stretch assignments, job shadowing, projects, gigs and internal job vacancies. Since a TMS can also be a source of skills drawn from a job family database, the LXP can also integrate the TMS's skills definitions with its unified skills model. Integrations are something that leading LXPs do exceptionally well and they need to, because no single system offers an end-to-end solution for all aspects of the employee experience.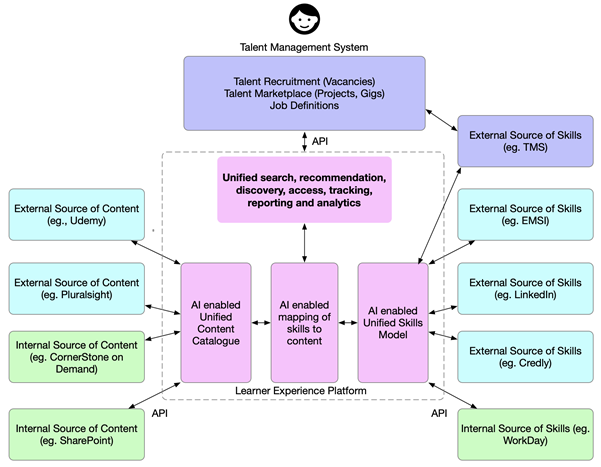 Figure 2. How a Talent Management System can integrate with an LXP to utilise the LXP's unified content catalogue and skills model.
It is this ability to unify multiple disconnected sources of skills and learning, apply AI to create a single content catalogue and skills model and then personalise the experience for the learner which is the primary benefit of a learner experience platform. When used in combination with a talent management system, an LXP becomes an eco-system for managing the skills supply chain within a business through all stages of a career from hire to retire which may be expressed as:
Onboarding - when learners are new to the business
Developing - when learners are developing competence in-role
Deepening - when learners are mastering their present role
Progressing - when learners are considering a lateral or horizontal move
Changing - when learners are adapting to a changing environment.
An LXP provides the means to manage each stage of the skills supply chain, and it does so in a manner that dramatically reduces administrative overhead, automates workflows, and enables learning professionals to create, curate, signpost, promote and assign learning to specific cohorts. An LXP also provides functionality that empowers the learner to be self-directed at each of the above stages.
Shifting behaviour from push to pull
An LXP puts the learner at the centre of the experience at every stage. It hides all the complexity inherent among the multiple platforms to which it is connected using APIs integrations and single sign on (SSO) to ensure the learner has one doorway to all learning activities (formal and informal, digital and in-person) mapped to a single skills model. By using ML and AI the LXP personalises the experience and ensures only the most relevant and highly-rated content is recommended based on the learner's skills needs.
An LXP is an enabling technology that fosters self-directed learning driven by curiosity, especially so when learning is explicitly linked to skills that relate to the learner's current or potential future roles in a career path - helping shift organisational learning culture from top-down 'push' to bottom-up 'pull' in which every learner is a consumer who proactively seeks out learning opportunities that are relevant to their career.
Turning consumers into contributors
The power of an LXP to shift organisational learning culture doesn't stop with turning learners into consumers, it also enables them to become contributors and social collaborators in the manner learners experience in their personal lives through the use of consumer apps (e.g. LinkedIn, Facebook, TikTok).
The leading LXPs provide functionality that enable learners to curate and create their own content (video, presentations, audio, quizzes, polls, etc), thereby contributing to the LXP's unified content catalogue and linking that content to the unified skills model.
This capability, when combined with an LXP's social and gamification capabilities to share; like; rate; comment; award points; issue badges and progress through levels in a leader board, democratises the whole learning experience. Figure 3 shows how learners can be another trusted source of content that contributes to the overall ecosystem.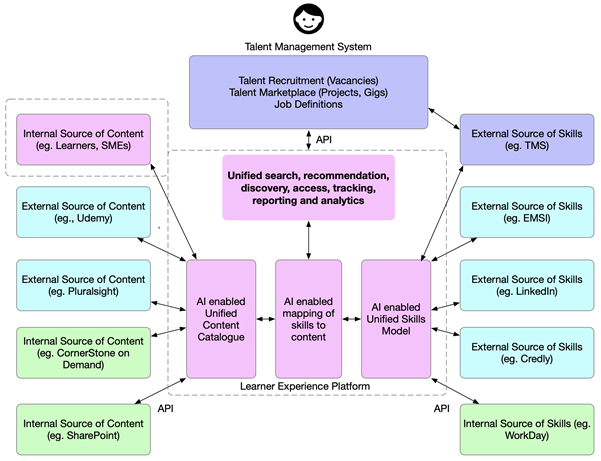 Figure 3. Leading LXPs include functionality that allows learners to curate and create content which is available to other learners.
In conclusion
An LXP provides the means for learners to become masters of their own learning, becoming self-motivated and self-directed in their learning activities. By aligning learning with skills, it enables learners to see the relevance and connection between learning activities and their career. By enabling learners to become contributors, it harnesses the important source of knowledge, skills, and behaviours in any business - its people.
An LXP also provides the means for organisations to unify all trusted sources of learning content and skills, assisted by AI, in a manner that hides all the complexity and connections from the learner and the administrator. It provides a single source of truth for tracking, reporting and analytics that shows the causal relationship between learning and acquisition of skills at every stage of the skills supply chain.
About the author
Paul D Jagger is a Chartered IT Professional (CITP) and Chartered Management Consultant (ChMC). He holds an MSc in Management from the University of Hertfordshire, is a Fellow of BCS The Chartered Institute for IT and of the Learning and Performance Institute. He is currently employed by EdCast Inc as Senior Director for Solution Consulting based in the UK.
Copyright statement
The right of Paul D Jagger to be identified as the author of this work has been asserted by him in accordance with the Copyright, Designs and Patents Act 1988.

All rights reserved. No part of this publication may be reproduced, stored in a retrieval system, or transmitted in any form or by any means; electronic, mechanical, photocopying, recording or otherwise without the prior written permission of the author or a licence permitting restricted copying in the United Kingdom issued by the Copyright Licensing Agency Ltd.