With a whole load of new guitar games about to arrive, Mad Catz is now selling a new guitar that will make you feel that bit more like a real musician.
Mad Catz has announced it is now shipping of the Rock Band Wireless Wooden Fender Stratocaster replica guitar for the Xbox 360.
The hefty guitar is compatible with Rock Band, Rock Band 2, the up coming The Beatles: Rock Band game, alongside other music and rhythm games. In our experience with previous guitars it will support some of the Guitar Hero games but not all.
The Rock Band Wireless Wooden Fender Stratocaster guitar controller is a true 1:1 replica of the famous guitar instead of being a shrunken down guitar as you get with the official game guitars.
According to Mad Catz the body, neck, and headstock are made from genuine Stratocaster wooden blanks, while the Tuning Keys and Bridge are built using genuine metal parts and fittings. This all means that when you leave it lying around your lounge, friends might actually think that you can really play the guitar.
The guitar is available in a hand-painted three-tone sunburst design, the highly buffed gloss finish on each model is applied over an eight day period in the same manner as a genuine Stratocaster electric guitar and assembled at a Fender's manufacturing facility. The guitar neck sports a high-resolution rosewood finish decal, concealing two sets of premium Fret Buttons.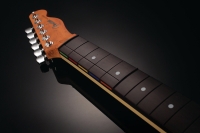 The Rock Band Wireless Wooden Fender Stratocaster guitar controller utilizes the same secure wireless technology featured in the official wireless Microsoft Xbox 360 controller. Connecting directly to the Xbox 360, it doesn't require an external dongle or adaptor to operate.
Apparently the premium fret buttons and strum bar deliver quiet operation and reliable game play. Why this would be a problem, we're not sure after all any button presses should be drowned out by the game and the sound the X360 itself.
The buttons and fret have also, according to Mad Catz, have been extensively play tested to ensure that it is possible to achieve a 100 per cent score in Expert Mode should you have the ability. Well we would hope so, otherwise what's the point?
On the front of the guitar, the Fender Stratocaster whammy bar sits alongside the start and back buttons, disguised as volume and tune controls. Added to this it features the traditional 1/4 inch output jack which will connect to the Rock Band Electro-Harmonix Overdrive Pedal, which is sold separately. It includes three AA batteries and official Fender guitar strap. Finally, the rear of the guitar features a headset socket for online play and communicating with friends.
The Rock Band Wireless Wooden Fender Stratocaster guitar controller for Xbox 360 is currently only available in the US for $299.99. There's no information on UK pricing or availability at the moment. We can only guess that it will retail for around £199, which for a game controller is rather a lot. You would need to really like Rock Band to shell out that much for a controller, even if it's made of wood.