In a new and what I hope will be a regular column for BCS, we are focusing each month on an image selected from the myriad of possibilities thrown up by the world of contemporary digital art.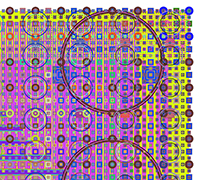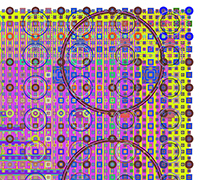 Click the image to enlarge
Digital inkjet print on paper, 'e4708', by Mark Wilson (detail), 2008
Edition 1/5, height: 60.9 cm, width: 190.5 cm
Collection of the Victoria & Albert Museum, no. E.535-2008
Reproduced with permission
Copyright the artist
This month's image is a digital inkjet print by Mark Wilson (b.1943), an American artist who has used the computer for thirty years in art making. The computer has, in his words, the power to become a 'democratic art making machine'.
Mark comes from a traditional fine arts background (with an MFA from Yale) and has progressed from the creation of works using paint on canvas to writing algorithms to produce plotter drawings. His interest in computing began when he purchased his first computer, a Texas Instruments 99/4a and learned to write his own software. He then moved on to an IBM PC in 1981 and now writes code in Postscript, generated by programs which run Visual Basic using Windows operating systems.
The image reproduced here, a detail of the nearly two meter wide print e4708, shows his fascination with layered, complex geometric structures and love of colour. Mark explains, 'because of their uniquely digital nature, these pictures are unrealisable with other methodologies. Rather than disguising pixels, I have made them the central element of my art-making.' To create large digital prints such as this one, the software is run several times to produce a large number of images.
Mark's software contains a random number generator, thus allowing the element of chance to play a role in the process. The program randomly selects different geometric elements to plot and randomly varies their dimensions and colours. Mark says, 'the power and excitement of image making with these machines lies with their power to create many choices. Randomness does lead to surprises and this is always exciting.'
The resulting images are previewed, selected and those considered most successful are saved. He then draws them together to produce one composite image that combines elements of the images already produced. The final appearance of the print is dependent on the artist's own editing process.
The generation of a hundred on-screen images might result in only one or two being printed. To print he uses a large format Epson or HP inkjet printer that has unlimited colours. Using archival inks it can print on paper, canvas and thin board in sizes up to 44" wide and essentially unlimited length. Thus the artist exploits the characteristic quality and capabilities of the digital medium to create something unique that has his own recognisable style.
In fact Mark believes the use of algorithms parallels a significant part of the process of making abstract art by artists of the past who used traditional mediums. Here he cites Jackson Pollock, working in paint and using his own set of instructions, a recipe, if you will, for mark marking.
Several pieces of Mark's work are in the collection of the Victoria & Albert Museum. A little-known fact is that the V&A has been collecting computer prints and drawing since the 1960s (included in the collection is a boxed set of the Cybernetic Serendipity prints from 1968).
Following the acquisition in 2006 of two important collections and archives of computer art - from the Computer Arts Society and American art historian and collector Patric Prince, the V&A now houses the emerging national collection of computer-generated art and design. It is one of the first museums in the UK to collect and interpret material that comprehensively illustrates and charts the arrival of the computer into both the creative process and the creative industries.
Given the history of the V&A it could be said that computer prints and graphics found a natural home there. The V&A's ancestor, the Government School of Design, created in 1837, was the first publicly-funded art school and taught both art (based on the 'high' art of figure drawing) and design (using the latest technology) under one roof.
Mark Wilson's work also features in the V&A publication Digital Pioneers (2009) a wonderful little book illustrating some of the highlights from the collection - both historic and contemporary. This book includes a CD-Rom and is highly recommended for inspiration as is a visit, by appointment, to the Prints and Drawings Study Room at the V&A to see this month's image and many others for your self.
Catherine Mason is the author of A Computer in the Art Room: the origins of British computer arts 1950-80, published in 2008.
For more information on the computer arts including our events programme