Teach BCS Level 1 Smart Digital Award in E-Safety
In conjunction with the ICDL Foundation, BCS is delighted to introduce this new qualification, which covers the main concepts and skills needed to use devices and applications securely, safely, and effectively.
The ICDL Smart Digital e-safety qualification includes:
teacher resources and workbooks
learner resources and workbooks
automated testing
instant results
and, on successful completion, BCS level 1 certification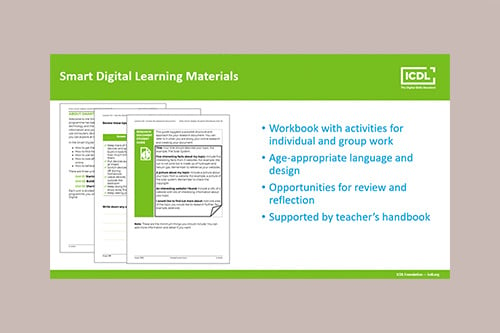 Who is it for?
The qualification has been designed for:
key stages 2 and 3 learners
learners with little or no digital skills knowledge
Key documents
Our qualification specification covers all three units.
The curriculum
The curriculum is divided into three units:
Unit 1: Starting
Unit 2: Building
Unit 3: Sharing
Each unit is made up of 10 lessons, and each lesson is approximately equivalent to one classroom hour and can be studied over 30 weeks, or most of an academic year.
Recommended guided learning hours: 30 hours
The units
Following successful completion of the three-unit curriculum, candidates will be able to:
Start using devices and applications responsibly and securely, locate information online, and create a simple research output.
Build skills and knowledge through creating online accounts and using common applications, finding and organising information, and creating and printing a well-structured report.
Share and develop content using more advanced research skills, select and manage applications, protect data and devices, create a variety of content as part of a broader project, interact safely and responsibly online, and manage their digital identity.
Key stage 2
The BCS Level 1 Smart Digital Award in e-Safety also supports parts of the KS2 Computing National Curriculum.
Use search technologies effectively, appreciate how results are selected and ranked, and be discerning in evaluating digital content
Select, use and combine a variety of software (including internet services) on a range of digital devices to design and create a range of programs, systems and content that accomplish given goals, including collecting, analysing, evaluating and presenting data and information
Use technology safely, respectfully and responsibly; recognise acceptable / unacceptable behaviour; identify a range of ways to report concerns about content and contact.
Assessment
The qualification is assessed within a BCS Approved Centre or school, through three short online tests created by the ICDL Foundation and delivered using the BCS In-Application assessment platform and can be studied and taken remotely.
I want to deliver ICDL Smart Digital
Any centre or school wishing to have an in-depth conversation to address any questions not covered here, please contact your account manager, email bcssales@bcs.uk or call 01793 417445.
Other things you might be interested in: