Employer case study: Alison Galvin, Invotra
Apprenticeships far from being in-lockdown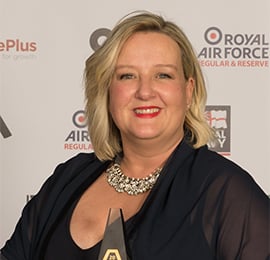 While universities have been worrying about teaching their curriculum online, SaaS intranet company and apprenticeship champions, Invotra, have been supporting government agencies and developing talent. Alison Galvin, Chief People Officer, tells Johanna Hamilton AMBCS more…
Please tell me about Invotra and your role within the company
'My name is Alison Galvin, Chief People Officer for Invotra and one of the original founders. I am also a member of the South East Enterprise M3 Apprentice Ambassador Network, which is an employer-led body, sponsored by the Skills Funding Agency in England. Its remit is to encourage more employers to become involved in apprenticeships in England.
'Invotra, who was recently announced as one of the UK's Top 70 most ambitious high-growth technology companies*, provides enterprise intranet and portal solutions. Each day, Invotra powers intranets for over 47% of UK civil servants - with customers including Department for Work and Pensions (DWP), Home Office and Department for Transport (DFT) - as well as local authorities, with user bases as high as 96,000+. We also supply to one of the oldest and largest membership organisations in the USA, Sierra Club.
'Invotra has 41 employees, of which 23 are past or present apprentices ranging from Level 3 to degree level. We were extremely proud to have won the "BCS SME Employer of The Year" at the National Apprenticeship Awards 2019.'
Tell me about your apprenticeship journey
'When we first started out, we were trying to find the right talent but couldn't compete with the big-city multinationals that offered very high salaries.
'Back in 2011, we were outsourcing to contractors based in Ireland, Spain, USA, Canada and Ukraine. We were keen to grow our business and knew that we needed to bring our talent in-house and employ staff. We knew we were going to have to be creative and that's when we came across the apprenticeship scheme. It was a light bulb moment.'
Which apprenticeships does Invotra offer?
'In short…
Software development L3
Software development Degree
Cyber Security L3
Cyber Security Degree
Business Administration L3
Chartered Management Degree
Software Tech L3
Quality Assurance Tester L3
Project Management L4
DevOps L4
Digital Marketing L3
'In the future, we are hoping to also provide a master's level apprenticeship - as soon as the right standard is delivered.'
Some tech companies believe there has to be a 'graduate baseline' for training. Is that true?
'This may be the case for some companies but, in our experience, we've found it can actually be the opposite.
'With many of our apprentices, they have been a blank canvas. Yes, you have to provide the training but it means you can shape that person to be exactly what your organisation needs.'
'You can fill specific skills gaps and nurture certain areas that are particularly important to you. The apprentice still learns the same curriculum, but there is more diversity in shaping their role.'
You are a SME and so haven't paid into the government's apprenticeship levy scheme. Have you still benefited from it? 
'Size-wise, we're not quite there yet! We've recently looked into using the levy, from a partner point of view, but we haven't moved forward with that yet. It's still very new.
'Currently, we have partnered with two excellent training providers. They have taken our brief, whittled down and interviewed the candidates and then presented a shortlist to us. The candidates then show us what they can do through a series of different exercises and presentations.
'When you have seen what they can do - and only then - you get to see their CV. We are able to assess them on their talents and potential rather than a piece of paper that might not have done them justice.'
Tell me about the apprenticeships
'Just before lockdown, we took on four new apprentices. Three of them were just literally weeks before lockdown, so we managed to have at least a little in-person time with them.
'The last lady joined us in the past few weeks. She's actually done a computer science degree but ended up on a different career path. Now, she's started an apprenticeship in QA testing.
'Generally, we bring in apprentices at a level three or a level four, which is an advanced or higher apprenticeship. Following this, they can then go on to do a degree, which many of our apprentices have opted to do. At that point they reach level six. And then, in some standards, you can do a level seven which is a master's and a level eight, which is a PhD.
'Apprenticeships make the workplace a level playing field. It gives people the opportunity to develop careers which they may have thought, financially, were out of reach, as well as helping people who feel that the university/classroom setting isn't the right fit for them.'
'When we've asked the candidates, "Why have you not gone to university? Why have you chosen an apprenticeship?" The answer is often "You know, I just didn't want to do it. I wanted to get straight in and I wanted to start earning. I didn't want debt."
'I run a careers fair every year in local schools and the awareness of apprenticeships has certainly risen. I compare university with apprenticeship learning and say: "Right, if you go to university, here is year zero. Here is your debt in year two and year three typically." And then you break down the apprenticeship model - "Here is your year zero with no debt and here's your first year of earning." And then "Here's your second year where your earnings go up..." When you look at it in financial terms, it's a no-brainer.'
What has been your biggest success story to date?
'Billy Clackers, our Head of Product and Nqobile Dube, our Head of Technical Services, have been with us for nine wonderful years. They were our first two apprentices and in 2018, they progressed to be members of Invotra's Senior Management Team, which supports our Board of Directors.
'It's been fantastic watching them grow and develop into invaluable assets to our organisation and is definitely our greatest success story.'
What's the biggest lesson you've learned along the way? 
'You have to keep an open mind. It can take up to six months for what I call the "light bulb moment" where, (especially for the young apprentices) they come out of school mentality and become a professional.
'You've got to keep working with them. You've got to have the patience to break down layers to find out who the individuals are and how they're going to grow and develop.'
How will end point assessment work during isolation? 
'From my understanding, it's all going to be virtual. So far, the apprentices have completed their synoptic projects remotely, so I would presume the EPA could be conducted in a similar way. All the training providers maintain that it's business as usual and BCS is all over this, so I think it's going to be fine.'
Is there a three-month probation period for an apprentice?
'No. The apprenticeship is your probation. At the end of your apprenticeship, the employer is not obliged to offer a job. For the majority, we keep our apprentices and offer them a job.
'You've invested all that time and that's what it's all about. You're in there for the long game. You're not just going to take them on for the length of their apprenticeship, you're going to invest in them because actually you want them to grow and become valuable members of your organisation.'
How does the process work?
'All of our apprentices get a "buddy". That's a person who has either recently finished their apprenticeship or who is further along. It gives the new apprentice someone close to their age that they can go to for friendly advice and guidance. It's great for settling nerves.
'We also assign them a mentor who can teach them all the soft skills and additional layers to becoming a professional. These things aren't necessarily what they're learning about on their course but helps them learn extra skills, knowledge and behaviour.'
What advice would you give to someone thinking of setting up a programme?
'My advice is to totally buy into the programme. It takes investment, patience and lots of support to develop an apprentice but it pays dividends when they succeed.'
'Do not go into it thinking that the training provider and apprentice will do it all as that simply isn't the case. It is a three-way split between apprentice, training provider and employer to help the apprentice succeed.
'There is a lot of information and resources out there to help signpost new employers to find out what they need to develop an apprentice. We also try to take on two at a time if we can (this round we took on four!) so that the apprentices can support each other during their journey.
'Lastly, be patient. You employ an apprentice based on potential rather than their current experience. You need to have patience but equally push them hard to reach their full potential. We have found it can take approximately six months for an apprentice to start to make real traction and after that they start to fly!'
So, some final words about your apprentices during lockdown? 
'I am amazed at our apprentices and how dedicated and driven they are to succeed. It's amazing to watch these great individuals juggling their day job and their learning - especially now that our apprentices have their own challenges at home in lockdown. It's very humbling and I'm extremely proud of them. I think the apprenticeship programme is just fantastic.'
*According to SV2UK