Employer case study: Chris Green, Etherlive
Chris Green, the CEO of Etherlive, set up his own company, providing IT for events, after attending conferences that were blighted by poor IT.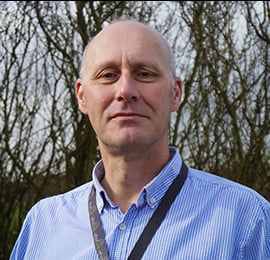 Chris and his colleague, Tom McInerney (his co-founder), had become involved with Young Enterprise and would regularly attend their events. Chris remembers one event where they were both shocked with the inadequate IT services.
He says, "The whole day was delayed because those organising the event couldn't present, they couldn't get the laptops or projector to work". At this point, it had him wondering if anyone had seriously looked at IT for events. That was the genesis of how Etherlive started.
Chris began his career in technology working at Intel, initially in the emerging internet and then on mobile computing. Whilst at Intel, he worked with mobile convergence where he was looking at the early days of smartphones, tablets and PCs and so he already had some of the skills needed to come up with solutions.
In 2007 Chris set up Etherlive. It's now a thriving specialist events IT company, based in Royal Wootton Bassett. It focuses on designing, implementing and supporting both temporary and permanent IT solutions for the events industry throughout Europe. The company specialises in event Wi-Fi, networking, CCTV, telephony and consulting working with hundreds of clients every year.
They provide their services to many high-profile public events that you and I attend each year such as the RHS Chelsea Flower Show, Barclaycard British Summertime Hyde Park concerts and the Volvo Ocean Race.
Being hands on and supporting outdoor events involves a different way of working with technology. To illustrate this Chris said, "You are required to have a different sort of mindset to work in that environment. Whether it's in the middle of a summer heatwave or a freezing winter, some of the events will result in working through the night or walking 12 miles a day moving the equipment from one end of a site to the other"
Their unique IT events company takes on internships, freelancers, contractors and most importantly apprentices all year round. They have had great success with everyone they have brought in. As a result of this, Etherlive will continue to take on new people every season.
The majority of the work that Etherlive does is during spring and summer. Therefore, it has a great opportunity to bring people into the company on internships during seasonal periods.
Chris spoke about their most recent apprentice, Cameron Warwick. Cameron is doing an Infrastructure Technician Level 3 apprenticeship and has been at Etherlive for 10 months. As early as April, after just 1 month in the role, he was working on site, under the supervision of a Field Engineer, at his first big jobs such as the Badminton Horse Trials and the Urdd National Eisteddfod in Wales. By May he was operating as a fully-fledged Field Engineer trainee.
The staff at Etherlive only have great things to say about their apprentice, Chris says: "Cameron was delivering amazing work within three months of joining us and has become a valuable member of the team. As well as the technical skills, he's also learnt the all-important social and problem-solving skills through face-to-face communication with clients and other on-site contractors."
He went on to tell us how much of a difference it has made to have a young, enthusiastic and talented apprentice join their team. "Cameron has been full of new ideas and helped us see situations in different lights" says Chris. "He's contributed to fundamental changes that the company has made and continued to suggest great ideas and produce some brilliant work whilst doing his apprenticeship modules at the same time."
Although Cameron is still working to complete his level 3 apprenticeship, the company has already agreed to keep him on and put him through the level 4 training. This offers Cameron and the company many more opportunities and will offer mutual benefits to improve their skills and moving forward with technology.
Chris went on to tell us that he would definitely recommend other employers to take on an apprentice. "It's a great opportunity for companies to have a fresh and new employee that can offer modern knowledge and different ways of looking at things. It also gives the apprentice a great chance to gain work experience and develop their skills and increase their passion for the industry."