Employer case study: Rod Plummer, Shoothill
In two short years, 20-year-old Josh Welch went from leaving college with few plans, to completing an apprenticeship at innovative Shropshire software company, Shoothill, taking his technical sales role to the next level.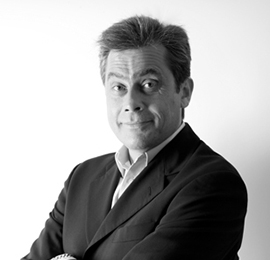 Based in Shrewsbury, Shoothill was co-founded by Rob Plummer in 2006 and today employs twelve staff. The company is best known for developing the interactive online Shoothill Gauge Map, which the public can use to track areas that are in danger of imminent flooding. It was created in partnership with the Environment Agency and has been accessed by millions of people.
Josh was the first IT Technical Sales apprentice to qualify in England. Rod proudly tells us about the highlight of Josh's apprenticeship: winning a new local authority contract for a website to raise community awareness of flooding: "Josh was backwards and forwards with the deal, was very proactive, got involved with the nitty gritty, and the entire sales process was excellent. We ended up with a happy customer who gave us more work afterwards so that one deal more than covered the cost of Josh's employment."
When Josh left college with his A levels, he says he had no idea what he wanted to do. "I'd previously completed a week's internship with Shoothill and had enjoyed the business and sales side of things, so when I found out about the technical sales apprenticeship, it seemed like a good fit and suited my career aspirations."
Josh enrolled with the training provider Intequal in November 2016 and qualified in his apprenticeship with a distinction in August 2018: "Working and studying at the same time helped me on a professional level as well as a technical sense and I learnt so much about sales standards which, before, I didn't even know existed. I was also taught how to write bids to tender for contracts."
Line manager, Rod, admits that before he employed Josh, he had little idea about the wide range of apprenticeships on offer: "I had always had a very traditional view of apprenticeships, so I didn't realise you could do an apprenticeship in things like IT technical sales."
He added: "Being a small company, we were conscious that we had to give Josh the time to do his course work but also had to ensure he contributed to the company."
Josh has fulfilled this brief to such an extent that he is now an account manager, a title which gives him more kudos when dealing with customers.
Once Josh had completed his apprenticeship, Rod said he had no hesitation is continuing to sponsor him through university: "The UK needs engineers and digital specialists, but the dilemma is that many young people can't get a job without a degree, which can be costly."
"This is where an apprenticeship degree is so good because it helps young people to get into jobs without all the debt of university."
Josh said his friends now have a new view on apprenticeships. "There was definitely a misconception about my apprenticeship in the beginning but now I'm sure some of them would do an apprenticeship degree if they have the choice again."
Employing a younger person has changed the dynamic of the company, says Rod: "Josh has dropped our average age by about 16 years which, as the software world changes so quickly, helps us to keep our finger on the pulse."
"Having young people around changes the buzz of the firm, as they understand what's out there and what other young people are interested in."