Chester and North Wales branch event.
Watch the video
Download the presentation slides (PDF)
Synopsis
COVID-19 has been devastating in many ways, but an area that has seen positive and signification shift during the pandemic is in the race for digital excellence and a 'digital-first' culture.
Whereas many companies have tried and failed to realise the aspirations and benefits of their online services over the years, digital in 2020 is now seen as a crucial part of our society and the success of business. The global crisis has propelled all things technology, digital, IoT and cloud to the top of the priority list.
Join Steve to hear his observations of why this is an exciting time for digital transformation, as well as what Johnnie Johnson Housing are doing to respond to the changing world and customer expectations.
About the speaker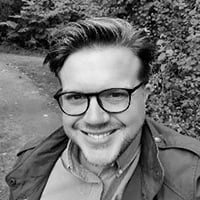 Steve Allcock
Steve Allcock is Director of ICT, Data & Digital at Johnnie Johnson Housing, who joined the Housing Association in May 2020.
Steve brings over 15 years' experience of digital transformation into the industry, having worked in a variety of sectors, including Utilities, Telecoms, Health and Financial Services.
This event is brought to you by: Chester and North Wales branch