Open to members of BCS as well as non-members.
Synopsis
This webinar will look at the audiences for the different Social Media platforms commonly used by Small and Medium-sized Enterprises (SMEs) and Micro Business owners. It will explain how those platforms are being consumed by audiences and the impact this has on small businesses. It will also look at how SMEs can leverage social media and how to avoid "overwhelm".
About the speaker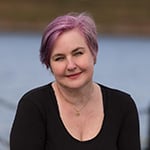 Jan Kiermasz, from digital consultancy, Black Velvet Associates Ltd
Jan has been working in IT since 1990. She has a background in Analysis and Project Management gleaned during her previous corporate life which she brought into the SME world in 2003 when she started her own business.
Having gone from full time Web Design and Development to teaching 5 years ago, she has a lot of experience in both using Social Media and teaching other SMEs to leverage it effectively. She's a big believer in educating people so they make better decisions.
On a more personal note she's a wife, mother of 1, owner of 6 fish and a martial arts black belt.
Our events are for adults aged 16 years and over.
This event is brought to you by: Chester and North Wales branch