Busting the Myth of Absolute Safety; should we wait until we have "absolutely safe" driverless cars to introduce them?
Watch the video
Synopsis
How safe does a driverless car need to be?
It is suggested that driverless cars will need to be driven for 11 billion miles to prove that they are safer than human-driven vehicles.
That's 20,000 times to the moon and back! While this may in itself seem to be impractical, imagine being asked to do it for each application – be it deploying in central London or rural Warwick! But the benefits of driverless cars are immense.
So should we wait until the time we have "absolutely safe" driverless cars to introduce them? Can anything ever be absolutely safe?
About the speaker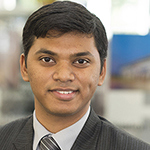 Dr Siddartha Khastgir
Dr Siddartha Khastgir is the Head of Verification & Validation of Computer-Aided Verification (CAV) at Warwick Manufacturing Group (WMG), University of Warwick, UK, leading various Collaborative R&D projects with industrial & academic partners. His research areas in the CAV domain include test scenarios generation, safety, simulation-based testing, Safe AI among many others. Prior to WMG, Siddartha was with FEV GmbH (Aachen, Germany) leading software development and testing for series production automotive control software projects. Currently, he represents the UK on various ISO Technical Committees and is the lead author for new ISO standards for Low-Speed Automated Driving (LSAD) systems (ISO 22737) and Taxonomy for ODD (ISO 34503). He is also the project leader for the ASAM standardisation project – OpenODD. He is also a member of SAE ORAD committees.
He has received numerous national and international awards for his research contributions, including the prestigious UKRI Future Leaders Fellowship, a seven-year Fellowship focused on safety evaluation of CAVs and is a Forbes 30 Under 30 Europe 2018 list maker.
Our events are for adults aged 16 years and over.
This event is brought to you by: BCS Coventry branch