BCS Chester and North Wales branch event.
Speaker
Richard Jones – IoT Solutions Architect for EMEA
Agenda
18:00 - Webinar starts
19:30 - Webinar ends
Synopsis
Richard will present Microsoft's portfolio of offerings for the Internet of Things (IoT) across the Edge and the Cloud, and how his IoT role fulfils his passions for electronics, the use of data to build insights and helping businesses take advantage of them.
About the speaker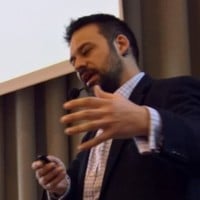 Richard has been delivering solutions using Microsoft technologies every day of his working life since 1995.
He has performed Architect roles for over sixteen years in Systems Integrators and Microsoft. This work has spanned multiple industries including retail, recruitment, defence, finance, manufacturing, maritime, electronics and central Government.
Richard has experience in Application Development, Infrastructure, Collaboration, Enterprise Content Management, Identity & Security, Business Intelligence, IoT & Advanced Analytics.
He has spent the last five years assisting Microsoft's customers and partners to deliver IoT led Business Transformation, architecting solutions across the 'Intelligent Edge' and 'Intelligent Cloud'.
Our events are for adults aged 16 years and over.
This event is brought to you by: BCS Chester and North Wales branch