Insights are shared from the PMO profession including the realities shared from attendees from the PMO Learning Setting Up a PMO course.
Watch the video
Download the presentation slides (PDF)
Synopsis
Join Eileen Roden and Lindsay Scott from PMO Learning as they focus on setting up a PMO in this evening session.
With more and more organisations investing in a PMO structure to support projects, programmes and portfolios, this session focuses on the setting up of a PMO on a greenfield or brownfield site.
We take a look at the roadmap for success and focus on the answers to these questions:
What kind of PMO is required?
What resources are needed to implement a PMO successfully?
What skills and capabilities should be in place to build the right PMO?
Insights are shared from the PMO profession including the realities shared from attendees from the PMO Learning Setting Up a PMO course.
Attend the session if you are interested in what elements form a successful PMO set up; the skills needed within the PMO and how the PMO contributes to successful delivery.
About the speakers
Eileen Roden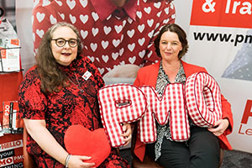 Eileen works with Boards, Executives, Sponsors, Project Managers, Project Teams and PMOs to improve their programme and project delivery capability. Her approach ensures that a pragmatic approach is taken to programme and project delivery, grounded in research and best practice, tailored to suit the culture and maturity of the organisation. She works across a wide range of industry sectors including transport, defence, financial services, pharmaceuticals, defence, utilities and the public sector.
Eileen has 15 years practitioner experience in a variety of project management roles (predominantly PMO management) along with IT and functional HR roles, with a variety of UK, EMEA and global responsibilities. Her practical experience is supported by both academic and professional certifications including a Masters in Applied Project Management (with distinction), AIPMO-E, PRINCE2®, MSP®, MoP®, Managing Benefits®, Better Business Cases®, Programme and Project Sponsorship®. She is now a Consulting Director of PMO Learning, AIPMO's UK partner.
She is the Author of P3O® Best Management Practice and co-author of AIPMO's PMO Principles, Knowledge Management in a Project Environment, along with a contribution to many APM publications. She is a frequent conference speaker throughout the UK and Europe."
Lindsay Scott
Lindsay has worked in and around project management and PMO for 20 years and is a Director at PMO Learning; founder of PMO Flashmob and the annual PMO Conference event. She's also a Director at Arras People, the project management recruitment specialists.
Lindsay is also the editor of the Handbook of People in Project Management and PMI's careers columnist in PM Network magazine. She speaks regularly on project management and PMO careers topics - and provides 1-2-1 coaching.
Our events are for adults aged 16 years and over.
This event is brought to you by: BCS Project Management SG (PROMS-G)