BCS Cybercrime Forensics specialist group event.
Watch the video
Synopsis
A dashboard camera ("dashcam") is an in-vehicle mountable camera which records video and audio footage of vehicle journeys. Dashcams create numerous artefacts of evidential value such as GPS data, temporal data, vehicular speed data, audio, video and photographic images. Dashcam usage has increased over the last few years with 9% of drivers using dashcams in 2015, 17% in 2017, and 27% in 2018 (Aviva, 2018).
This number is expected to increase remarkably, particularly with some manufacturers planning to incorporate dashcam capability within new car design. Dashcam evidence is essential in road-traffic related incidents as well as to provide evidence of in-vehicle activity. Despite their importance, there is a paucity of research into dashcam forensics, and there are no known tools that enable dashcam forensics.
This talk highlights the work that we are doing in supporting this field. The talk provides an overview of the evidential value of dashcam devices, methods of extracting the evidence, efforts to develop a useful dashcam evidence dataset, and then reports on three prototypes aimed at extracting dashcam evidence.
About the speaker
Dr Harjinder Singh Lallie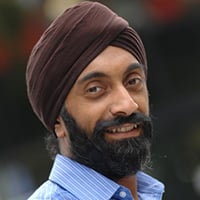 Dr. Harjinder Singh Lallie is an Associate Professor at the University of Warwick and a visiting lecturer/project supervisor at the University of Oxford. Harjinder holds a PhD in cyber security, an MPhil, an MSc., and a BSc. Harjinder has more than twenty years of teaching experience and currently leads the MSc Cyber Security and Management degree, teaches three modules on the programme degree at Warwick.
Harjinder's research focuses on the area of complex attack modelling and the use of AI in digital forensics. He has published numerous research papers in the world's top cyber security journals and completes reviews for Elsevier's Computers and Security and IEEE Transactions on Information Forensics and Security. Harjinder has held numerous conference committee memberships, he acts as an external examiner and has conducted a number of national and international institutional reviews.
Our events are for adults aged 16 years and over.
This event is brought to you by: BCS Cybercrime Forensics specialist group