Heriot-Watt University Talk Series - Protecting Organisations with Next Generation SOC.
Synopsis
What went missing with the traditional SOC.
Using Next Generation SOC to deal with new cybersecurity challenges arising from IT/OT convergence.
How Next Generation SOC helps in predicting threats
About the speaker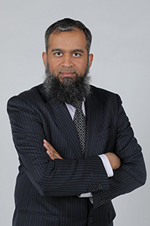 Mohammed Abdulla is a Senior Cybersecurity professional at Dubai Airports with specialty in 'Cybersecurity with Big Data'. With more than 15 years in the security domain, he has demonstrated expertise in areas of security compliance, governance, and risk management.
Abdulla has deployed effective security architecture solutions that helped the business grow while aligning to strategic vision. He also reviewed and managed cyber security roadmaps, OT integrations, cloud security and managed successful technical delivery of Information Security projects.
He holds an Executive Master's degree in Operations and Finance from SP Jain of Global Management and a bachelor's degree in Computer Engineering from the American University of Sharjah. He holds professional certification as SANS GIAC Penetration Tester GPEN, The Open Group Architecture Framework (TOGAF) and Cisco Certified Internetwork Expert, along with other certifications.