Why is access to videogames so important for people with severe physical challenges?
Synopsis
In this talk, the 'SpecialEffect Charity' Founder and CEO, Dr Mick Donegan, will explain why he created a charity with a primary focus on access to videogames for people with severe challenges and the ways in which the charity has been welcomed by games developers from all over the world to help them to make their hardware and software more accessible to all.
He will use case studies to illustrate the transformational impact that access to video games can have on the quality of life of those his charity does its best to help. 
About the speaker
Dr Mick Donegan SpecialEffect Charity Founder and CEO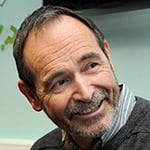 Dr Mick Donegan has many years of practice-based work as a teacher and an Assistive Technology Specialist. He has extensive experience in assessing, teaching, training, and supporting people with complex communication difficulties. Mick was Deputy Head of Wilson Stuart Special School in Birmingham and Deputy Director of the ACE Centre, Oxford. He is an Associate Senior Research Fellow at SMARTlab, University College, Dublin, and is Adjunct Professor in the Department of Assistive Design at OCAD University, Ontario.
In December 2020, Mick's charity launched 'Eye Gaze Games', which is a suite of free-to-play online games for people whose only form of control is their eye movement. As a result, disabled people, wherever they are, will be able to meet and compete at chess, draughts and many other games with anyone, anywhere in the world.
Mick continues to be driven by a passion to capitalise on whatever technological opportunities might be available to reduce the gap between the potential and performance of all people with severe physical challenges to enhance their quality of life as much as possible, as effectively as possible.
His publications include:
Hoogerwerf, E-J., Desideri, L., Malavasi, M.,Rimondini, M., Donegan, M. (2014) in "Brain-Computer Interfaces as an Emerging Assistive Technology (AT): The AT Professionals' Perspective" in Brain-Computer-Interfaces in their ethical, social and cultural contexts. Springer ISBN 978-94-017-8996-7
Donegan, M. (2013) "Features of Gaze Control Systems", Chapter 54 in Assistive Technologies: Concepts, Methodologies, Tools, and Applications: Concepts, Methodologies, Tools, and Applications, IGI Global ISBN13: 9781466644229.
Our events are for adults aged 16 years and over.
This event is brought to you by: BCS Animation and Games Development specialist group