This webinar talk looks into the use of different privacy-preserving solutions in pandemic monitoring.
Watch the video
Download the presentation slides (PDF)
Synopsis
The recent COVID-19 pandemic has presented a significant challenge for health organisations around the world in providing treatment and ensuring public health safety. Due to the global nature of this pandemic, health organisations have obtained a growing amount of both unstructured and structured patient data which could potentially be leveraged to obtain insights to improve treatment as well as control its spread. Due to increasing concerns over user data privacy, however, they are not allowed to be shared and stored in a centralised repository to ensure compliance with different data protection regulations (e.g., GDPR). This makes it a challenge for traditional machine learning approaches which requires the use of centrally-stored data for both training and prediction.
This webinar talk looks into the use of different privacy-preserving solutions in pandemic monitoring. It will focus on the use of technologies (e.g, federated learning, smart contracts, etc) as well as the use of different data types in existing research, as well as explore the challenges and the potential areas for exploration in the use of real-time secure analytics in pandemic monitoring.
About the speaker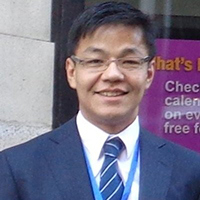 Thomas Win
Thomas Win is a Senior Lecturer in Cyber Computing at the School of Computing & Engineering at the University of Gloucestershire, United Kingdom. He obtained his PhD degree from Glasgow Caledonian University specialising in virtualisation security and security analytics. His research interests encompass a wide range of security topics including virtualisation security, privacy-preserving security analytics, ethical hacking as well as malware analysis. He has been able to publish his research findings in various IEEE journals and conferences, including the IEEE Transactions on Big Data. He is a professional member of the British Computing Society (BCS) as well as a member of the IEEE.
Our events are for adults aged 16 years and over.
This event is brought to you by: BCS Cheltenham and Gloucester branch