Keynote event for the Annual Conference 2021.
Watch the video
Download the presentation slides (PDF)
Synopsis
Digital Marketing has earned a somewhat bad reputation for invading digital privacy and other "annoying" practices. Though this reputation is partially well-deserved, digital marketing activities are not limited to advertising and spam e-mails. With the focus on the customers' needs, wants, and interests, the marketing function penetrates all the client-facing and product design roles in a modern organisation and is highly relevant to service management in IT. Elena shares some ideas and recent developments from digital marketing research that BCS SM-ITAM specialists might find useful in her keynote presentation.
About the speaker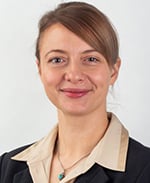 Elena Schevchenko, Doctoral Researcher, Edinburgh Business School
Elena is a digital marketing researcher and educator with a special interest in online consumer engagement, and digital technology adoption in marketing. She has been teaching a range of marketing and business communication courses for universities in Dubai and the UK. Before moving into academia, Elena worked as a marketing professional in hospitality and higher education in Dubai.
Our events are for adults aged 16 years and over.
This event is brought to you by: BCS Service Management and IT Asset Management (SM-ITAM) specialist group