BCS IT Leaders Forum.
Watch the video
Synopsis
Please help us to bring an IT Leaders' perspective to some hot topics, by discussing with us the big issues facing your organisation and the wider industry.
Our agenda for the evening will comprise:
"Pressing reset on IT Management Methods"
Cybercrime – "How can IT leaders beat the criminals?"
Recruitment and Training – "Attracting people into the industry"
Suggestions for future topics
About the speaker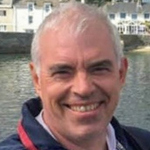 Phil Crewe – Chair, IT Leaders Forum
Phil has been involved in the IT industry since in 1980, working in publishing, consultancy, charity sector and finance industries. He is a strong believer in the potential of team working, and in challenging for improvement.
Other speakers on the evening will be:
Dr David Miller, a specialist in the management of business technology in complex and dynamic environments;
Dr. John McCarthy, a cyber security and information risk professional; and
Dr. Jon Hall, an organisational problem solver
Our events are for adults aged 16 years and over.
For overseas delegates who wish to attend the event, please note that BCS does not issue invitation letters.
Please note that this event will be recorded.
This event is brought to you by: BCS IT Leaders Forum